One of the most common questions I get asked about Mahindra Thar is about which model a person should chose. There are not really many variants available as a matter of fact but just two, DI and CRDE. In terms of looks both look quite identical and for a person who just wants a Jeep, either of the models will do. But apart from the looks, there are several other factors that must be considered before you finalize your purchase. In this article, I will provide a brief overview on Mahindra Thar CRDE vs DI and which one can be considered better.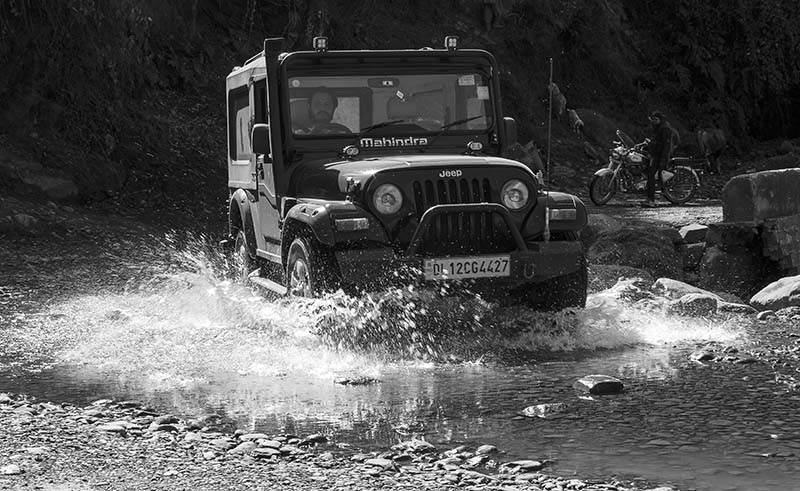 For a technical comparison, you can just google it and several car selling websites can provide you with specifications on both the models. So I will not get too much in to details on mechanics but will rather keep the article focused on information that you will not find on those websites.
Mahindra Thar Look
In terms of external looks, as I mentioned above, there is not really much of a difference. Both the models follow the iconic jeep model. CRDE however is a bit bigger than DI in terms of overall length, height, width and wheelbase. In terms of weight however, both models are almost equal.
Mahindra Thar Interior
Major difference however is on the interior side. In 2015, Mahindra launched a new CRDE model with much improved interiors including a new dashboard, steering and central console. The previous models of CRDE had really appalling interiors that looked like a "cheap jugaad". There was however no interior upgrade with DI so if you are looking a bit of clean and classy interiors, CRDE is the one you must go for.
Also read: Mahindra Thar as Family Vehicle, City Driving & Daily Use?
Ground Clearance
When a person buys a car like Thar, one of the foremost thought is of adventure and off-roading. To go beyond where the road ends and explore areas where you may not take other cars. In this case, ground clearance of a vehicle plays a crucial part and CRDE here gets to be a winner; standing tall at 200MM as compared to 187MM of Thar DI.
Engine Size
In terms of engine as well, CRDE comes with a more advanced and refined one as compared to DI. With 2498 CC displacement, 105bhp power and 247 NM @ 1800 RPM torque, this vehicle is capable of performing much better than a 2523 CC DI engine. The biggest factor however is that DI comes with a BS3 engine whereas CRDE comes with a BS4 engine. In metropolitan cities, a BS3 or lower engine is not allowed by law in order to keep the pollution levels in check. So if you are looking to buy a CRDE and live in a metro then your choice is limited to CRDE only. DI is not an option for you.
Other features
Rest of the features are more or less same in both the variants; as a matter of fact missing in both. CRDE however does get an edge over DI in terms of an Air conditioner which you will not get with DI. Other basic accessories like central locking, ABS, power windows and other comfort features are not available in either of the variants.
2WD Vs 4WD
This is one factor where you get a bit of a choice with DI but not with CRDE. If you live in a non-metro area and only want to buy a Thar for its Jeep looks; with no intention of serious off-roading, then DI will be a better choice for you. CRDE only comes as a 4 wheel drive whereas with DI; you can chose whether to buy a 2WD or 4WD as it comes in both models.
Price
Last but not the least is the price factor. A Mahindra Thar DI will cost you Rs. 6.47 Lakh for 4×2 Model and Rs. 6.99 Lakh for a 4×4 variant. Mahindra Thar however comes only 4×4 and will cost you Rs. 9.11 Lakh. There is a huge gap in price in both the models so you if are looking for a Jeep within budget, do not live in a metro city and have no desire for some clean interiors, than DI is what you should opt for.
Also read: Mahindra Thar Soft Top Vs. Hard Top
Mahindra Thar CRDE vs DI
I know there is not much off information on the technical side here but I did not want to include that in order to keep the article short. In a nutshell,
Mahindra Thar CRDE is aimed more towards urban population; with its improved interiors; whereas a DI is built more for rural populations. This is the reason why you would find only a DI running as taxi in rural areas of UP, Rajasthan and several other states.
CRDE has a powerful and much refined engine with lesser issues as compared to DI
For a CRDE however, you are better off getting it checked only at an authorized showroom. For a DI, with its old and crude engine, any mechanic can easily fix minor issues with it.
CRDE is way more costly than DI
If you live in a non-metro city or rural areas; have no intentions of off-roading, have no use of 4×4 then you should go for a DI. With CRDE you will just shed more money for less.
If you live in a metro city, then CRDE is your only choice. You cannot buy a DI version in order to comply with BS4 regulations.
If you live in a non-metro area; but want the better one of two Thar variants, then definitely buy a CRDE.
If budget is a constraint, then you are better off choosing from the DI models of Thar, either a 2WD or 4WD.
Conclusion
I hope the information above was of help. If you have any other information that can be added here; or any other tip; or have any questions, please feel free to mention it either in the comments section below or at our Community Forum; and I will be glad to answer.