Ever since I first saw a Mahindra Thar and made up my mind to buy one, I was always inclined towards a soft top. I am not sure why for me, but it creates a certain appeal; adds a charm of its own to the stylish head turner that Thar is. Then about 2 years ago I brought home my long desired car and everyone at that time advised me to get it upgraded to a hard top. For several reasons, of which money was also one, I decided to still drive it around with a soft top; primarily because I liked it that way. After owning it now for two years and recently upgrading to a hard top; here is a brief comparison between Mahindra Thar soft top vs Hardtop; how my experience with both was and which one I found to be better.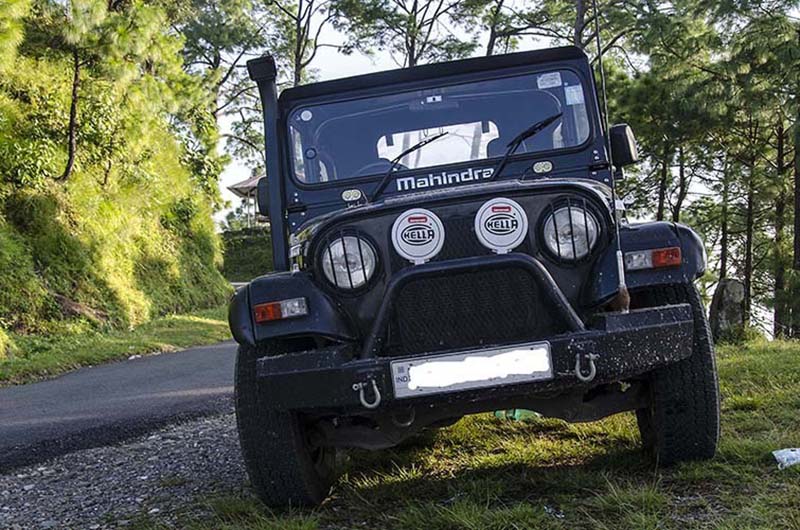 I am a travel junkie and remain out on trips way too often which my primary use of Thar is. This includes driving for long hours, sometimes even up to 14-15 hours trying to cover long distances. Apart from this, I regularly use Thar to commute for work on the crowded roads of Delhi. So the information that I am sharing below is from the point of both long trips and daily city use. I will start with the soft top first.
Also read: Mahindra Thar as Family Vehicle, City Driving & Daily Use?
Mahindra Thar Soft Top
To be honest, there is not really much that I can say about the advantages of a soft top; apart than that it has its own charisma that suits an off-roader. It is more or less just about the looks and that too some people dislike. The list of disadvantages however can be endless and I will list a few that come to mind. Quality of the canopy will probably be the first one. It is quite disappointing to see that a giant like Mahindra couldn't even get the canopy right for a price of over Rs. 10 Lakhs.
Mahindra Thar Zip
The zip locks will be the first one to go. Within a few months of use, the locks will start giving trouble and it will become a big headache to zip the canopy open or close. I used the soft top for over 2 years and in that duration, I had to get the locks changed at least 7-8 times.  Even then, I always preferred to not open it all if I could afford to do so. There were instances when I asked my friends to enter from the shotgun side and climb to the rear; rather than opening the canopy. It just becomes a big trouble. Sometimes I had to use both my hands and pull on the lock too hard to get it moving.
The problem however is not really with the locks but with the canopy itself. After a while of usage, it kind of shrinks or expands I do not know; but it creates a space between both sides of the zipper. So when you close it, the lock has to really work hard to keep them together due to which it breaks or stops working after a while.
And of course, with the canopy being so dirty, the rear view mirror becomes useless while driving as well. You will just not be able to tell what is behind you.
Leaking Problem
After the locks comes the leaking problem. I bought my Thar in the month of July, just before Monsoon and had the water leaking in as soon as the monsoon arrived that year; within a month of buying it. From the roof and the back of the canopy is where water will majorly find a way in; but small leaks will be towards the sides as well. I park my Thar out in the open and this became a huge problem for me. I had to buy an additional Tarapulin to cover it with whenever it rained. This leaking water would find its place to the floor; under the rubber mats and pose a risk of rust. So in short, whenever it rained, I had to pull out the rubber mats afterwards and leave them on the ground; giving time to the floor to dry off.
Mahindra Thar Canopy
Next in line is the annoying sound the canopy makes. Accelerate your Thar over 60 kilometers and all you will be able to hear is the flattering noise of the canopy, caused by the wind. It is so loud that having a conversation with co-passenger will become difficult if driving at a great speed. This constant flattering will also cause the canopy to come lose a bit and will eventually put strain on the metal cage that it is secured around. This constant strain will cause the joints in the cage to break and pretty soon, along with the flatter of the canopy, you will also be hearing the banging sound of the metal cage.
When it comes to driving experience, the canopy is a big hindrance while reversing the vehicle. The plastic in the canopy will after a few months change color to that of dirt which will make it impossible for you to see anything while reversing. You will have to completely rely on the side mirrors while turning or reversing the vehicle; or ask your co-passenger to get off and help.
Effectiveness of AC
Effectiveness of AC or heater another problem with a soft top. Thar comes with quite a powerful AC and in first few months, it will work like magic even with the canopy. Over a period of time however, it will start to feel less and less effective. Once the zippers go, there will be that huge gap in the canopy towards its rear and then no matter how hard your AC works, it will remain ineffective.
Dirty, Dirty & Dirty
Dirt is another big problem. No matter how much you clean it or how many times you do it; with a soft top, you will always end up finding a layer of dirt over everything within a day of leaving your car parked. It will just keep getting way too dirty and you will feel like you are driving around in a cheap beaten up cab; not a stylish head turner jeep that you thought it to be. For 6 months I spent half hour everyday cleaning the dirt before I went out but then kind of got fed up with it. i started to drive around neglecting the rear seats and the areas; and pretty soon people started to tell me, :Kabhi Gaadi saaf bhi kar liya kar Bhai"
Mahindra Thar Security
Last but not the least is the security concern. Entering Thar with a soft top is a child's play. You just need to zip open the canopy and get in; making it highly prone to getting stolen. Call me crazy but with a soft top, I made three more arrangements to secure my vehicle. First was the gear lock, second was a hidden "Chor-Switch" that cuts off the ignition and third was a steering lock.  So whenever I left my Thar parked in the open, I will turn off the ignition, flick the "Chor Switch" to off, lock the gear, put the steering lock in place and then finally lock the doors.
Music System
Installing a music system too is definitely out of question with a soft top because your stereo will be stolen in a day if you left it parked in the open somewhere. For more than 2 years, I drove around listening to crappy music produced by a local stereo and really cheap speakers. The only reason I bought those were because even if someone stole, it won't hurt me much in terms of money. Even with a local cheap product, I bought a stereo with a detachable head and I took it out every time I parked my car. Music anyways is not really an option with the canopy as you will barely listen and enjoy anything with all that flattering.
Mahindra Thar Soft Top vs Hardtop
There are several other issues but these were a few major ones. So in the end, if you asked me; I would definitely recommend installing a hard top. Take it from someone who was a hardcore soft top fan but now has changed mind. I can now peacefully leave my car parked; enjoy the music from a new and better system I just installed after upgrading to hard top; have no problem of water leaking in or dirt finding its way in; do not have to listen to that annoying flattering sound that I did for two years; and most of all, do not have to tolerate the noise of Delhi traffic which was almost impossible to keep out with a soft top.
Life of the Canopy
About 18-19 months is what I will say the life of Mahindra Thar canopy is; at most about 2 years. After this, it will start to come apart. Yes you read it right, the canopy will start to tear off at places and you will have to definitely get it either changed; or get a hard top; or let the water and dirt continue to find its way in. My canopy was literally falling apart at several places after 24 months of use when I finally was forced to get rid of it.
Mahindra Thar Hard Top
Mahindra Thar Hard top vs Soft top; my answer would be that Hard top is a much better option. The only downside is that it is not a cheap affair and can be a costly affair. This was the exact reason that made be a bit apprehensive about it. Depending on which type of hard top you chose; and if you got any other modifications done to it; expect the price to be between Rs. 75,000 to One Lakh. This is for a fiber one. Hard top area available in metal body as well and if you chose those, it will cost you approximately around Rs. 1,30,000
I hope the information above was of help. If you have any further questions, please feel free to ask in the comments section below; or at our Community Forum; and I will be glad to answer.