If you were planning a trip to Ladakh this year and were traveling by public transport, then below is the latest bus schedule of Leh to Pangong Bus service in the year 2022. The image below is actually of bus service from Leh to all of the tourist places in Ladakh. In this post, however, I will highlight buses from this list that you can use to travel from Leh to Pangong Lake.
The post below only details Leh to Pangong Lake Bus service that you can use after you have arrived in Leh. I am not including details here on you can reach Ladakh.
If you want to get details on that as well, then I recommend you to please take a look at How to Reach Ladakh – A Complete Travel Guide. Once you have arrived in Leh either by public transport or flight, then how you can travel from Leh to Pangong Lake by Bus is what I will be discussing in this article.
To better understand the bus schedules I have mentioned below, I will recommend that you also take a look at A Detailed road map of Ladakh. Take a look at the route near Pangong Tso and you will be able to relate the names of the villages I am mentioning below.
Leh to Pangong Bus 2022
Listed below are the buses that you can board from Leh to reach Pangong Tso Lake. All of these buses travel via the Karu -Sakti – Chang La – Durbuk – Tangtse route to arrive at Spangmik. The starting time from Leh Bus stand is early in the morning and the bus reaches its destination by evening. The same bus then travels back to Leh the next day.
Leh to Pangong Bus Service (Spangmik, Man, and Merak)
There are three weekly buses scheduled for Pangong Tso from Leh Bus stand every Tuesday, Thursday, and Sunday at 6.30 AM. These buses travel via Spangmik and Man to arrive at Merak. The fare per person is Rs. 270. Since the entire route to Merak runs next to Pangong, you can get off at any place en route.
Spangmik, Man, and Merak are three villages located on the banks of Pangong Tso. Spangmik is actually slightly away from the lake but Man and Merak are right next to it. So to reach Pangong from Leh, you can actually board a bus going towards either of these villages.
Also Read: How to Plan a Trip from Leh  to Pangong Tso
Leh to Chushul Bus Service
Chushul is a small village in Changthang Valley and in order to get to it, you will have to travel via Spangmik, Man, and Merak. There are two weekly buses that you can board to reach Chushul. The first one starts at Leh every Wednesday at 7.00 AM. The fare per person is Rs. 394.
Traveling by this Bus, you can get down at Spangmik to visit Pangong Lake as well. This bus travels via Erath and does not go to Man or Merak.
Another bus for Chushul starts from Leh Bus stand every Sunday at 7 AM. This Bus travels via the villages of Man and Merak and the fare per person is Rs. 406.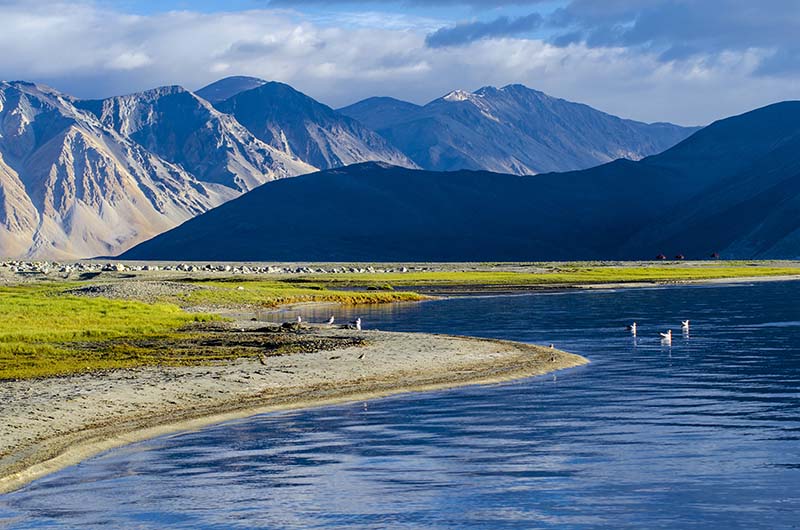 Leh to Hanle Bus Service
Hanle is often considered one of the hidden jewels of Ladakh. It is a very pretty village located right next to the India – China border. A Bus from Leh leaves for Hanle every Saturday at 7 AM. This Bus travels via Spangmik, Erath, Chushul, and Nyoma to finally arrive at Hanle.
The fare per person is Rs. 492. You can board this Bus from Leh and get down at either Spangmik, Man, or Merak.
Leh to Koyul Bus Service
Like Hanle, Koyul is another small village in Changthang Valley. The route to Koyul is the same as that of Hanle until Nyoma. A bus for Koyul leaves Leh Tuesday at 7 AM. This is another bus you can board to get down at Pangong.
Weekly Bus to Mudh (Mood)
Mudh, also spelled as Mood, is a small village near Nyoma. A Bus is scheduled for this village every Wednesday at 9 AM from Leh. The fare per person is Rs. 297.
Weekly Bus to Tsaga
Tsaga is a village after Chushul and before Nyoma; after the high altitude pass of Tsaga La. You can board a bus for Tsaga from Leh at 9 AM every Friday. The fare per person is Rs. 356.
Leh to Pangong Lake Share Taxi
There are two types of taxi services available between Leh and Spangmik, private and shared cabs. A private taxi is of course when you have the entire cab all to yourself and you can travel as per your own itinerary and convenience.
The thing with a private cab however is that it can be way too expensive and cannot be called an option for someone traveling on a budget.
The second choice is to travel by shared taxi. These are available from the main Leh bus stand every morning and are a great budget choice to travel to Pangong Lake.
You just need to arrive at the Bus stand early in the morning and will find a bunch of taxis looking for travelers. They move as soon as they are full. Find yourself a seat and be on your way.
Also read: Nubra Valley to Pangong Tso Direct Route Guide
Leh to Pangong Shared Taxi Fare
A private taxi to Pangong Tso from Leh will cost you around Rs. 10,000 for a two days trip. A shared taxi however will only cost you around Rs. 400-500 per person for a drop to the lake.
Conclusion

I hope the details on Leh to Pangong Bus were of help. If you have any questions, please feel free to ask in the comments section below and I will be happy to answer. You can also follow me on Instagram and chat with me live there or subscribe to my YouTube channel and ask a question there.