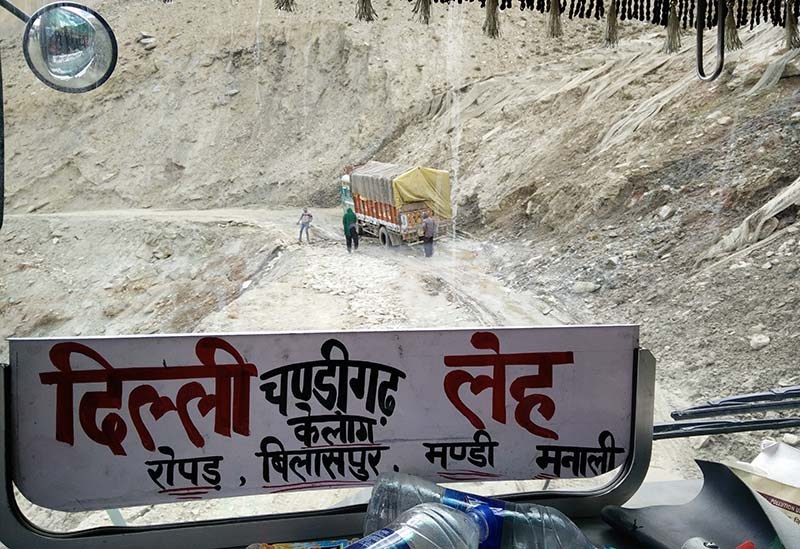 Continuing from the previous article where I provided information on Delhi to Leh Bus Service; in this article, I will pen down details on how you can do this journey the other way around; that is to travel by Leh to Delhi Bus. It is actually the reverse route of Delhi to Leh Bus service and a great way to experience a really different side of traveling to and from Ladakh.
Also read: Delhi to Leh Bus Service
This bus service is run by HRTC in the months from July till September. It starts from June 15th after the Manali Leh highway has been reopened for the year; and declared safe for a bus to ply by authorities. This bus service remains operational until September 15th after which it is suspended until next year.
The total duration of the journey is approximately 52 hours; of which travel time is close to 35 hours (excluding the night stay at Keylong). This bus covers a total of over 1100 kilometers through some of the most challenging roads; and 5 high altitude passes; running through six different states or UTs (Delhi, Haryana, Punjab, Chandigarh, Himachal Pradesh, Jammu & Kashmir).
Leh to Delhi Bus Service
The bus from Leh to Delhi starts from the Leh bus stand at 5 AM. It is a normal HRTC bus, not a deluxe or luxury one but comfortable enough for a long journey. The total journey is of 2 days and 2 nights. On the first day, the bus reaches Keylong by late-night and stops there for the night. On the second day, it starts early at 6.30 AM from Keylong and reaches Manali by noon. After a quick lunch break, it starts again from Manali at around 2 PM, runs non-stop with a few breaks, and reaches Delhi the next day in the morning at around 4.30 AM.
Also read: Return Journey by Leh – Delhi Bus Service via Manali
Booking
Passengers are required to buy their ticket a day before and reach the bus stand by 4.30 AM. This ticket can be bought from Leh Bus stand. There is no online booking system available and you will have to go to the bus stand in person to buy this ticket. Also, it can only be bought a day in advance and not before that.
Fare
You will have to buy two tickets for this journey. The first ticket will be for Leh to Keylong and then from Keylong to Delhi. From Leh to Keylong will cost you about Rs. 500; and then another Rs. 850 for Keylong to Delhi; thus a total of around Rs. 1300 for Leh to Delhi.
Accommodation at Keylong
The bus reaches Keylong by around 6-7 PM. Accommodation here is not part of your ticket and passengers are required to make their own accommodation arrangements. However, you can easily get a hotel near the bus stand itself for Rs. 600 – Rs. 800. There is also a unisex dormitory near the bus stand where you can get a bed for Rs. 100.
Also read: How I traveled to Ladakh by Public Transport
Bus route
This bus follows the Manali Leh highway and then NH1 till Delhi. You will be traveling from Leh to Karu, Upshi, Tanglang La, Pang, Lachulung La, Nakeela, Sarchu, Baralacha La, Jispa, Keylong, Rohtang La, Manali, Chandigarh and arrive at Delhi
Leh to Delhi Bus Timings
This bus starts from Leh Bus stand at 5 am and arrives at Keylong by 7 pm. From Keylong, it starts again at 6 in the morning and reaches Manali at 1 PM. After the lunch break, it starts from Manali at 2 PM and reaches Delhi at 4.30 AM the next day.
Leh to Delhi HRTC Bus
For further inquiries, you may call the numbers provided below.
Delhi to Leh bus (Operated by Himachal Pradesh Tourism)
Departure : Every alternate day (till Sept 15) from ISBT, Counter 7 Time: 02:30 pm
For more information, you can call ISBT at 011- 23868694
ISBT Chandigarh (Himachal counter): 0172-2668943
Keylong bus station: 01900-222245
Manali Bus stand at 01902-252323, 01902-252116 & 01902-253147
HRTC Keylong depot contact number: 01900-222245
Conclusion
I hope the information above on Leh to Delhi Bus service was of help. If you have any further questions, please feel free to ask in the comments section below; or at our Community Forum; and I will be glad to answer.