One of my biggest apprehensions before buying my Thar was around its safety. I was always a soft top fan and intended to keep it that way rather than opting for a hard top. In a city like Delhi where cars getting stolen is an everyday scenario, this posed a serious question about how to prevent a Thar from getting stolen and keeping it safe. Even my family pointed this out to me but I still bought it home anyways. Now after using it for 2 years both within Delhi and taking it out on long trips, mentioned below are a few safety tips on Keeping Mahindra Thar safe that I practiced and still do. Nothing way too expensive or complicated; just a few small things that I purchased or got added for the peace of my mind.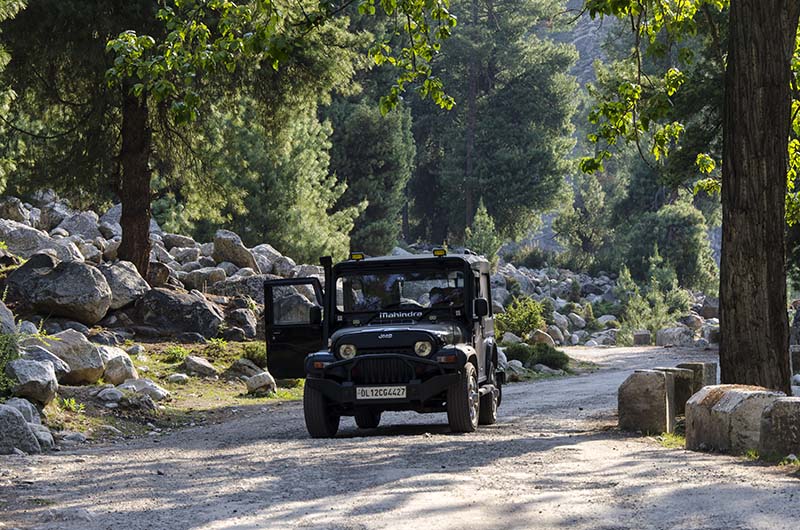 The biggest factor that drives people to buy Thar is that it is a true head turner. It is a car that stands out and gets noticed. Take it out on the road and people will turn around to look at it, admire it and even ask you about it. I have had multiple instances when people waved at me to stop so they may ask questions about Thar. Now while this is a luring factor, it also works as a disadvantage because along with other people, it will also attract thieves. Vehicles like Mahindra Bolero are one of the most stolen ones because they have a resale market in Nepal; and other hilly areas where people use these as taxis. Same thing goes with Thar as well. It is a 4×4 which makes it a great vehicles for hill and prone to getting stolen.
How to Keep Mahindra Thar Safe?
With that being said, how do you keep your Mahindra Thar safe and prevent it from getting stolen? Mentioned below are a few tips.
Find a Secure Parking
This of course is the biggest factor. If your car is parked inside your house than nothing like it. But this is not really an option for everyone and not always applicable. Several people in metropolitan cities have no other choice but to park their cars on the road. There are however paid parking available almost in every city. This will cost you a bit every month but will at least keep your car safe.
Also Read: Mahindra Thar as Family Vehicle, City Driving & Daily Use?
I too fall in this category. There is a paid parking near my place where I leave my Thar and pay Rs. 2000 each month for it. It is an enclosed parking with a dedicated 24 hours watchman. While it is an additional expense but I at least sleep peacefully at nights. Not only it prevents theft but also avoid other damages like scratches which is a risk if your car is parked out in open.
Chor Switch
I do not really know if there is a term for it in English but in desi market, it is called a Chor Switch. What is it? Well it is a hidden switch somewhere in your car; location of which only you will know. When you flick the switch off, it cuts the ignition of the vehicle and will prevent the engine from coming to life. Even you will not be able to start the vehicle with proper keys if the chor switch is turned off. Before starting the car, you will need to first flick it on and then insert the keys to get the engine live.
Just ask around at mechanic shop and they will do the job for you. It is very simple, they just need to pull in a couple of wires from ignition; direct them to a hidden spot of your choice somewhere in the car and attach it to a switch.
Gear Lock
It is a popular lock and is present in almost all cars these days. It can be installed in Mahindra Thar as well and I got one in mine.
Steering Lock
There are two types of steering locks available. First one is inserted in the steering horizontally and locks it from any movement. With the lock on, steering will stay in one place and even if someone manages to switch the car on, they will not be able to steer it and it will only move straight.
The second one is used vertically and has two hooks on both end. One hook is attached to the steering and other to either of accelerator, brake or clutch pedals. This way, it works in two manners; first is to lock the steering of any movement and second to lock the pedal as well. This is the one I use. Once the lock is in place, even if someone is able to start the engine, they will neither be able to navigate the steering or press the pedal that it is attached to.
Also Read: Mahindra Thar CRDE vs DI – Which One to Buy?
Wheel Lock
I will let the pic below do the explaining on what this lock exactly does.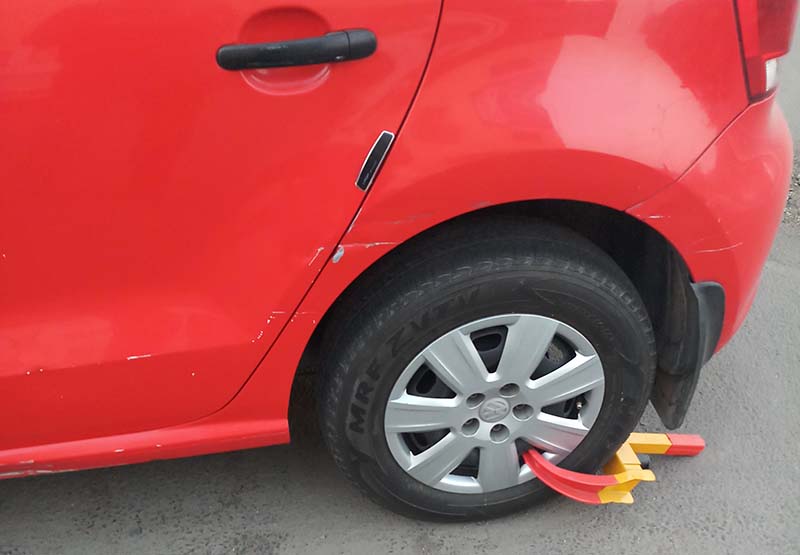 Once you lock it on the wheel, this will again restrict the movement of the vehicle. The lock is quite heavy and will prevent the vehicle from any movement at all.
All the locks that I mentioned above work as a great visual deterrent. If a thief sees that he will have to go through all these locks before even trying to switch on the vehicle, it discourages them from even trying. In a way it also kinds of puts them in lime light because others will also then notice a person trying to break open a lock in the open.
Do not Install a Music System
Now this one works as an encouraging factor for a thief to try and get inside your vehicle. If you have an expensive stereo in the vehicle, then someone may try to get in still with the thought of stealing it; if not getting away with the entire vehicle. And once they are in, who known what further ideas they may get.
To be on a safer side, if you have a soft top on your Thar then avoid getting a music system installed altogether. Rather pick those portable blue tooth speakers that you can pair with your phone and play music. When you park your vehicle, you can just take the speaker along with you. If you however do want to get a music system installed, then go for a cheap one with a detachable head. For 2 years, I used my Thar with a music system that did not cost me over 2k with speakers. Music was not too great but it still did the job.
Battery Powered Blinking LED
Now this is will fall in the criteria of a trick meant to mislead. Get a battery powered blinking LED and place it strategically somewhere in the vehicle so that it gives the impression of an alarm in place. If the thief sees this light blinking, it will force them to think twice before trying to steal your car.
Opt for a Hard Top
In the end, I will strongly recommend that you opt for a hard top to keep your Thar safe. It has several other benefits and in the end will make your life much easier. Take a look at the article below where I have covered the topic of Hard top vs Soft Top in details.
Also Read: Mahindra Thar Hardtop vs Soft top: Which one is Better?
Conclusion
There are of course several other way like a car immobilizer but these were just some quick inexpensive fixes that can be added as an additional security measure to your vehicle. I hope the information above was of help. If you have any further questions, please feel free to ask in the comments section below; or at our Community Forum; and I will be glad to answer. If you know of another trick that can be added to the list above, please do mention it in comments and I will add to the main article.