I had started writing this travelogue about my honeymoon in Kashmir a few days before 370 was scrapped, maybe it was destiny! I have not altered anything in the light of the recent developments, because the perspective would have changed.
The problem with writing something which has occurred in the past is that you tend to forget the details. Only the beautiful memories or the quirky ones remain stored in the hard drive of the brain.
So, before these memories are replaced by new ones, I thought why not jot down a little bit about the first vacation that I had planned in my life; a trip to Kashmir with my wife, just after marriage.
Honeymoon in Kashmir
The worst of times had just passed! Militancy was at its lowest, and tourists and pilgrims were thronging Kashmir in hordes. If you have been ever to Kashmir, you know the best of Kashmir comes out in the autumn.
But unfortunately, our marriage was fixed in the cold winters of January. So we decided to visit this place in February for our honeymoon in Kashmir.
In those days, marriage was a simple family thing. There were no pre-wedding or post-wedding photoshoots, no sangeets, and no 5-day fat Indian Punjabi weddings.
So after completing all the necessary rasams of post-marriage ceremonies, our families left the two of us to our fate on a 3-tier AC cabin of Rajdhani express.
Don't sneer hearing the name of the train. Rajdhani was the epitome of luxury train travel in those days.
Drawing the side curtains (they still had them, before some foolish Babu thought of removing the curtains on grounds of fire safety), we chatted continuously, only to be interrupted by the occasional food and drinks catered by the train staff.
Internet was pricey those days. There was something called mobile roaming. Facebook was in its nascent stage. There was no Whatsapp or Instagram, or PUGB to keep you company. It was indeed the best of times!
Also Read: How to Plan a Trip to Kashmir – A Complete Travel Guide
Delhi
A hearty meal, a sound snoring sleep and we were in time in Delhi! The next leg of the journey was to catch the evening train to Jammu (again a Rajdhani).
A hotel would have been better, but somehow it appeared to be a costly thing to do then for both of us. So after freshening up in the waiting room of the station, we deposited our luggage at the station.
After that, we two newbies hummed out to experience Delhi. And what better place to kill time than the Red Fort.
We had an afternoon siesta at the gardens of Diwani Aam. Thanks to Sahajahan for his foresight in thinking about two love birds, and creating such a wonderful garden for us to rest in.
After that, we walked back to the station for the next part of our journey to celebrate our honeymoon in Kashmir. We caught our train and promptly went to sleep.
Good Morning Jammu
The next morning was a cold misty morning. The station of Jammu welcomed us with a bone-rattling chill. It was 5 am. The lazy sun had just woken up from its nightly slumber. Gulping down a cup of hot tea, we boarded a local bus to go to Katra.
There were many things planned out for the day. The first was to book a hotel, get freshened, and rush to the helipad for a Pawan Hans helicopter ride to Vaishno Devi.
We were to complete darshan, and come back on foot by night the same day, phew. (It seems crazy now!)
Alighting from the bus at Katra, we were surrounded by a motley crowd of hotel hagglers. I decided to go with the most decently dressed guy!
But by Jove, it was a great mistake. He led us uphill through cobbled roads, dirty drains, and stinky buzzing flies to a dingy hotel.
We were tired, hungry, and smelled awful. The last bath we had was the day before yesterday in our home. So we took what we got and ordered hot water and got ready. The hot water bucket cost us an extra 50 bucks and was delivered by a local running Jammu boy.
Vaishno Devi by Helicopter
After calling an auto, we rushed for our Pawan Hans helicopter ride. It, fortunately, was a bit delayed due to bad weather. Like two kids on their first merry-go-round, we squeaked in joy as the Heli took off over the hills of Katra.
The darshan of Mataji was quick (considering the standard time of Indian temples). But by that time our bare feet were numb and cold (think of walking over ice and cold asphalt roads for hours), and a hot plate of Rajma Chawal was what the doctor ordered.
An uneventful descent and an eventful auto ride brought us back to the Katra Chowk. We ordered Puri Chane ka dal in the only Punjabi Dhaba open at that time.
Devouring the tasty chane ka Dal, we were discussing how to go to Dal Lake the next day. Our conversation was disrupted by the eavesdropping Punjabi Manager," Aap kaise jayenge, Jawhar tunnel to band hai!"
Between his excellent Punjabi and my poor Hindi, what transpired was that due to excessive snowfall for the last 2days, the Jawhar tunnel has been closed for vehicular movement.
Out of compassion, he guided us to his "dost", a travel agent, who grimly reiterated what we already knew.
So, two 24yr kids alone in a distant land completely, clueless about what to do next! The travel agent came to our rescue. " You can travel till Patnitop, and wait the next day for the roadblock to clear. Be ready by 10 tomorrow, we will start. Jai Mata di!"
Jammu to Pahalgam
The next morning, we two love birds soaking up the morning sun in the chilly February waited and waited and waited but there was no sign of the car. At last at 11, the car arrived and we hopped in for a drive.
By the time we reached Patnitop and saw the first signs of snow being scattered over the fir trees, like big green ice cream with white cream toppings, word of the mouth has reached us that the Jawhar tunnel has been opened for vehicular traffic.
So our rejuvenated driver Bhaiya decided that we should skip lunch and drive on to Pahalgam. Not that we minded, as we were busy seeing the scenery changing rapidly.
Have you ever watched the movie Rockstar, where Jordan (the Rockstar) takes Nargis Fakri on a bike ride in the morning in Kashmir?
The mountains were painted white with snow, with isolated patches of greenery and small Kashmiri Hamlet's (the houses are really beautiful), all soaking up the afternoon sun.
The scenery looked even more picturesque in the silvery light of the full moon. From the warmth of the car cabin, it was a sight to behold.
It looked like a night in which they say the fairies come down to earth to play, where the rustling winds sing songs of solitude to the White Mountains about the bright green summer days that seem so far back in time, like an old forgotten dream.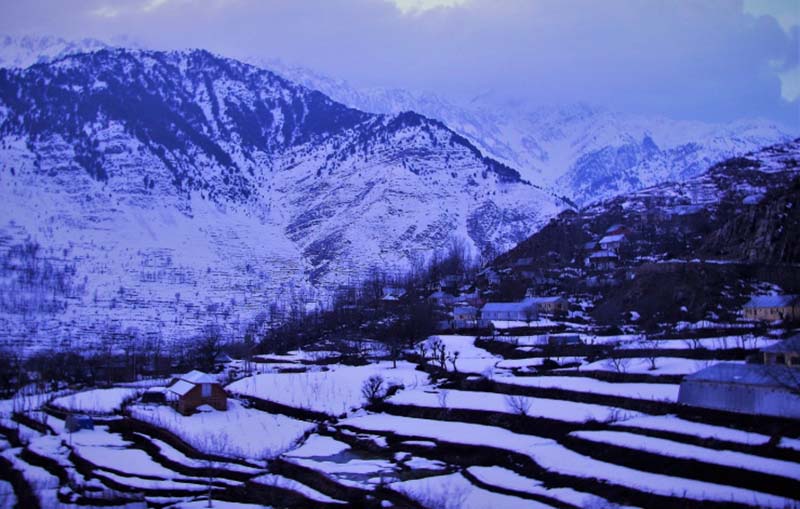 Pahalgam –  A Picture Perfect
Back to reality, we reached Pahalgam at 10:00 pm. We had not booked a hotel beforehand! But this time, I had done my research and we went straight to Hotel Mountview.
As soon as I had come out of the car, I was bitten by the cold wind; about which I was romanticizing so much a few minutes before.
I literally begged the hotel reception to let me in. This was the best hotel I have stayed in. The room had some large glass windows overlooking the gorgeous Lidder River and the mountains in the background.
We initially planned for a day, but we fell in love with the place. The small Lidder river (a rivulet) cutting through the white snow, the simple yet courteous people, and the green mountains with patches of snow, it was mesmerizing, postcard type.
We had a pony ride to the usual places, with our guide chirping in funny antecedes.
My Lady was fooled into buying an "original" Pashmina scroll that apparently passed through a finger-ring. The seller told us that it was a sign of authenticity, although I had my doubts. But you don't argue with your newlywed wife over a Pashmina, that too on your Honeymoon.
Pahalgam – The Perfect Postcard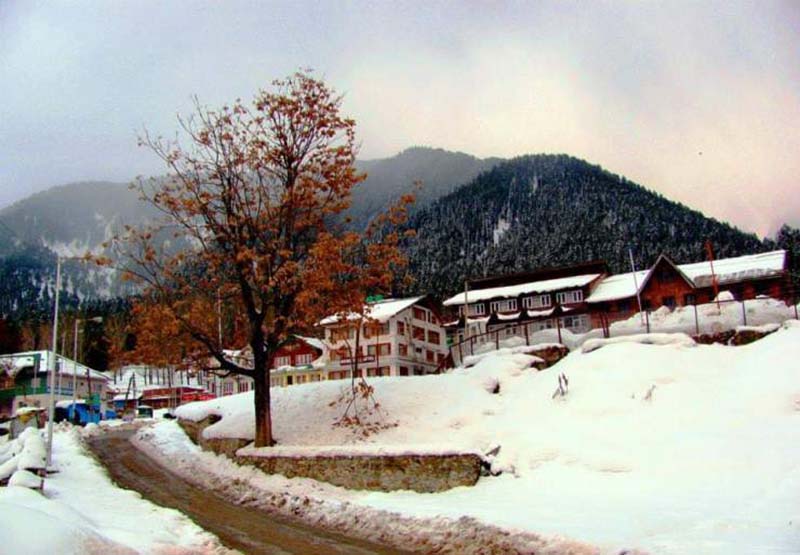 View from our hotel room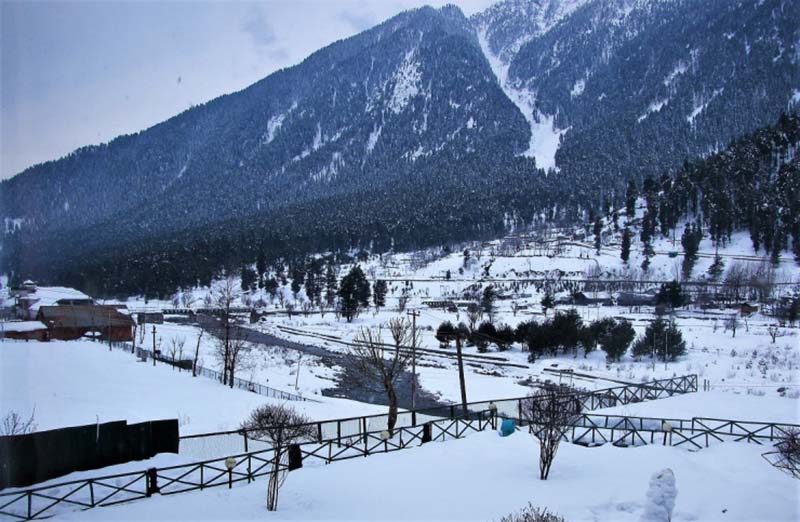 Sunset at Lidder River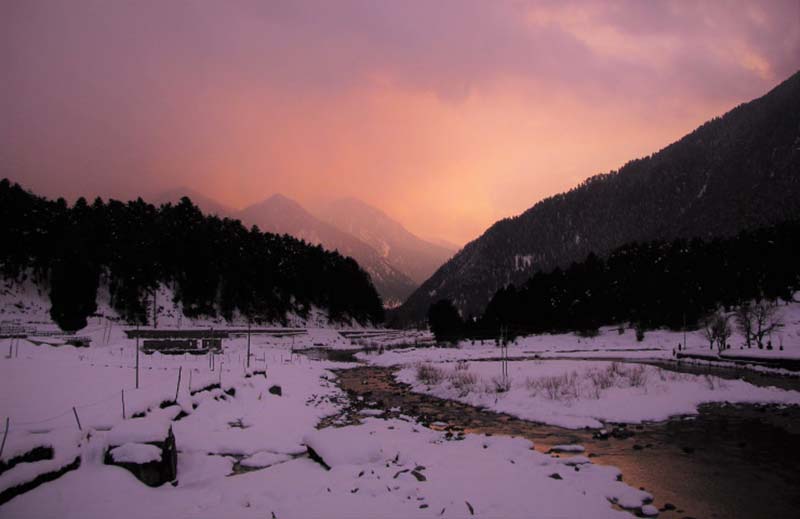 Pahalgam to Srinagar
The next destination was Srinagar. But again the driver was late as the water in the radiator had frozen. It will be untrue to say that Kashmir was a rosey place (security-wise) at that time.
We did encounter the increased presence of the Army as we approached Srinagar, but no hindrance from locals. There was only a small roadblock by a few angry villagers whose water supply was not regular this winter.
We had a few stops, one at a Hindu shrine (do not remember the name (see my memory is already betraying me) and another at Martanda Sun temple (I had to search Wikipedia to find the name).
This I remember because of the self-proclaimed Punjabi guide who took some beautiful photos of us posing as Sanjeev Kapoor and Suchitra Sen as the song, 'Tere bina jindagi se koi sikwa nehi" of the film Aandhi was shot here.
Shikara Ride in Dal Lake
We missed the Tulips and the famed Chinar trees. They were leafless, standing against the blue sky as the old rishis of Vedas performing penance far too long.
My wife was a bit excited to see the Jhelum river (her namesake), and lo by afternoon we were standing in front of Dal lake eagerly waiting for our first Sikara ride.
The Dal lake, a town in itself with its houseboats, market, touristy traps of Kahwa chai (and woolen garment shops and flower shops), snow-capped mountains reflecting against the placid blue waters, with birds chirping surpassed by calls of beautiful Kashmiri girls from the neighborly Shikaras to buy their products.
Hundreds of poets, forsaken lovers, and lonely tourists have romanticized Dal Lake in poetry and prose. Yet every time I think of that evening, it seems that I have seen something which no poet has described before.
Its essence cannot be captured by any photographer. Its beauty for me will only die with my death.
Kashmir ki Kali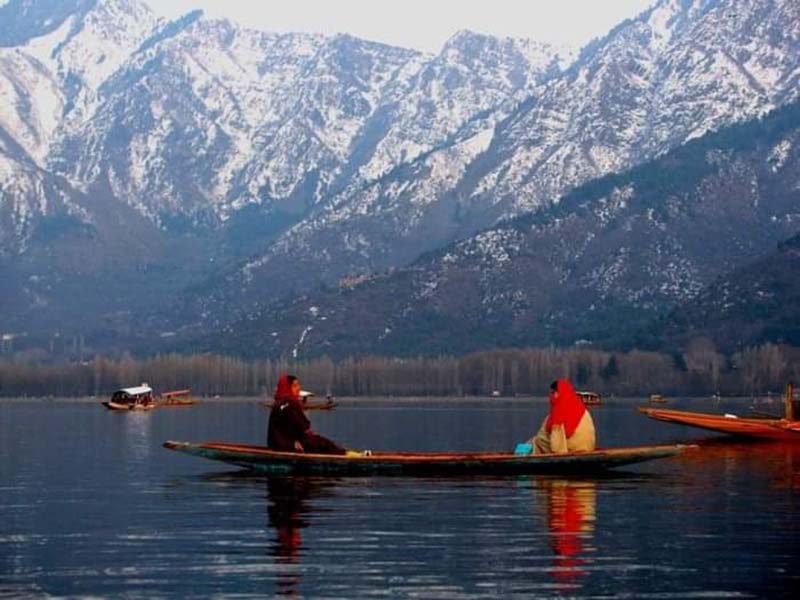 The reflection of life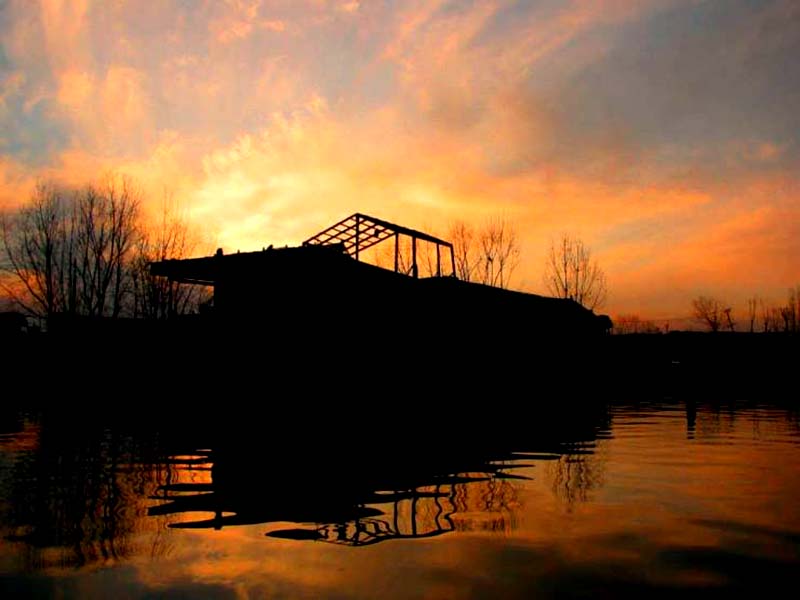 Gondola Ride and Skiing in Gulmarg
The next day was a day tour to Gulmarg, the skiing Paradise of India. It is the place where foreigners go for a ski and Indians for Gondola rides.
I did both, a Gondola ride to the top (you can see the entire Himalayan range from the top) and learned helplessly to ski. It was all in the midst of laughter from my better half (don't know why everybody calls them that), and falls on the snow. Boy, it was a really painful thing.
We returned by 3 pm, feasted on a truly Kashmiri Wazwan, and decided to go for a stroll along the Dal lake.
Gulmarg or Switzerland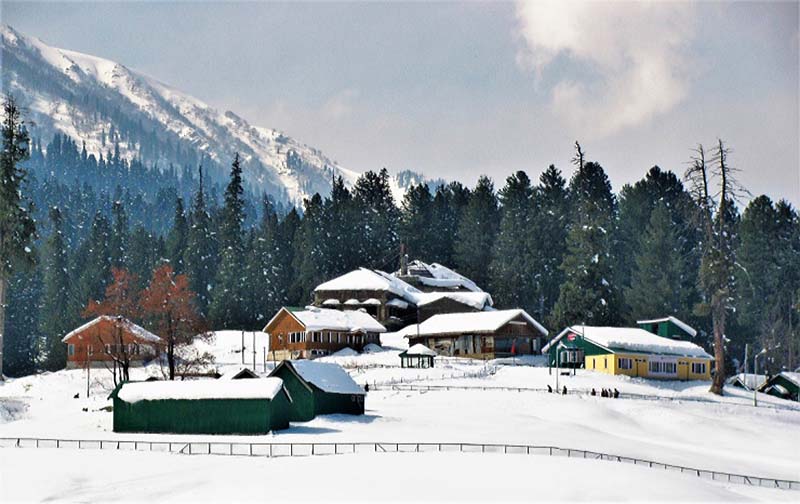 Trying really hard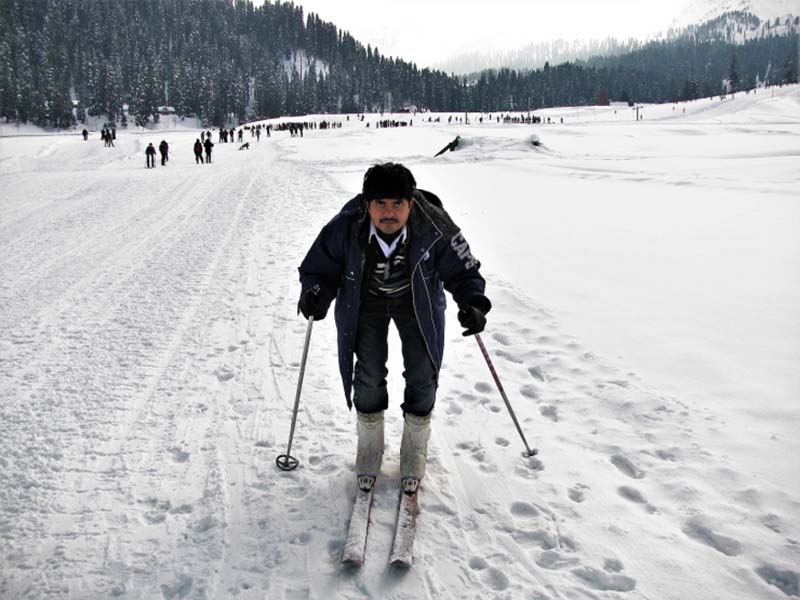 The last day of our honeymoon in Kashmir was a local sightseeing day. Our first stop was the Shankaracharya temple at top of a hilltop. From there, where you get some wonderful views of Jhelum and Dal Lake.
Next was a trip to the famous Shalimar Bag (minus the flowers) where we had the customary photo op dressed as a Kashmiri couple. Then we went to another Mughal Garden, a name that I don't remember now but I think it was Nishat Bagh.
We called it a day to do some shopping. That night it snowed, and lo, the next morning it was as if the whole Srinagar had been painted white.
After a tough security check, we flew out to Delhi, only to be denied boarding on the connecting flight to Kolkata as my wife's name was wrongly spelled on her voter ID card! Thus ended our memorable honeymoon in Kashmir.
Honeymoon in Kashmir – Conclusion
I hope the travelogue of our honeymoon in Kashmir and the information provided above was of help. If you have any questions, please feel free to ask in the comments section below. You can also follow me on Instagram and chat with me live or subscribe to my YouTube channel and ask a question there.
This error message is only visible to WordPress admins
Error: No feed found.
Please go to the Instagram Feed settings page to create a feed.