One thing that I have realized in all my years of working out is that when it comes to losing weight, keeping a track is really the key. And when I say keeping a track, I mean to count calories and record your progress. You will really have to get down to the level of either memorizing accurately; or writing down what you ate that day and how many calories it carried. The next and equally important step would then be to record your progress. There are numerous personal scales available in the market today that you can buy for this purpose. One such product that I would review in this article is Health Sense PS 126.
Health Sense PS 126
I decided to quit smoking for good about a year ago (which I successfully did) and as a direct result of it, gained about 20 kilograms of weight in next 5 to 6 months. I replaced cigarettes with food and all the non-stop eating saw me gaining weight like crazy. Once I was over cigarettes, I then shifted my focus to shed all the extra pounds I gained which I knew was not going to be an easy task. To keep a better track of how I was progressing and also to keep my self motivated, I decided to buy a weighing scale of my own.
To be honest I had zero knowledge on what  I was looking for but knew that I wasn't going to buy something expensive. So I looked up a few products on Amazon India and started to read reviews. Health Sense PS 126 had mostly all positive reviews and with a price tag of slightly over Rs. 1300, it sounded a bit within budget as well. So I decided to give it a try and ordered one online.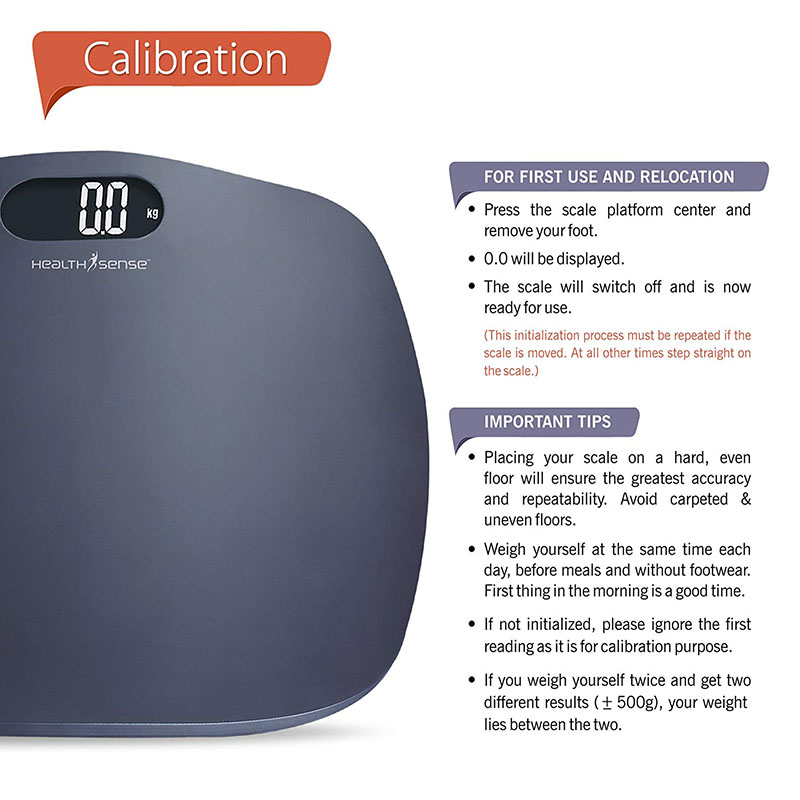 Amazon Delivery
I am an Amazon Prime customer so the order was delivered the very next day. Packaging was good and I received a brand new genuine product. So nothing to really complain about on that front. Now let me provide some details on the weighting machine.
Review
There is nothing really too great about it in terms of design but it don't look bad either. The grey color is a bit dull to look at but who cares about the color of a weighing machine anyways. It is however made of high quality plastic body so the quality is great. It is really light in weight and very easy to move around. The design is slip resistant for firm footing.
As far as the accuracy goes, I tested it in the gym by placing dumbbells of different weight on it. There were a couple of incorrect readings at first when I moved the scale from one place to another. But once the calibration process was complete, it showed the correct weight of all the dumbbells.
The weight is displayed on a clear lit LCD with white fonts for legibility. The display is super bright and clear. It has a weighing capacity of 5 to 180 kilograms and you can toggle between kilograms or pounds as your choice of measuring unit.
Click on the link below to review the product on Amazon India.
Final Verdict
My final word would be that Health Sense PS 126 is a great personal scale that gives you accurate readings, is well built and reasonably priced. If you are trying to lose weight and need your own weighing machine then give it a try, you won't be disappointed. I hope the review above was of help. If you have any questions, please feel free to ask in the comments section below.