To be honest, this was one movie that I was waiting for, ever since I saw its trailer on Amazon Prime. It looked like a good premise for a light family comedy with great actors. Alas, in the end, Gulabo Sitabo turned out to be a slow drag that never really gets funny. It is a solid display of acting by both of its lead actors but this is where it all ends. Other than the acting, there is nothing good about the movie.
Gulabo Sitabo
For a brief overview, Gulabo Sitabo is a comedy-drama film directed by Shoojit Sircar starring Amitabh Bachchan and Ayushmann Khurrana and Vijay Raaz in lead roles. The film could not be released in theatres due to the COVID situation and was made available for online streaming on Amazon Prime Video in June 2020.
The movie is set up in the heart of Lucknow and tells the story of Mirza and Baankey.
Mirza (played by Amitabh Bachchan) in a 78 years old landlord whose most prized possession in the world is his old Haveli. Baankey (played by Ayushmann Khuranna) is his tenant who would not vacate the premises at any cost and matches Mirza bit for a bit in their ceaseless bantering. Vijay Raaz plays the role of ASI Officer Gyanesh Shukla who has his own agenda about the old mansion.
What follows for the next 2 hours is a series of non-stop arguments between Mirza and Baankey; as they try to make each other's life miserable, in every way possible. One is a greedy miser and the other a poor tenant doing his best to avoid paying any rent; even though it is a meager amount and much less than all the other tenants.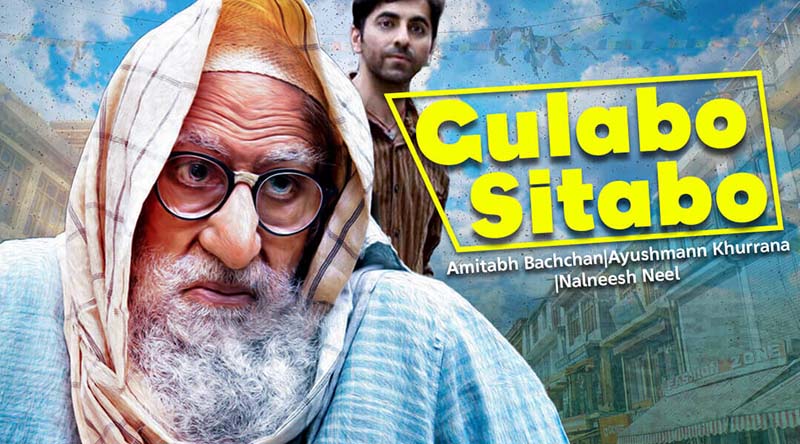 Review
What is good about the movie? The acting by its entire cast is simply amazing. Amitab Bachchan shines bright in the role of the old landlord and is a pleasure to watch. Aayushman Khurana matches him and does not disappoint. Vijay Raaz and Bijendra Kala are equally good and even the supporting actors play their roles well.
But only the acting skills are not enough to keep the viewers entertained for 2 hours. The pacing of the movie is extremely slow. It takes its own time and feels contained and timeless. The humor is quieter and is limited to only a few occasions.
The characters, though interesting, aren't really likable. The character of Ayushman's sister does not fit the tone of the movie as she is shown sleeping around the entire town with a host of men. It really is in bad taste. Amitabh Bachchan is a 78 year old man but his preferences are not really believable in the real world for someone of this age. His 93 years old wife is pretty much on the same lines. She has a lover who she runs away with at an age when people can barely think about anything other than the daily medicines. Seriously?
The narrative drags for the first 1.5 hours and catches a little pace only in the last 15 minutes. By that time, you will already be too tired to care about what happens. The music is not even worth mentioning. Dialogues are badly written and the script is really poor.
There is nothing in the film that catches your attention or can make you laugh out loud. It just seems like an endless argument between Mirza and Baankey that is neither funny nor does it make any sense.
Conclusion
My final word on Gulabo Sitabo is to give it a skip. It really is a waste of acting talents like Amitab Bachchan and Aayushman Khurana. The makers should have worked on the script better and try to reduce its runtime. It is a movie that never really gets funny and just leaves you bored in the end.