Humayun's tomb is the tomb of the Mughal Emperor Humayun in Delhi, India. The tomb was commissioned by Humayun's first wife Bega Begum in 1569-70, and designed by Mirak Mirza Ghiyas, a Persian architect chosen by Bega Begum. It was the first garden-tomb on the Indian subcontinent, and is located in Nizamuddin railway station. It was the first structure to use red sandstone at such a scale. The tomb was declared a UNESCO World Heritage Site in 1993 and since then has undergone extensive restoration work, which is complete.
Source: Wikipedia
It was a Sunday morning and as I was getting ready to go the gym, an Idea suddenly hit me. Why not skip the gym today and go out for some photography? I have lived in and around Delhi for most of my life but surprisingly, visiting any of the historical or tourist places within the city never quite sounded like something I should do. For me photography and trips meant getting out of Delhi. Even though I had been planning with a friend of mine for a day long photo walk to various tourist places in the city, it never quite happened. Always for one reason or another, our plan kept getting cancelled. So on that Sunday morning, I finally decided to do it. The watch showed 5.30 in the morning which meant that I cannot of course call someone to accompany me and would have to go out alone. I quickly switched on my computer and after Googling for a while, decided to visit Humayun's tomb and get some sunrise shots.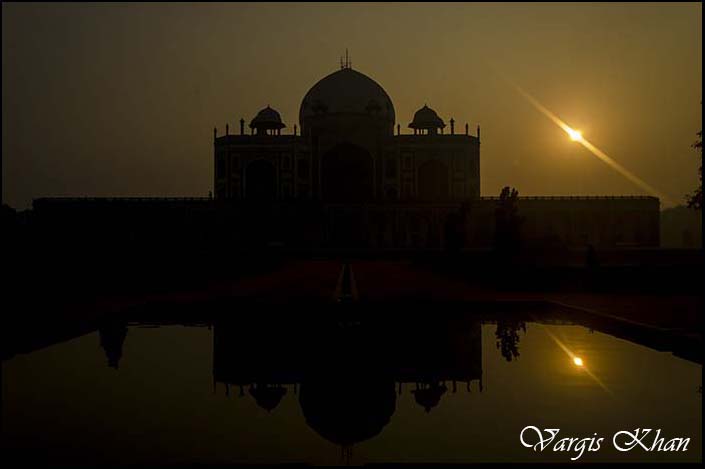 It was a February morning and I started from my place in West Delhi at 6 AM while it was still dark outside. Within half an hour, I had reached Nizamuddin railway station and after asking for directions from a tea vendor, was soon standing at the gates of Humayun's tomb which were just getting opened. I was hoping for some clear skies but because it was February, there was a lot of smog in the air which kind of ruined a lot of pictures. Until the sun came up, sky in almost all the pictures was completely blown with no highlights at all. I kept roaming around waiting for the sunrise and when it happened, it definitely was worth the wait.
The tomb looks exactly the same from all the four corners of it and surprisingly, the caretakers have planted the exact same trees at each corner. I wanted to get some shots without the trees but there are palm at each corner of the tomb.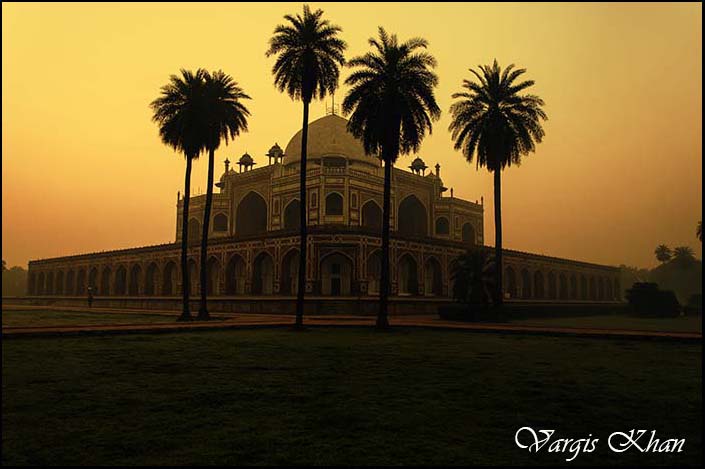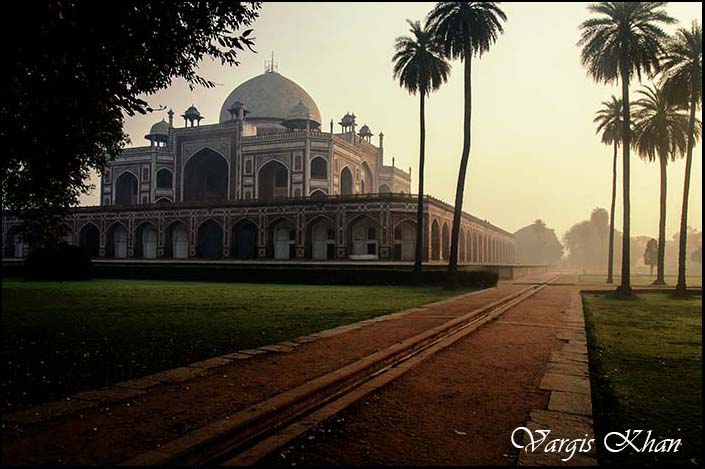 Initial plan was to stay for a while and click some pictures when there is ample light in the sky but being alone does get boring. After circling the tomb twice and clicking about 150 pictures, I decided to head back home.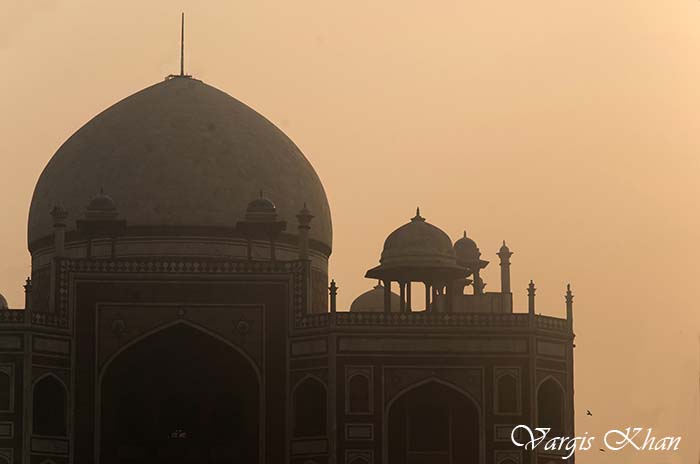 Isa Khan Niazi's tomb near the exit of the compound. I wish they would give more restoring attention to this, it kind of looks in a real bad shape.