I recently bought a Dymatize Whey Protein; and this is a brief review of how my experience with the product has been. I am still using it, as a matter of fact. I bought a 10 lbs pack and am not even halfway through yet. Overall, I will say that I am very satisfied with the product. It is too early to tell about the results and gains but apart from that, all the other factors, that we will cover in this article, add up to Dymatize being a great whey protein and value for money.
This was the first time I used anything from Dymatize. For the last few years, I have been shuffling between Universal Whey and ON Gold Whey because I got good results with both of them. Both of these are well-known brands and have a wide range of flavors. So I never really felt the need or urge to try something new. But this time, on the recommendation of a friend, I decided to pick Dymatize off the shelf rather than my other two favorite brands.
Dymatize Whey Protein Review
Dymatize is a very well known and established health supplement company. You can take a look at several products they offer at their official website. They do not need any introduction and even I had read good reviews about it. So that confidence was already there and I knew that I am bringing home a good product. As a matter of fact, if you Google for Top Proteins, Dymatize will definitely be listed in either top 3 or top 5 in most of the articles.
Price
Let me begin with the money you will pay if you buy it in Indian Market. Most of the whey proteins, good ones I am talking about, will cost you between Rs. 5000 – 6000 for a 5 lbs pack and between Rs. 9000 – 10000 for a 10 lbs pack. I am just quoting the average amount here. There could be a little change in the prices but it will be around these figures only, more or less. My friend who recommended me Dymatize actually owns a Whey Protein store so I paid a few hundred less than the 9000 MRP. So in terms of price, I will say that Dymatize is OK. It won't cost you less than other protein brands but will not also burn a hole in your pocket.
Nutritional Information of Dymatize Whey Protein
Below are a couple of pictures of the nutritional information as mentioned on the packing.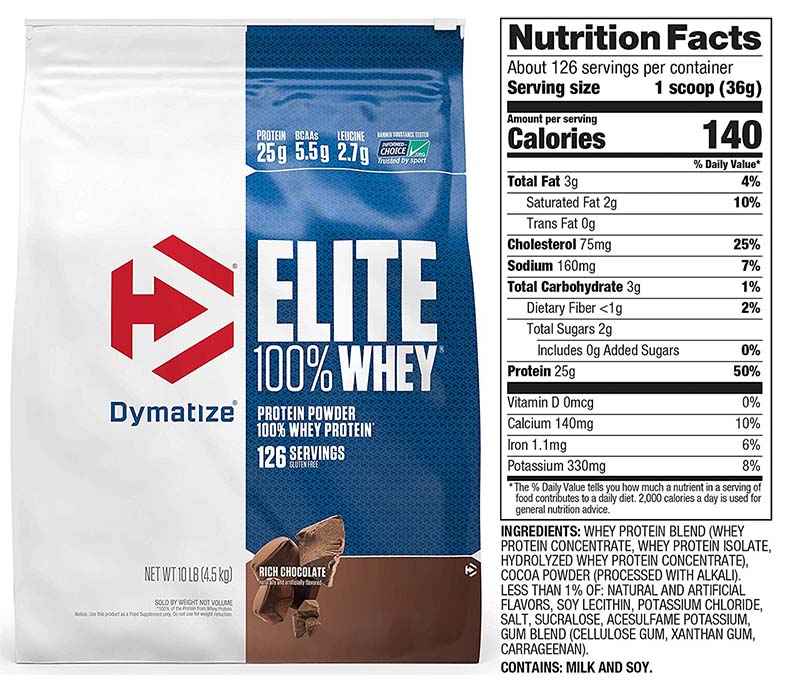 Taste/Mixability
This is actually the only part that I did not like but that is just my own personal reason. I bought the Vanilla flavor (just because I wanted to try something new) and totally hated it. The moment I had my first sip, I immediately realized that I should have stick to the good old Chocolate flavor. But that is really more of my own personal opinion. If you like Vanilla Flavor than you will like Dymatize. Mixability is good as well. I have used it with both milk and water and in both cases, the protein dissolved completely in a few shakes. Overall, Elite Whey mixes well, is OK in terms of taste and not overly sweet.
Dosing & Effectiveness
I typically used Elite Whey before and after workout and upon waking up. So that is three scoops a day. The pre-workout and morning dose I take with milk to slow down the absorbing process. After workout, I take it with water. I have sometimes used it in between meals as well and it worked well to kill the appetite. When used as a post-workout shake, I was able to go home and wait easily for an hour or more as I cook my chicken and dinner. In terms of its effectiveness for muscle gain, I really cannot comment on it right now since I just started using the product.
Servings
This is where I will say that Dymatize lacks a little bit. In a 10 lbs pack, it has only 126 servings and the price is almost the same as other brands. For almost the same money, you can get up to 150 servings if you bought ON Whey or Universal Whey.
Side Effects
I did not notice any side effects at all.
Pros of Dymatize Whey Protein
Very low on the sugar content.
Low-fat product
Also contains BCAAs
Good Value for money with 25 grams of protein per serving
Large selection of flavors to chose from.
Easy Mixability
Conclusion
I think Dymatize is a good and balances whey protein. I will post another update after a few months of usage but so far, I definitely like it. If you have used the product, please do share your thoughts on the same. If you have any questions, please feel free to ask in the comments section below and I will be glad to answer.