I recently tried BPM Labs Annihilate fat burner; and below is a short review of how I found this product to be. I was using Annihilate about 20 – 30 minutes before my workout and only once a day. I am right now on a low calorie diet and several of these days, I used the fat burner on an empty stomach.
BPM Labs Annihilate Fat Burner
It is an intense thermogenic fat burner with stimulants to help with endurance, increase metabolism and strength.
Flavors
It comes in the following three flavors.
Blue Raspberry
Rainbow Sherbet
Strawberry Watermelon
I would rate this product a bit low on the taste side. I am using the strawberry watermelon flavor and it truly tastes horrible.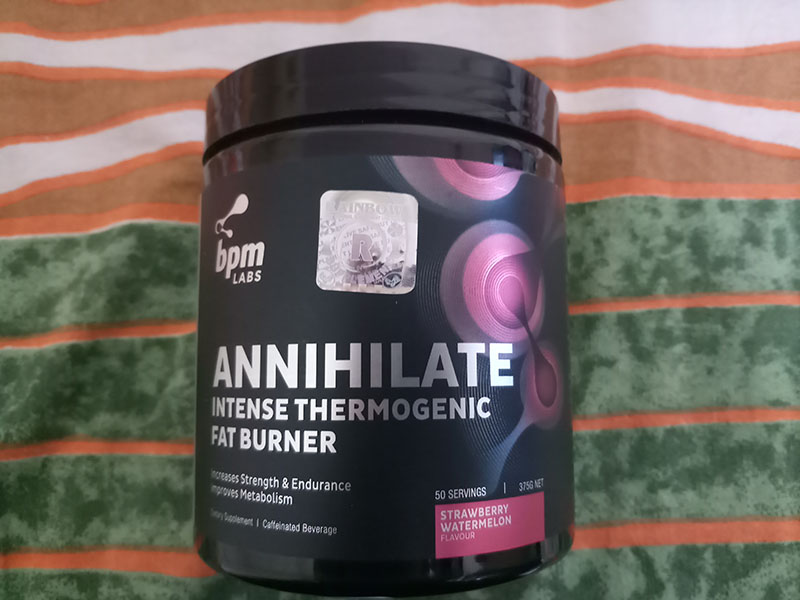 Benefits of Annihilate
As per the label on the bottle, this product can and is an,
Intense thermogenic and fat burner
Increases energy and focus
Improves metabolism
Promotes lactic acid buffering
How to Use
As suggested on the bottle, you should take one scoop with 300mL water, 15-20 minutes before your workout. You should also avoid taking it 5-6 before sleep.
Review
It will be about 15 minutes after ingestion on an empty stomach before you will feel any effects. The effect is not really that intense, but enough to get you through a 60 to 90 minutes workout easily. It was smooth and non-jittery and does help in suppressing appetite. You will end up eating less which will further boost your fat loss results. It is definitely not the strongest or the best fat burners out there but is decent enough.
The downside however is that it is a bit on the expensive side though and will cost you around Rs. 3500 to Rs. 4000 depending on where you buy it from. There are other fat burners in the market that are even better and will cost. Second downside is that it has a total of 50 servings; but you will actually have to take 2 servings at the same time; otherwise you will not feel any effect at all. If you take just one scoop that you won't really feel anything at all. So at this pace, this bottle actually has only about 25 servings for the price of Rs. 4000.
Final Verdict
If you do not mind the price tag and bad taste, then I will say than you can give this product a try. Do look around though and I am sure that you will find a few other better fat burners at a comparatively lesser price. I hope the review above was of help. If you have any questions, please feel free to ask in the comments section below and I will be glad to answer.
Disclaimer: I am not a nutritionist or an educated supplement advisor. I am also not a doctor nor do I have any experience in medical field. This product review is strictly based on my opinion and experiences.