I recently bought Boltt Blast 1400 headphones and below is a brief summary of how my experience has been so fart. To summarize it, I will say that it is just an average headphone that I wouldn't really have complained about if I bought it for 1000 bucks maybe. But I bought the damn thing for Rs. 2999 and for that price, I must admit that I am a little disappointed. I expected the sound quality to be a little better but it wasn't.
Don't get me wrong, I am not saying that it is a bad headphone. All that I am saying is that it is overpriced and does not really live up to the expectations that you will have after paying all that money.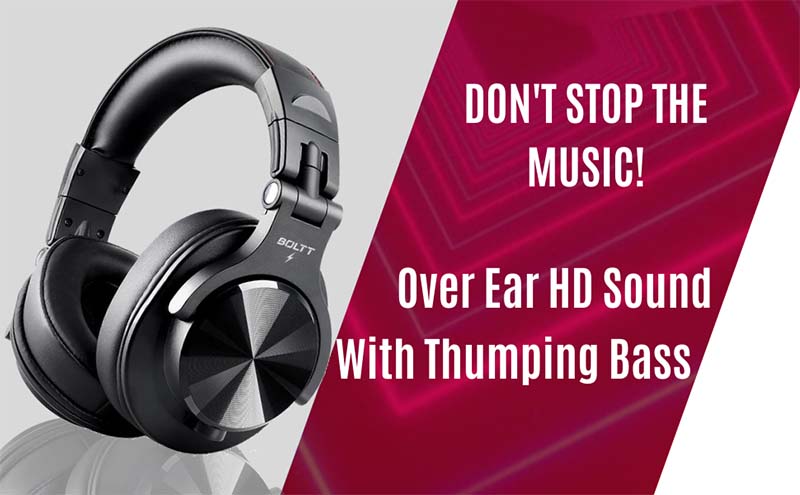 I have not even heard the name of this company prior to the day I bought it. My Octave headphones got damaged after I accidentally stepped on them so I was looking for a new one. My use is basically in the gym for a couple of hours daily and for that, I needed something that produces a good thump and bass and that is what caught my eye about this headphone.
Boltt Blast Headphones Review
I was going through the list of Bluetooth headphones on Amazon and in the description of Boltt Blast Headphones; it read 'Thumping Bass'. I went through the reviews on Amazon and everyone said that it has great bass and I was immediately sold.
What I got, however, was a headphone that produces a well-balanced sound only at mid-level volume. If you crank it up all the way to the top, the music starts to sound a little piercing and only in 2-3 minutes, you will have a headache and will remove the headset. But if you keep it at about 60-70% of the volume and do not expect heavy bass, it will suit you just fine. The Bass is definitely not heavy at all.
Battery life is good though. I have used it for about 10 hours at stretch without charging and it lasted very well. I am sure it could go on for more but 10 hours is the longest that I have used it without recharging. Bluetooth connectivity is awesome too. I workout in the gym and my phone is mostly in a bag in a corner. I move around between walls; and have even gone to a floor above but the connectivity did not break. I was really surprised by this because I have used multiple Bluetooth headsets and even with some of the biggest brands, connectivity with a roof in between is something not expected.
In terms of looks, it is nothing great. It isn't bad looking but not very stylish either. I bought the Blast 1400 headphones but its younger brother, Blast 1200 is an even better-looking deal. It is lightweight and does not hurt at all even after sitting on my head for 2 hours.
Final Verdict
Updating it now after a month of usage. It is good as long as you keep the cord attached. But as soon as you switch over to Bluetooth mode, sound quality greatly disappoints. Bass is lost completely and beats will be gone.
It is really average and does not stand out, especially with the heavy price paid. I wouldn't recommend buying it honestly. I hope my review above of Boltt Blast 1400 headphones was of help. If you have any questions; or need  any other help; please feel free to ask in the comments section below; or at our Community Forum; and I will be glad to answer.