Being the major tourism hub of the United Arab Emirates, Dubai is jam-packed with countless attractions, adventures, wonders, and rich culture.
It is a land known for the best adventures and fun, where thrill seekers travel across the world to Dubai. Among all those exciting things to do in Dubai, waterparks are a must on your bucket list.
Best Water Parks in Dubai
Water parks in Dubai are popular outgoing places and are one of the best ways to beat the scorching heat of the sun. So, here are the top water parks in Dubai that are surely going to make your visit worth remembering.
Aquaventure Water Park
Aquaventure has become a landmark in the Dubai tourism hub and is the biggest water park in Dubai. It features some of the most adrenaline-pumping activities and record-breaking rides, a shark-filled lagoon where you can encounter sharks in captivity, and zip-lining across the park.
You can also take a walk on the immaculate private beaches. The most popular rides include Leap of Faith, Shark Attack, and Cownose Feast.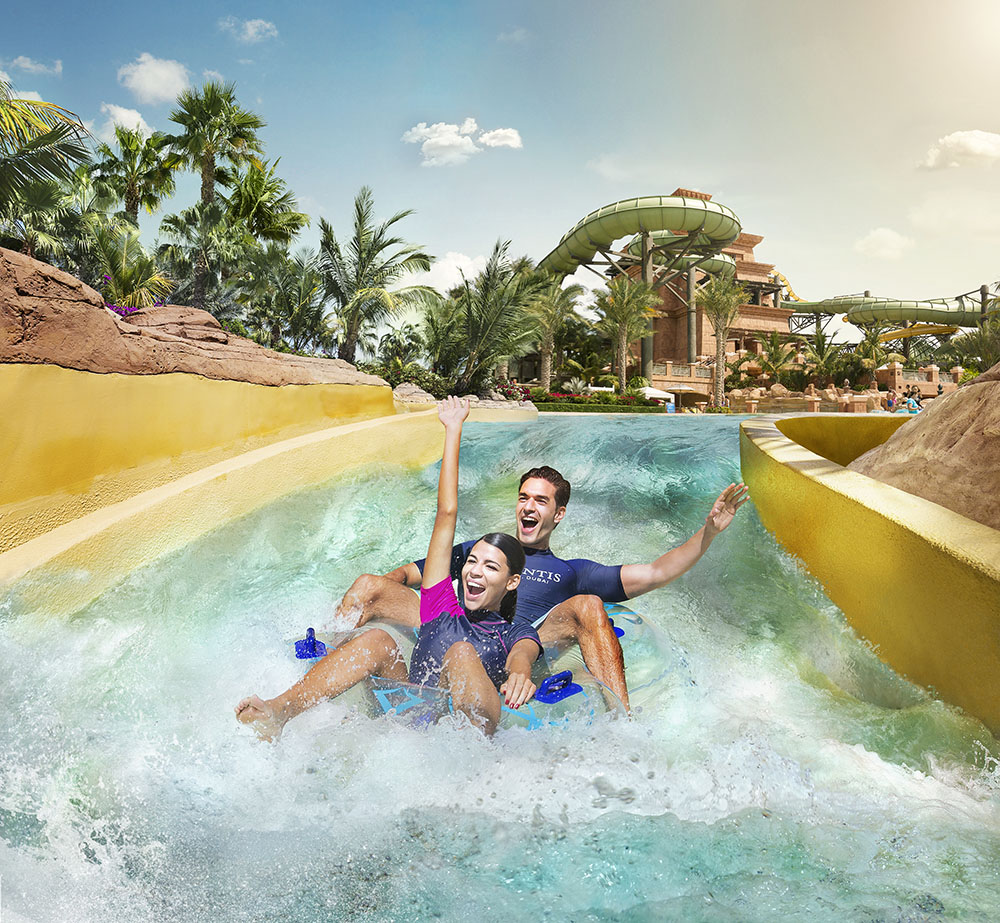 Wild Wadi Water Park
Arguably one of the most popular water parks in Dubai, Wild Wadi Water Park is a perfect place to spend quality time with your family. It lets you escape from the hustling routines of life while disconnecting you from the heat of Dubai.
There are more than 30 rides and attractions suitable for kids and adults alike. One of the major highlights of this water park is that it is located right next to the iconic Burj Al Arab.
Enjoy the scenic look of the iconic landmark while you immerse yourself in the rides and pools of Wild Wadi Water Park.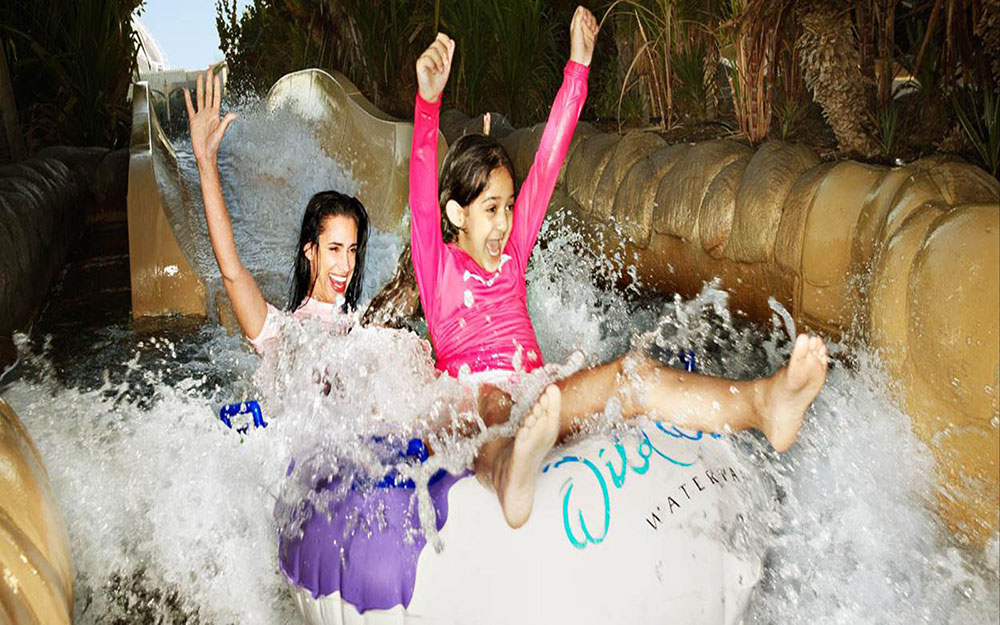 Yas Water Park
Yas Island is one of the most extravagant water parks in Dubai. The park has been ranked ninth in the top 25 water parks category of TripAdvisor's Traveler's Choice Award. There are in total over 40 rides, with many being one-of-a-kind in the world packed with fun, and adventures.
Dive into ice-cold water from the top of a mountain, enjoy adrenaline-pumping rides, and relax your body in the wave pool—Yas Water Park is one of the best water parks in Dubai for adults.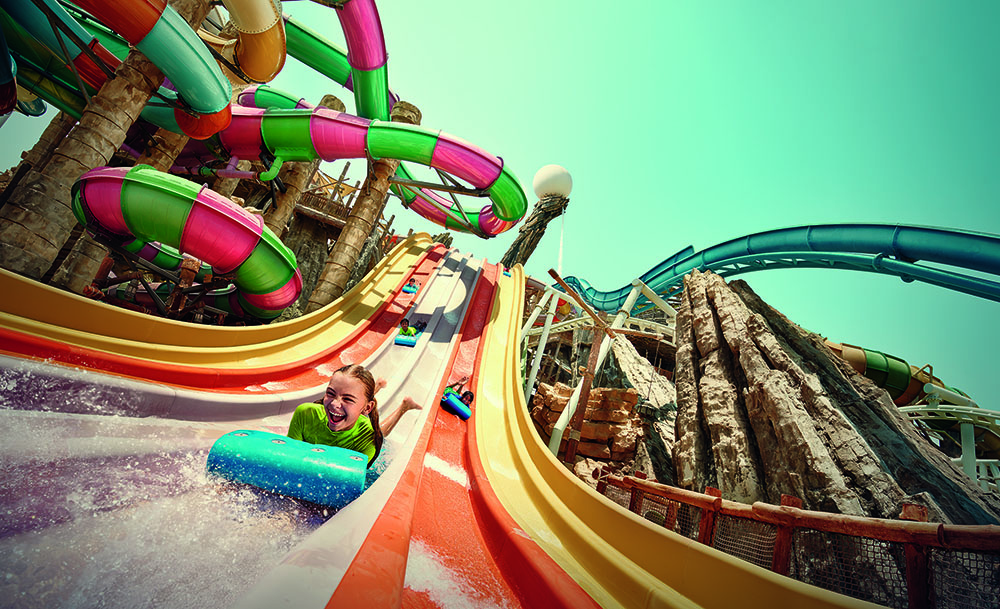 Laguna Water Park
Located at the La Mer Hotel with its gorgeous waterfront and promenade, Laguna Water Park is one of the famous water parks in Dubai that offers you access to private beaches and some of the most thrilling rides.
The park has four zones, which include Surf, Relax, Slide, and Splash, ensuring affordable Laguna Water Park tickets for all. Indulge yourself in one of the exhilarating rides like Manta, where you slide and glide down a series of twists and turns.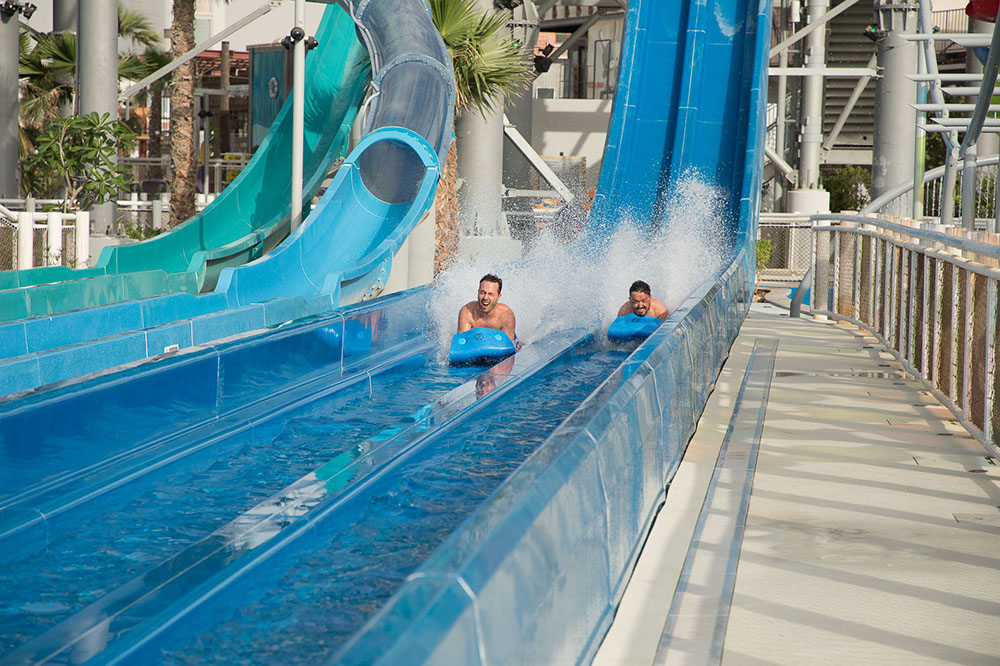 Legoland Water Park
Legoland is one such water park in Dubai that brings all your childhood fantasies of Legos to life. It is one of the few water parks in Dubai that is specially dedicated to children, making it one of the best water parks in Dubai for kids.
The entire park is set in the Lego style and has more than 20 rides. Along with exciting rides like Splash Safari and Joker Soaker, Legoland Water Park offers the unique opportunity to build your own boat.
IMG Worlds of Adventure
Reckoned as the largest indoor water park in Dubai, the IMG World of Adventure is the crown jewel of Dubai, featuring many spectacular structures and rides that will fill your day.
There are four epic zones, where two are themed with visuals from Cartoon Network and Marvel, while the other two are themed with famous attractions from IMG Boulevard and The Lost Valley. Adrenaline junkies can indulge in some rip-roaring rides.
MotionGate
If you love Hollywood and are seeking a fun day outing in Dubai with your family, MotionGate is a perfect choice for you. It is a huge Hollywood-inspired theme park, featuring various themed zones with numerous attractions.
Start with a wide array of rides, cinematic adventures, and attractions, which are highly recommended for all, irrespective of your age or interests.
From roller coaster rides to action-filled adventures, these are ready to give you the ultimate dose of thrills and the feel of adrenaline rushing through your spine. There are even live performances and loads of food options to treat your palate. Motiongate is one of the fine water parks in Dubai.
Dress Code at Water Parks in Dubai
Though you are always advised to dress modestly in the UAE, the dress code in Dubai's water parks is liberal. Most water parks do not allow dress codes, including abayas and hijabs, because they can get stuck in the slides and result in a crucial safety hazard.
This rule extends to other loose clothing like shirts, jeans, and long pants. When you are visiting water parks in Dubai, ensure that you pack swimsuits, but keep in mind that bikinis and speedos are not appropriate swimwear.
Instead, women can opt for one- or two-piece swimsuits, while men can wear board shorts. Plan your water park day on weekdays, as weekends get crowded. Book your ticket in advance to avoid disappointments and long queues.
Whether you are visiting water parks with your friends, family, or loved ones, these offer a unique experience for people of all ages. Water parks in Dubai never fail to surprise their visitors, which are not only a fun add-on to your tour but also an experience for your Dubai trip.