1922 Netflix movie is not a recent release and it has been online for almost 3 years now. So yes, this review is a little too late but I just thought to share my opinion because I feel this movie deserves a little better than what it got. I am into horror movies and noticed this one a few times on Netflix but always refrained from watching. Reading the reviews, it sounded like a dull and boring movie.
Then finally I decided to give it a try last weekend and was in fact pleasantly surprised. This movie was not at all as bad as the reviews made it look. It was a pleasant crime thriller with a clear social message that crime never pays. I am not sure why the critics slammed this one so bad. True it is a little slow but not to the extent that you will feel like turning your TV off. Below are my two cents about this movie.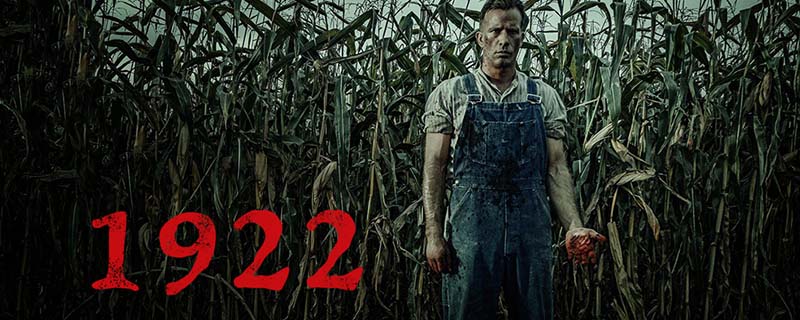 1922 Netflix Movie
For a brief overview, 1922 is a horror drama film based on Stephen King's 2010 novel of the same name. The movie stars Thomas Jane, Neal McDonough, and Molly Parker in the lead roles and tells the story of a farmer who, along with his son, conspires to murder his wife in order to gain her share of the land. They both murder the woman, dispose of her body but things did not turn out to be as easy as they imagined.
The movie was made available for online streaming in October 2017 to mixed reviews. Most people complained about the movie being slow and termed it as hard to sit through. I respectfully disagree. This is a movie not about jump scares or thrills but rather of guilt and secrecy. It is a slow, methodical look at guilt and the consequences of moral compromise. There are no action sequences or wild chases here but rather a story of a simpleton farmer who believes it would be of financial gain to murder his wife. He convinces his son to aid him in the act and what follows are the aftermaths of the murder.
Review
For such a movie to be made properly, the build up would have to be slow. What is happening is quite obvious and nothing is hidden. There is no big reveal or twist ending coming. The entire movie is about how a normal person can sometimes commit hideous crimes driven by the circumstances. There was a line in the movie when the protagonist says, "in the end, we all get caught". That is the gist of the story.
On the surface, the movie looks like a typical crime thriller but if you look deeper, there is something much more deep and profound about it. This is a movie that will make you think for long after it has ended. It takes a deep look into guilt, pride, and greed. There is no heavy CGI, no nudity, no sex scenes; just good old simple and effective way of story telling. It does not rely on cheap scares. Instead, the horror comes from watching what people can do because of their greed and the damnation that results from their evil actions.
Thomas Jane's performance as a conniving hill-billy farmer was amazing. You will continue to wonder if he was too clever for his own good or just a dumb simpleton. Dylan Schmid as the son does an equally great job as did Molly Parker as the ill-fated wife and mother.
The story is quite simple but very intense and more of psychological horror. It is basically the chronicles of a man who is losing his sanity because of his guilt and finding it hard to differentiate between what is real and what isn't. It is dark and gruesome and has great elements of psychological horror. The combination of amazing cinematography, haunting music, and effective dialogues gives it a very effective sinister atmosphere.
1922 Netflix Movie – Conclusion
In the end, I will highly recommend watching this movie. It was an excellent portrayal of what happens when a moral dilemma leads to a wrong choice of action. It is a movie that will surely haunt you. Killing your own wife, your mother? Nothing good can ever come out of that and the movie passes on that message beautifully.