I often receive queries from people asking whether it is better to travel to Spiti from Shimla or Manali and my answer always is that it doesn't really matter. There is nothing that you may miss or cover more if you chose one route over another. The road pretty much remains the same. If you started from Shimla and ended at Manali, It is the same road that you will take if you did the journey the other way round. However the fact cannot be denied that starting the journey from Shimla does have certain advantages out of which I will list a few below.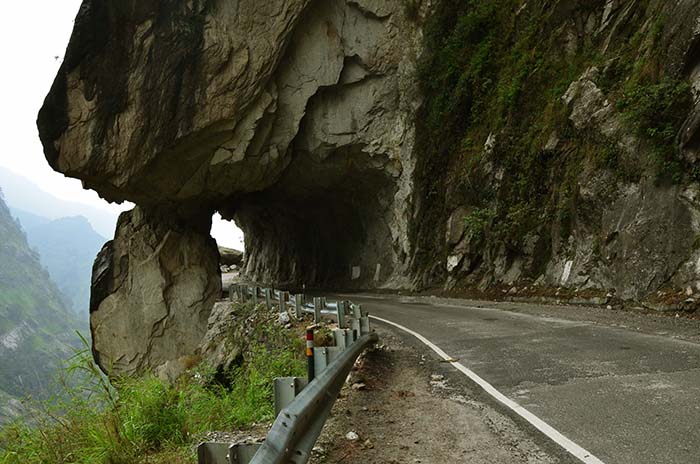 AMS and High Altitude Acclimatization: One problem that everyone who is travelling to either Ladakh to Spiti faces is acute mountain sickness. Though the problem is not as major in Spiti as it becomes in several parts of Ladakh, there still are places in Spiti valley where a traveler may get hit by AMS and trust me, when it happens it is enough to spoil the fun out of the trip. Chandrataal and Kaza are the places where there is a high chance that you will suffer from AMS because of the high altitude. So if you travel from Manali, the increase in altitude is sudden. One day you are at a relatively lower altitude in Manali and the next day you are at Chandrataal. Body doesn't get much to a get used to the high altitude and this is where it may become a problem for several people. However the ascent from Shimla is gradual. There are no sudden changes in altitude, you body gets sufficient time to acclimatize and you can enjoy the beauty and vistas of the Spiti valley.
The Drama at Rohtang: Do not get me wrong here, I love Rohtang Pass and the 50 kms drive from Manali to the Rohtang top however the fact cannot be denied that the drive can get ugly and messy due to the huge traffic. I have seen the jams at Rohtang last even more than a day (because of a landslide) and then there are also people with no driving sense at all that can become a cause for traffic jam and nuisance for others. If you want to cross Rohtang without getting stuck in traffic, your best chances are to cross as early as possible, start from Manali even before sunrise. This hassle can be avoided by starting the journey from Shimla. You will still have to cross Rohtang to reach back Manali on the return journey but it would be in later part of the day, possibly around 4-5 pm and traffic isn't that much during these hours.
Permit Problem: This is another concern with crossing Rohtang Pass. Every vehicle registered outside Himachal is required to obtain a permit from DM's office in Manali for crossing Rohtang Pass. DM's office opens at 10 am and it would be mid day before you will have the permit in your hands which means the delay of an entire day and needless stay at Manali. However this permit is not required for vehicles coming towards Manali so if you started from Shimla, this hassle can also be avoided.
Vehicle 10 years or older: Another problem with Rohtang. National Green Tribunal has now banned any vehicle that is 10 years or older from travelling to Rohtang so if you are in or on any such vehicle, you will not be able to continue any further than Manali and must commence your journey from Shimla.
Pollution Check Center: In 2014, a pollution check center has been set up at Vashishth on Rohtang highway which in my opinion will be another reason for long traffic jams and delay of hours for anyone heading towards the top.
Limited Time: If you wish to commence your journey from Manali, you can only do so during a limited time. Kunzum Pass opens late in June or early July and closes in October. However the road from Shimla to Kaza remains open throughout the year. If your plan to travel is in the months of July to September, you can either start from Shimla or Manali and take a full circle however in any other month, you must start from Shimla, reach Kaza and then return to Shimla.
I have travelled to Spiti from both Shimla and Manali and one thing that I must mention in the end that it is an entirely different experience from both sides. If you have done Shimla to Spiti then the journey from Manali to Spiti would still feel different, even though the destinations and the road is the same. Another thing that is worth mentioning that no matter which route you take, you will still be mesmerized by the beauty of the Spiti valley.