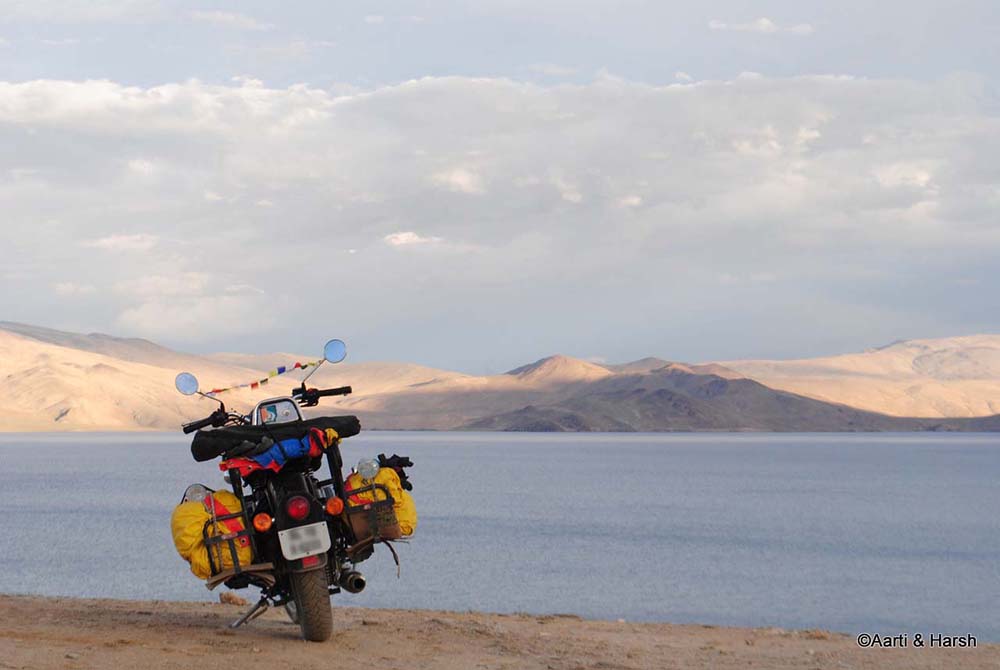 In order to transport a bike to Leh Ladakh, there are a couple of options that you can choose from. You can either send it by train or by road. They both have their own sets of advantages and disadvantages and it is entirely up to you which one to pick. I personally would prefer to send it by train for reasons that I will share further in the post.
Places like Ladakh and the two highways connecting it with the rest of the country are believed to be best explored on a motorcycle. Lots of people travel here each year by other modes of transport as well like flight, cars or public transport. But the majority of adventure enthusiasts will always opt for a motorcycle if given a choice.
Also Read: How to Plan a Trip to Leh Ladakh – A Complete Travel Guide
For people living in the northern part of the county, it becomes relatively easier. But for people living in southern or other parts of India, a big question that needs answering is how to transport your bike for Leh Ladakh trip?
Why & When to Transport Your Own Bike
Let us first take a look at a few reasons around when and why would you want to transport your bike to Leh. If you were living in states like Tamil Nadu, Karnataka, Bengal, Kerala, etc, a bike trip to Ladakh would mean that you have two choices.
To Save Time
The first is to ride your own motorcycle all the way from home. If you opt to do this, it would mean that you will have to ride for several days in the plain; through almost all of India while trying to reach Ladakh and then getting back home.
This would be time-consuming, expensive, and also quite boring. You can save all this hassle by simply sending your bike ahead.
To Save Hassle with Rental Bikes
The second choice then would be to reach Manali, Srinagar, or Leh and rent a motorcycle there. But then the reliability of the bike becomes a problem. Motorcycles available for rental are mostly beaten and badly used with a high chance of breaking down in the middle of nowhere.
Another hassle is of returning the motorcycle. For example, if you rent a motorcycle from Manali, it would mean that you will have to circle back to Manali itself to return it. If you chose to leave it at Srinagar, you will also have to pay another 10 to 15k additional apart from the daily rental.
Also Read: How to Prepare your Bike for Ladakh Trip
To Reduce Trip Cost
Renting a bike will also see you paying a daily rental, which can be anywhere between Rs. 1200 to Rs. 2000 per day. Apart from this, you will also pay a security amount upfront which is quite a high sum of money. Fuel consumption with these motorcycles too is quite high.
A bigger problem however is that if you rented a bike from Manali or Srinagar, it will not be allowed for sightseeing in Ladakh. For that, you will have to rent another local bike from Leh. This means that the entire time you are in Leh, you will be paying the daily rental for 2 bikes and only using one.
To Cover Manali-Leh & Sringar-Leh Highways
If you reached Leh by flight and rented a bike there, it would mean that you missed traveling on Manali – Leh and Srinagar – Leh highway entirely.
All this can however be avoided if you transported your own motorcycle to a place near Ladakh. This will save you the pain of several days of riding through the plains, technical troubles, and additional costs involved.
But most of all, it will give you peace of mind as it is your own motorcycle that you are riding. You are familiar with the pulse of the vehicle, know its limitations, and had plenty of time to get it ready for the tough ride ahead.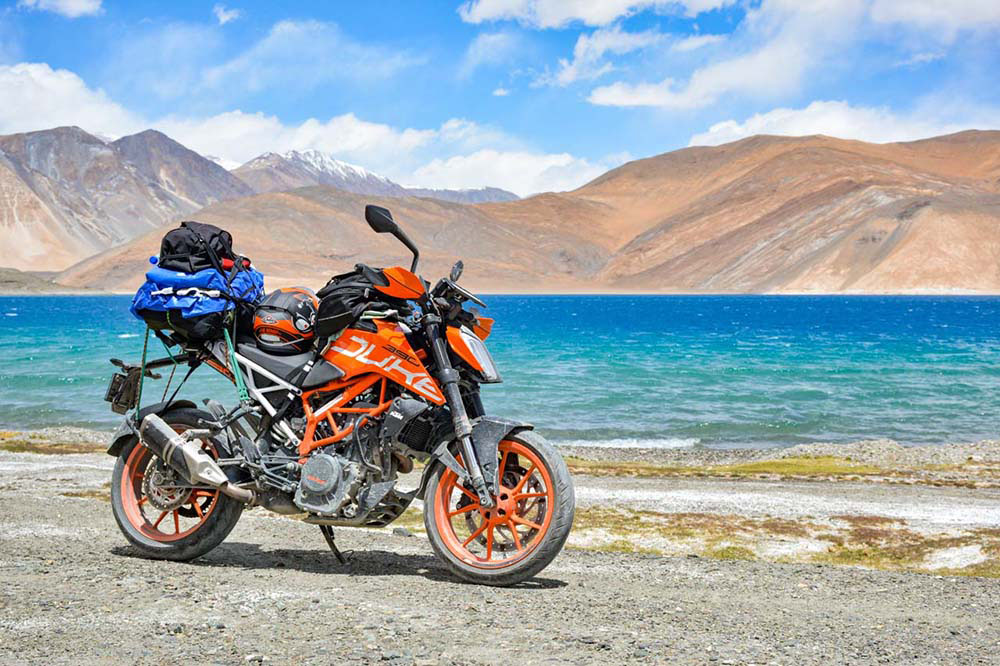 How to Transport Your Bike to Leh Ladakh
When it comes to sending your bike to Leh, you can either do so with a private packers and movers company or you can send it by Indian railways.
Of the two, I have found Indian railways to be the cheapest and safest way. The entire procedure is not that complicated, doesn't take long, and is way too cheap as compared to private packers and movers.
Let us first talk about how you can transport your bike by Indian Railways.
Where to Transport the Bike by Train?
The next question is where to transport the motorcycle. This will completely depend on your itinerary. If you are planning to start from Manali, then you will have to send/bring your motorcycle to Chandigarh. For Srinagar as your starting point, Jammu will become the destination station.
If you were having difficulty getting a confirmed ticket for these stations, you can also try for trains to other nearby stations in Punjab and ride to Ladakh from there. A guy I knew got his bike sent to Delhi from Kerala and started his Ladakh ride from there.
There is no train station in Leh and you cannot send your bike directly there.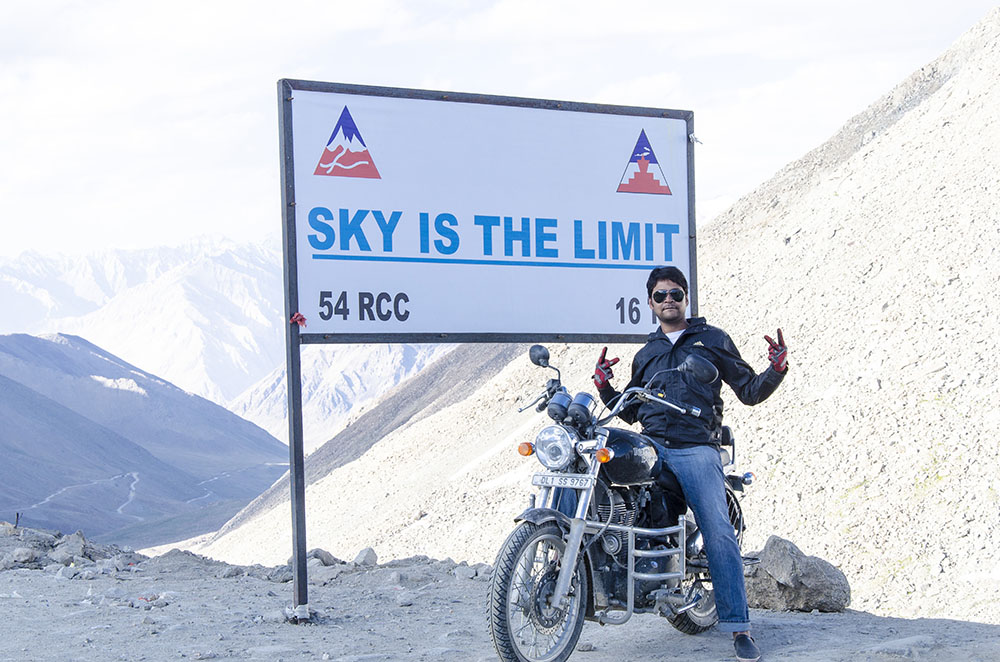 How to Send the Bike by Train?
There are two options to transport a Bike to Leh Ladakh by train. If you are sending the vehicle ahead of your own arrival, it would then have to be booked as a parcel. The motorcycle would arrive at the desired destination and wait until you reach there to claim it.
The second choice is to book the motorcycle as luggage. You will do this when you are traveling by the same train. Both you and your motorcycle would arrive at the desired destination at the same time. You will take the delivery after it has been unloaded from the train.
Also Read: Which is the Best Bike for Leh Ladakh
Sending Bike as a Parcel
This process will be in four steps – packing, booking, loading, and delivery.
Packing
Arrive at the railway station between 10 AM to 5 PM. The parcel office is open only during these hours.
Make sure that you arrive at least one day before the train departure date.
Empty the fuel tank to the last drop. This is very serious and carries a fine and even jail time if you fail to do so.
At the parcel office, you will find several packers who can wrap up your entire bike in jute bags for about Rs. 300 – Rs. 500. Hire any one of them to pack your bike for you.
I will suggest removing the rearview mirrors as these often get damaged or broken in transit.
On cardboard, write in large letters the name of the origination station and destination and hand it around the bike's neck under the headlamp.
Booking
After packing, go to the parcel counter.
You will need to bring your vehicle's RC, insurance documents, and a copy of your own government-issued identity card.
Fill up the form with all necessary details including the originating and destination station, type of motorcycle (Brand, make), postal address, registration number, the weight of the motorcycle, the value of the motorcycle, etc.
Mention the bike engine & chassis number as well on the registration form.
You will also be needing to declare the value of your motorcycle on this form. Do not just write just any number as you will be charged an additional amount for this figure. The higher you declare the value of your motorcycle, the more the charges that you will pay.
There is no insurance charge up to Rs. 10,000. Any amount above this will incur an extra 1% of the declared value.
Complete the paperwork and make the payment.
You will be provided with a waybill for reference. Keep it safe as you will need it to take delivery of the motorcycle later.
Loading
It now is the responsibility of Indian Railways to load your motorcycle on the required train.
You may however want to ask about the expected time of delivery/arrival of the bike at the desired station.
Delivery
You can take the delivery of your bike after you reach the destination yourself after presenting the waybill.
If you have someone else taking the delivery on your behalf, send them the waybill that you received from Indian railways.
At the time of the delivery, make sure you bring petrol with you because your bike's tank will be empty. Or you can just push it to the nearest railway station.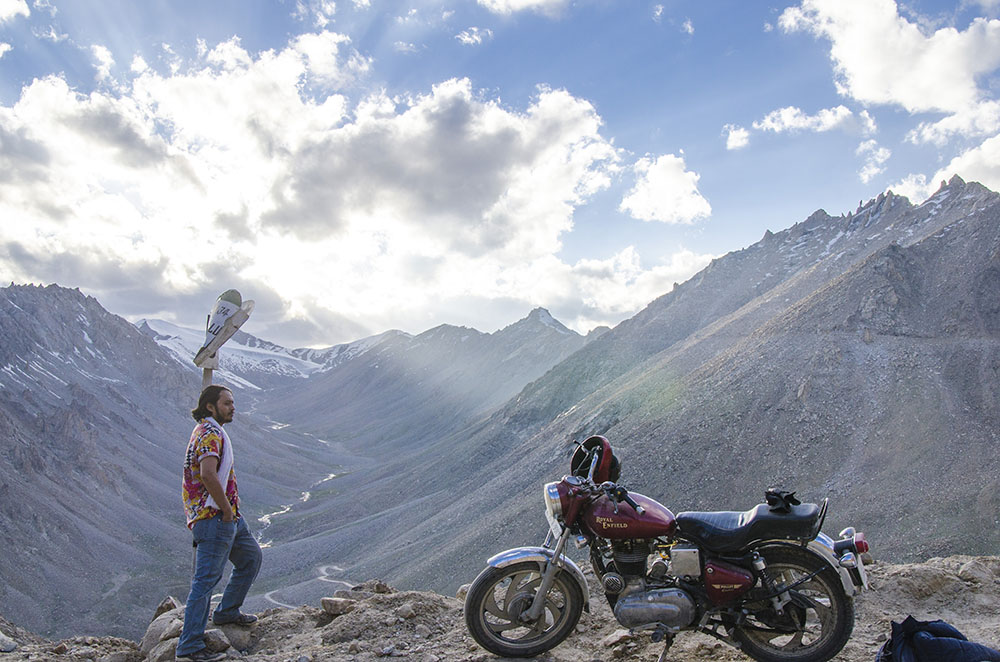 Transporting your Bike as Luggage
If you and your bike were both traveling by the same train, then it will have to be booked as luggage.
For booking the bike as luggage, the office is open 24 hours. So yes, if you were boarding a midnight train, the office will still remain open.
Luggage booking starts about 2 to 3 hours before the train's departure time. Ensure that you reach at least 2 hours in advance as you will also need some time for packing and paperwork.
The steps for emptying the fuel tank and packing will be the same as I mentioned above.
Ask around where the luggage booking office is. In some cases, parcel and luggage booking counters are separate whereas at some stations these are the same.
Complete the paperwork and make payment. The details you will need to fill out are the same as the parcel process.
For luggage booking, apart from RC, Insurance, and ID proof, you also will need to submit a photocopy of your confirmed ticket by the same train.
After paperwork and payment, you will be issued a luggage ticket for your motorcycle. An endorsement will also be made on your ticket.
After the train arrives, make sure your motorcycle has been put in the luggage compartment before you board the train yourself.
Upon arrival at the destination station, navigate to the luggage compartment and ensure that your motorcycle was taken off the train. Then go to the luggage office and produce your original journey ticket and the luggage ticket of the motorcycle.
You will be provided a gate pass for the luggage area from where you will be collecting your motorcycle.
Other Tips
The above mentioned were the steps for transporting your bike to Leh Ladakh by Train. In the real world, however, there are a few things that you can do to make things easier for you.  For a more detailed version of this information please read How to Transport your motorcycle by Indian Railways.
This article includes some other useful tips and good to know information.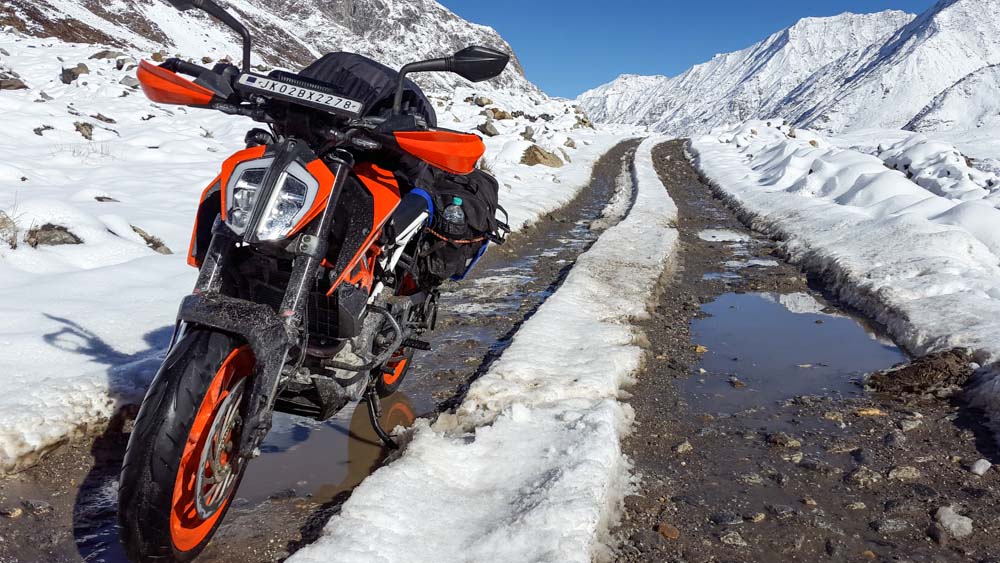 How to send a Bike to Leh with Private Packers / Movers
The only benefit of sending by a private agency is that you can then send the bike straight to Leh. It is convenient that way because you can then catch a flight to Leh, ride your bike there and catch a flight home.
It will however cost you way more than a train. Personally, I will not recommend this method because of a few reasons. The first is that if you reach Leh by flight, you will be at risk of altitude sickness. The second reason is that you will miss riding on Manali Leh and Srinagar Leh highways.
Also Read: How to Ride to Ladakh on 125CC Bikes or Scooty
The third reason is damage to the bike. Two of my friends have opted for this and their bikes came home with damages that the packers company refused to pay for.
The fourth reason is that it takes longer than a train. Your bike will be loaded on a truck and it will be days before it gets to Leh or comes back home. You will probably ride it home sooner than sending it by truck.
But if you want to do it nonetheless, there are a few agencies that provide this service. Just Google for it and pick any that is the most convenient for you.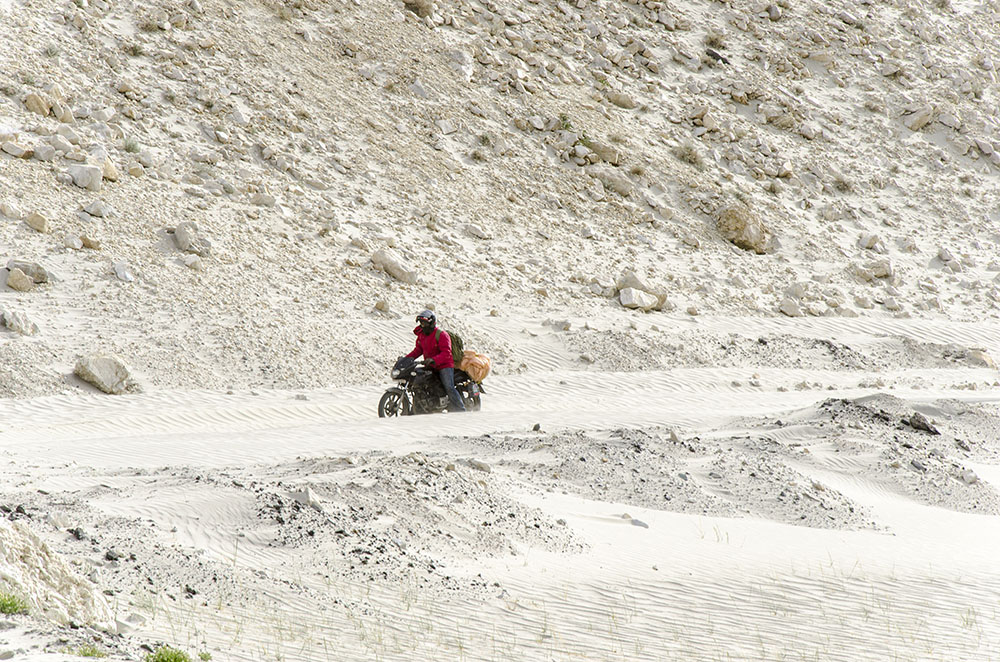 Transport Bike to Leh Ladakh – Conclusion
I hope the information above on how to transport your bike to Leh Ladakh was of help. If you have any other questions, please feel free to ask in the comments section below, or at our Community Forum, and I will be happy to answer.