This post is the last one in a series and part of my Stok Kangri Travelogue. I completed the Stok Kangri trek in a total of 8 days, from Delhi. On the 9th day, I boarded the flight from Leh to Delhi with memories of a trip that taught me several things about myself. These were memories that I knew I would cherish forever and an experience that was going to last a lifetime.
Journey So Far:
I boarded the flight back to Delhi with a heavy heart but was sure to retain the positivity I'd gain while traversing through the curious turns in the barren heights. All said & done, I was proud to have accomplished what I'd set out for.
Sandeep presented all of us with the dearest accolade every mountaineer thrives for; the white sheet of fabric made from Ladakhi drapery. It was a token for respect for the diligent mountaineers & a warm acknowledgment of their efforts to scale a mountain. I felt honored & promised myself to always live up to the respect that accolade exhibits.
Leh to Delhi – Day 9
With that thought in mind, I enjoyed a reasonably heavy breakfast before heading out for the airport. Carrying a massive bunch of memories wasn't convenient but getting back home & cherishing the moments with my family kept me going. Here are some clicks of the Indus valley & the countless glaciers from the flight:
So, what did I learn or achieve by doing this? There's no easy answer to that. I aspired to take on the biggest of the challenges & live through them on my own terms. I feel blessed to have done that right.
As is evident from the words I shared, I fell through the gaps in time a lot of times. But getting back up was my only option. And I'm glad I got back up every time I got knocked down. I now know what I'm made of & what I'm capable of doing.
The journey to the glorious summit taught me how hurdles in our lives are just loose gravel on a trail. If we work through them patiently & stay focused, it's only a matter of time that we will find ourselves scaling new heights. This realization is my prime jewel. It's a blessing in disguise.
An adventure is nothing if we don't cherish moments spent with those who accompanied us & shared struggle and laughter throughout the journey.
Bikat Adventures
I would like to thank Bikat Adventures for this wonderful opportunity & the recognition. The trek was organized in an effective manner with professional assistance throughout the trek.
A special thanks to our trek leader, Sandeep Kumar for his constant guidance & eternal motivation along the journey. That man took us to the top & brought us back safely. Kudos to your spirit.
A warm note of appreciation for my fellow trekkers & the Bikat staff. You guys were a great company; we met as strangers, became friends & left as eternal buddies. We may not talk every day, but we're connected with that one thread that binds us all, love for mountains.
I'm thrilled at the kind of support & cognizance we shared among ourselves, something that can drive great hopes into a worn-out conscious. Once again, thanks for being there!
Lastly, I received this certificate for successful completion of Stok Kangri Trek from Bikat Adventures, a month after completing the mammoth trekking expedition: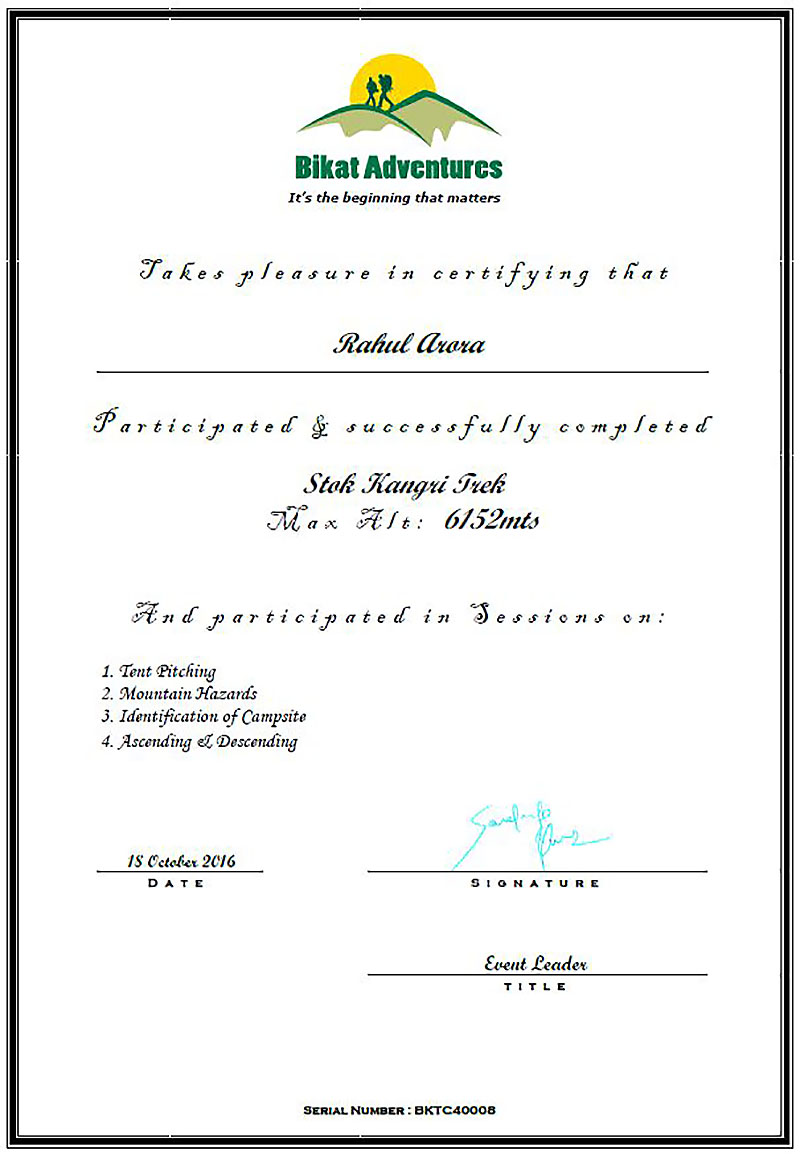 Conclusion
I'd close with a quick remark. For all my friends reading this excerpt, I implore you to find your calling. There's nothing bigger than finding your true self & working tirelessly to achieve greatness. Don't leave yourself incomplete; don't comply before you make that last rebellious effort. Certainly, don't give up, before you have shed every drop of blood & sweat, in being who you deserve to be. Hustle & live to celebrate your dreams.
If we weren't here to become better every day & find peace with ourselves, then why are we here? As always, keep your chin up, your shoulders square & get ready for the battle. We're here; let's make the most of it.
Looking for more.
See you on the other side.