This post is in continuation with a previous one, and a part of my Stok Kangri Travelogue. In the previous posts, I provided a detailed log of how I prepared for the trek and the journey from Delhi to Leh to Mankorma Campsite.  The post below is about my 5th day into the trip and the third day of trekking; when we climbed from Mankorma to Stok Kangri Base Camp.
Journey So Far:
The trek so far has been a mix of fun and adventure but the real challenge was yet to present itself. Today, we were going to be trekking from the Mankorma campsite to the base camp of Stok Kangri summit.
It was the fifth day of our trip & we were running into some of the most difficult spaces on this trail. The trek from Mankorma to Stok Kangri Base Camp (16,500 ft) is moderately tough, endlessly stretched out & extremely tiring. It's just an easy 4.5 km on paper, but the terrain tires one out due to the wide variety of river crossings, ups-n-downs & deceitful gravel-driven tracks.
Day 5 – Mankorma to Stok Kangri Base Camp
As soon as I woke up the next morning, I felt dizzy. My body ached while my vision was blurry. I washed my face with warm water & felt a little better, but the vision didn't clear much. I had tea with some cookies & soon after, I saw everything clean & clear. To sum it up, there was nothing wrong with me. At least that's what I presumed.
With the summit in sight, we started our day towards the foothills of our destination, the Stok kangri base camp. The ascent was moderate but continuous throughout the day. There are numerous water streams during the first half of the trail but towards to later part, no water sources exist, so one must refill wisely.
As we gained height, we witness numerous Cairns on the way. Cairn is a man-made pile of stones, stacked precariously on top of each other. It's a common sight in the higher Himalayas & is popular among high-altitude mountaineers to stack them rocks as a sign of gratitude for the mountain.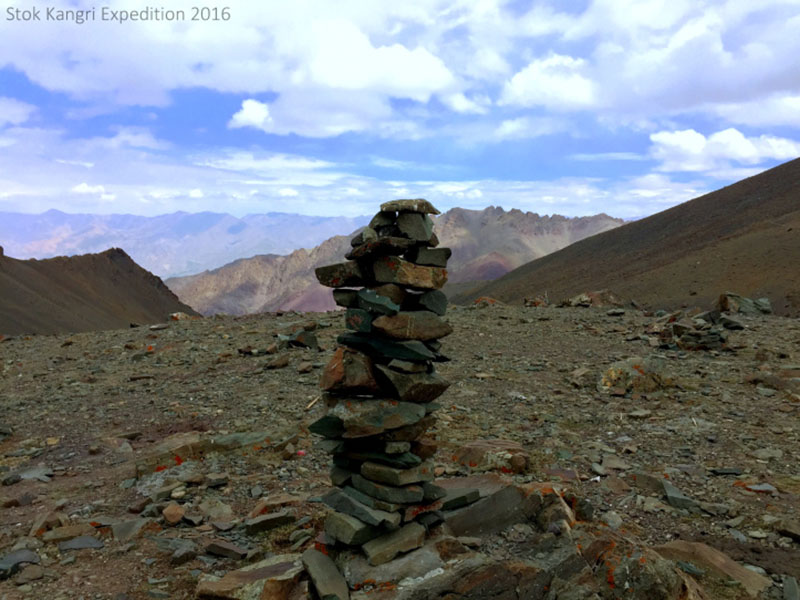 Blurred Vision
Since the terrain was tiring enough, the group got separated into chunks. And somehow, I was alone, with no one ahead of me. Certainly, no one was following me either. That's when it happened again. My vision went blurry again.
I could make out the highlights in front of me but couldn't figure out the details. I stopped, took off my rucksack & tried to reach for the water bottle.  It was there, I knew it. I could see the blue colored bottle on the side of my pack. But due to the eccentricity my vision was experiencing, I couldn't reach out to it.
That was frightening. At first, I thought what if this was long-lasting, I'd have to quit the trek & go back. It was for sure an adverse effect of the altitude, my body wasn't coping with. I sat down & waited for others to arrive.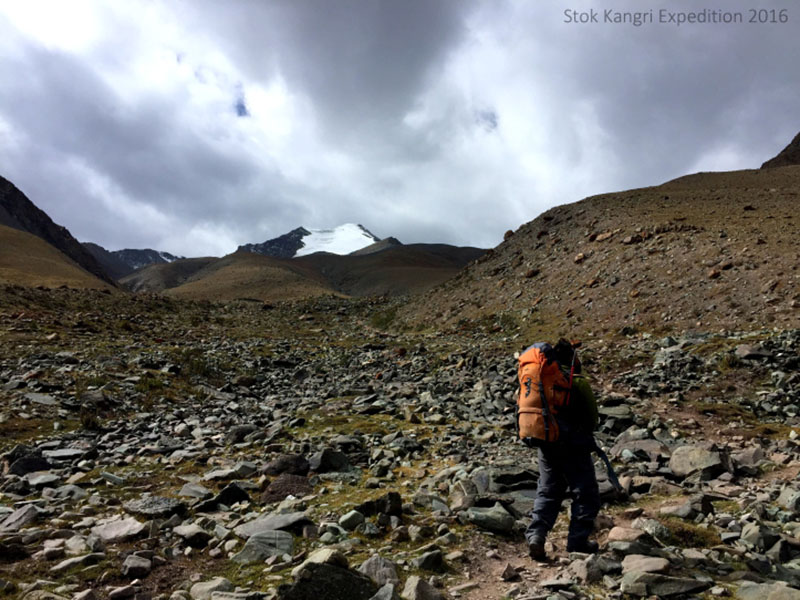 However, to my surprise, my vision normalized seconds after I got the eccentric attack on my senses. My vision was fine & I could not feel any stress on my eyes too. It was not normal, I knew that. I wanted to talk to Sandeep, but he was nowhere to be seen.
Going Strong
Looking at the continuity of the situation, I drank some water & continued toward the base camp, hoping to find the company soon enough. The thought of getting such an attack on my way to the summit haunted me. I was a little stressed but in no way ready to quit.
Alone in the valley with no human soul visible for miles, I walked at a feeble pace. I was out of water & thirsty due to the tireless walk up the slopes. The trail was endless & I couldn't help but go on with the hope of finding my fellow trekkers at every next turn.
This went on for another hour before I saw Sandeep along with the others some 800 feet behind me. I was on an ascent to a steep cliff & couldn't stop to wave back, so I moved on. Howsoever brief the sight may have been, I felt relieved on seeing another person. But I was obviously scared of having another such vision blur.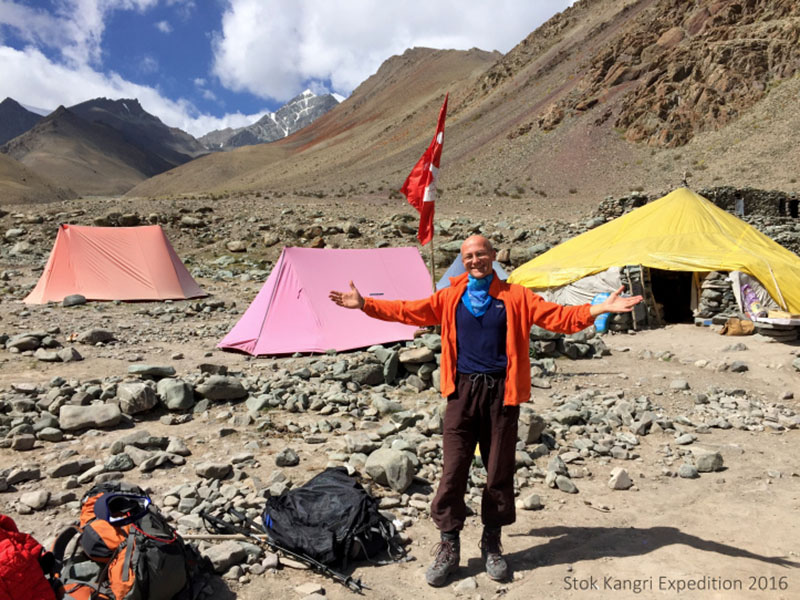 Base Camp of Stok Kangri
Another 45 minutes of a dreadful walk up the slope took me to the gateway to the badlands of the base camp. And suddenly the scenery changed. Though the Stok Kangri summit is not visible from the site, it was a perfectly flat stretch with the Stok ranges mounting high in the backdrop & numerous fixed campsites.
It was immense relief reaching the frightening base camp after struggling with vision blurriness & no water. I walked in almost a limping fashion towards the Bikat camps. David saw me approaching and came out to welcome me. I hugged him & took a deep breath at last.
I was so happy & thrilled to see him after hours. He held me and calmed me down. It took me a minute to realize that I made it to the base camp of the highest trekkable peak in India. It was a proud moment & I was overwhelmed at the effort that went into it.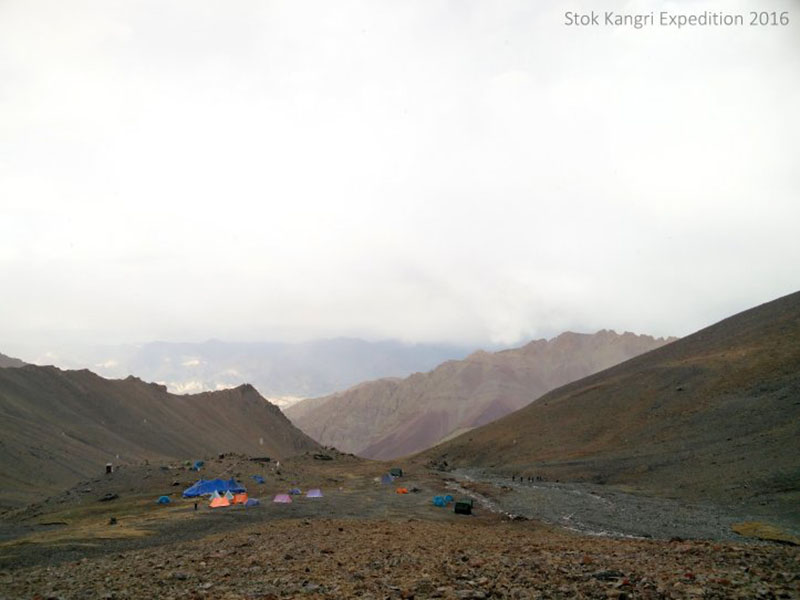 The Achievement
I had body pain, but my vision was fine. David offered me a hot cup of tea, thanks to the amazing staff we had at Bikat Adventures. We sat inside the camp for some time & waited for everyone else to arrive. David told me about his struggles on his way to the campsite.
We could resonate on how a forceful effort for survival breaks us down but yet, makes us stronger. It appeared to me that I was meant to be there, howsoever I struggled. The long walk up the hill, countering nature's malignant trails, I was content to be where I was supposed to be. We were at 16,500 feet above sea level, the highest I'd ever trekked before.
Soon after Sandeep showed up at the camp, I took time to sit along with him & discuss the problems I'd been having with my vision. The whole pack was in-house & enjoyed some evening snacks before heading out for a walk int the higher stretches of Stok ranges.
We were on the heights where altitude sickness can show up in different forms. Prolonged altitude exposure, even with acclimatization, can affect the body organs in different ways. What I was experiencing was one of the symptoms of the altitude sickness, as per Sandeep.
He suggested I drank water at regular intervals & walked small patches but regularly during the evening walk. His explanation, although not on medical grounds, put me at ease.
We left for the evening walk all decked up as the temperatures were soaring around 3-4-degree Celsius. At the base camp, mercury would drop further drastically at night.
The Celebration
To ease up the mood, it started snowing. It had been years that I experience snowfall and at a place like that, it was pure bliss. I couldn't have asked for more at that point in time; a company of good friends, chasing our fears together & it snowed.
As time passed, the snow density increased & we knew it was time to get back to the tents. It was freezing cold & it was difficult to stretch out while walking. I took small steps towards the campsite while others too made their way back.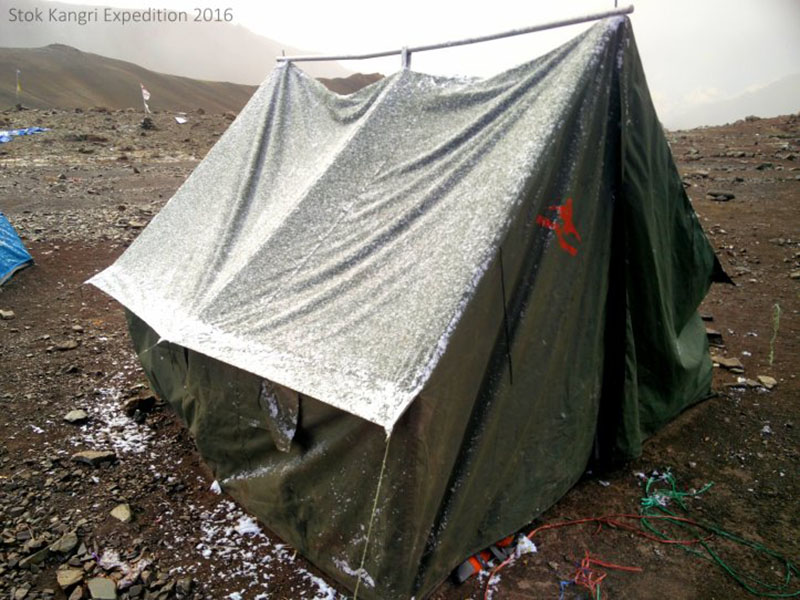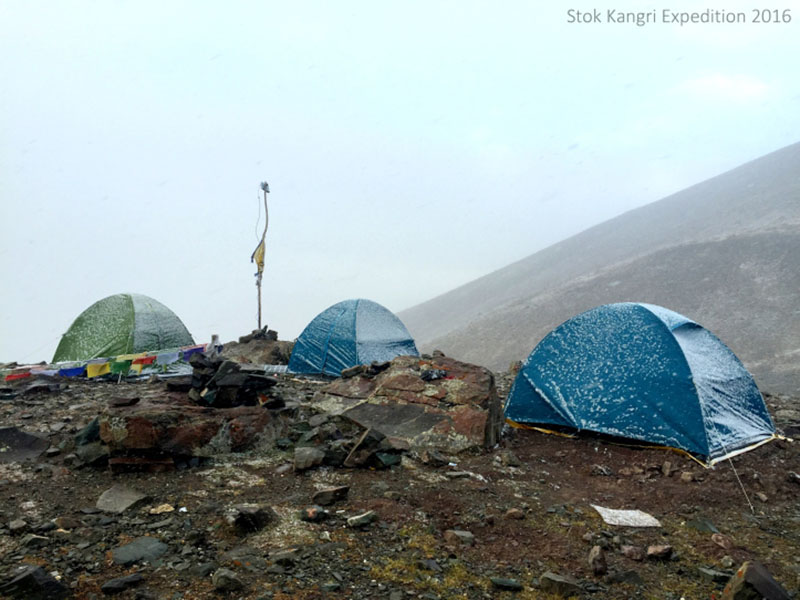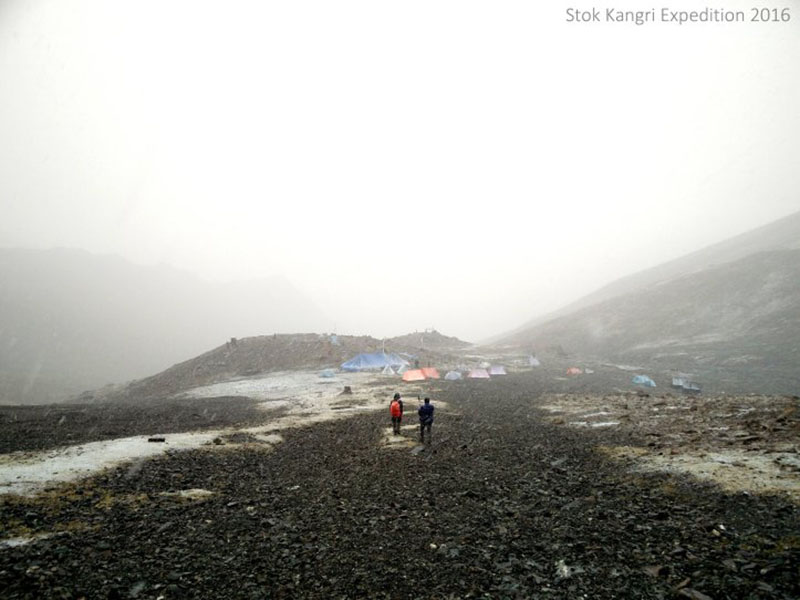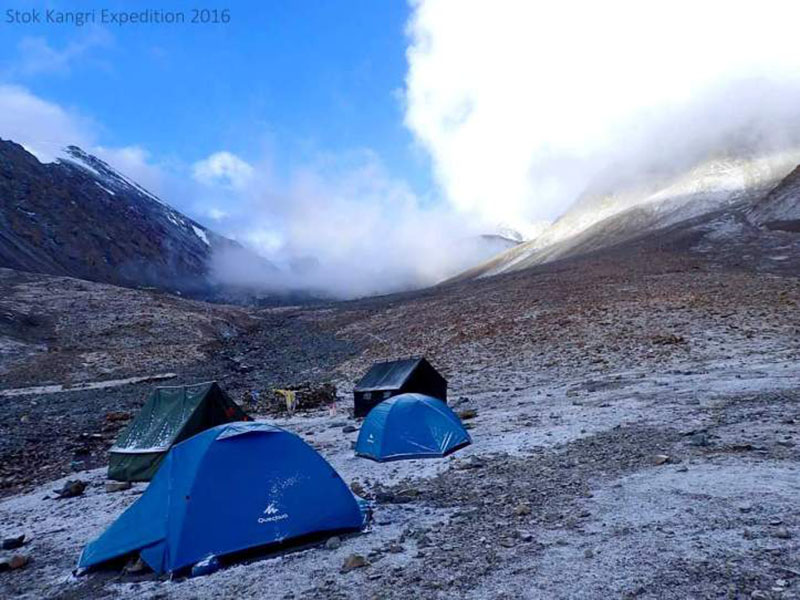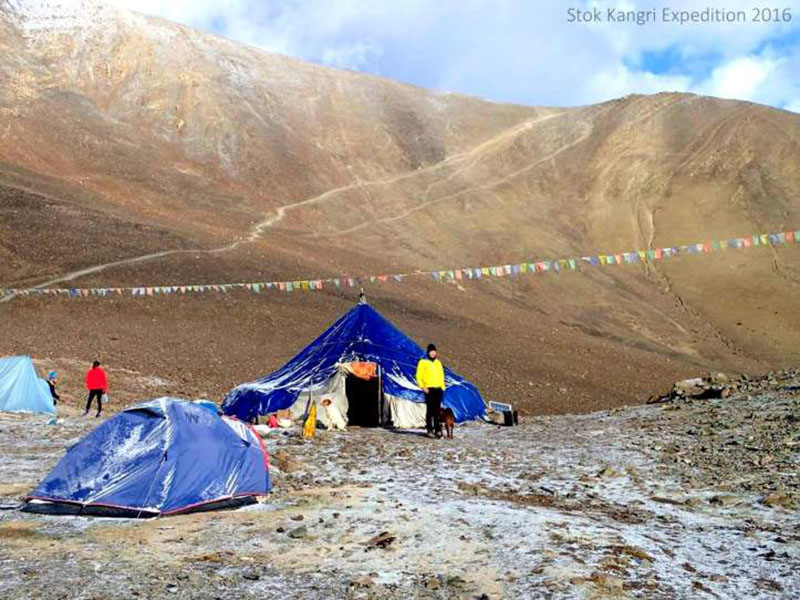 Tired from the day's struggles, we turned in after a light dinner. We had the next entire day for acclimatization & getting up close to the summit.
This day taught me a plethora of things about myself & in general. I felt proud that I didn't break down or relied solely on others to lift me up while I was tired & alone. On the vast canvas of the dusty terrain, I was just another peg of rock, but I held my grounds.
Altitude sickness got to me & my vision got hazy. Though only for moments, I faced total blurriness. If that could have prevailed, I'd get into serious trouble. Since it was meant to be, so it did.
I was happy to have lived through those moments & looked forward to a brighter tomorrow. Basecamp played its tricks, now it was our turn, to conquer our fears.
Going strong.
Conclusion
I hope the information above on the trek from Mankorma to Stok Kangri Base Camp was of help. Please click on the link above to continue reading the next part of this travelogue. If you have any questions or need any other details, please feel free to ask in the comments section below and I will be happy to answer.