Below is a short infinity Bluetooth speaker review detailing how my experience have been so far with this speaker. I recently bought it online from Amazon and have been using it now for a couple of weeks. Overall, I must say that I have been satisfied with it so far. This is a small speaker but what it lacks in size, it delivers in sound. For the price you pay, you get a well-balanced sound that is loud enough for a small size room.
I actually bought this one for my father who likes to listen to old Bollywood songs all the time. No matter what he is doing, there will always be a Rafi, Kishore, Lata or Mukesh song playing in his room. The last speaker he was using was a boAt Stone 200 Portable Bluetooth Speaker which is another good product. So the expectation was already high and thankfully, this one by infinity far exceeded our expectations.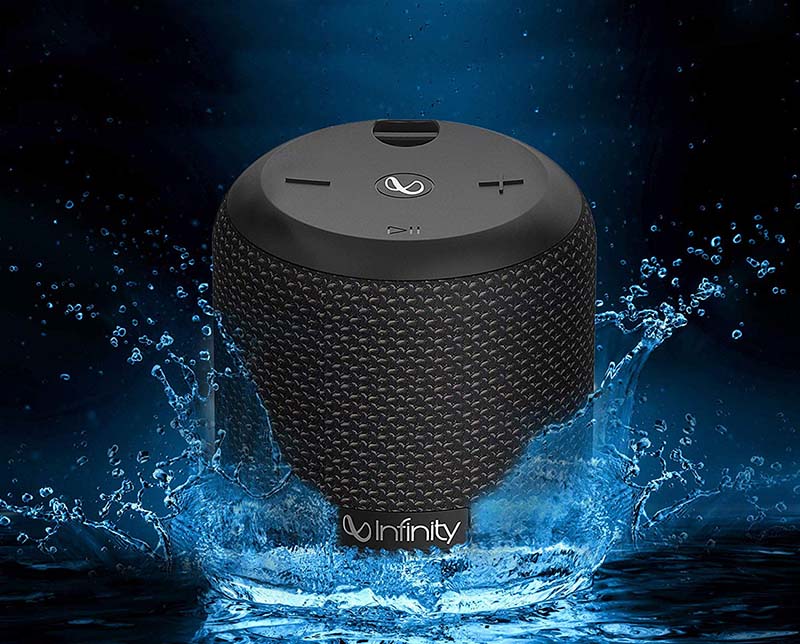 Infinity Bluetooth Speaker Review
I got it online for Rs. 1399 which actually was a good deal because I had noticed the same speaker in the market for Rs. 1600 at a couple of shops. The speaker is just under 8.2cm height and 7cm diameter, and weighs 192g; so yes it is a small speaker which means that you can fit it in almost anywhere. It also has a loop on top of it in case you want to hang the speaker somewhere.
Build Quality
There are 4 buttons on the top to switch it on and off, increasing or decreasing volume, to play/pause and move to the next track. The buttons are flush flat and a bit hard to notice even. The mic is located towards the bottom of the speaker. Towards the back are the micro-USB charging and Aux-In ports closed by a rubberized stopper. The power button on the top is in the shape of infinity logo and lights up when powered on. Nothing fancy though, just a little light to tell you that the speaker is now on. The speaker on the sides is covered by rugged fabric mesh.
In my opinion, the build quality is quite good. The speaker looks stylish, feels strong and is very portable. Though I have not tested it as such it is also waterproof.
Connectivity
I was able to connect it with my iPhone and Oppo. My father uses a Samsung Phone and that too worked like magic. I tested the range for about up to 50 feet and even between walls but there was no disconnection.
Sound Quality
If I am to rate the quality of sound on a rate of 1-100 then I will put it at around 75 with this speaker. But that is enough to satisfy an everyday average listener. I mean come on; it is a tiny speaker that fits in your hand. You are not going to use it for heavy thumping, deep bass and sound that can rock your entire building. For that, you need a different kind of and large enough speakers.
What this speaker is more like your silent companion that sits silently on your table in a corner or one that you can carry around in your car even or on trips. A speaker like this is used for songs at a moderate enough volume and it is perfect for those. It produces a soothing well-balanced sound with just the right amount of Bass. I am not saying it is perfect and surely has its own improvement areas but for an average everyday listener, it is sufficient.
Apparently, it also has a feature to connect with another Infinity speaker to give a 2 channel effect but I just got one so haven't tried that yet. Another feature that I am yet to explore is the Google Assistant and Siri.
Battery Life
It has an average battery life of about 5-6 hours at maximum volume which is good enough for me.
Features
Dual Equalizer Modes for Normal & Deep Bass Output
Up to 9 Hours Music Playtime under Optimum Audio Settings. 5-6 hours at full volume
Waterproof Design
Ability to pair 2 Infinity Speakers
Speakerphone
Rugged & Durable Fabric Material that does not attract dirt
Waterproof
Speakerphone with inbuilt microphone
What could be better
No Radio
No SD card option
Aux Cable was not provided
Final Verdict
In the end, I will say that it is a great speaker for its price that you can buy without hesitation and will not be disappointed with it. I hope the Infinity Bluetooth Speaker Review above was of help. If you have any questions or need any other help, please feel free to ask in the comments section below; or at our Community Forum; and I will be glad to answer.