How to stop dog climbing on car roof at night? I think this is a question that has been asked by everyone living in a metropolitan city like New Delhi and who have to park their car out in the street. When you live in a big busy city, parking cars indoors is not always an option. Sometimes, because you live in apartments, flats, rented rooms and there is just no space. And sometimes it is because you have multiple cars and not all of them can fit in your house. Either way, your car gets parked out on the road or in the street and then in the morning, you find a stray dog sleeping on the roof.
How is this a problem? In several ways actually. There will be scratches all over the bonnet and the roof made by dog nails. All this climbing up and down will also result in the roof getting damaged and pushed down a little. And sometimes it is not just one dog but several of them will climb up there at once. In short, you are running a serious risk of your car getting scratched and damaged all over every night.
How to Stop Dog Climbing on Car Roof?
This started to happen with me some time ago. Because of space restriction, I have to leave one of my cars parked outside. For this, I usually prefer to leave out my Mahindra Thar because that is not an easy car to climb on. But it is also not the car that I use on a day to day basis and sometimes my Honda Amaze gets parked outside too. Initially, it was not a problem but then a few stray dogs got in the habit of climbing on it and sleeping. My car got scratched, the roof started to get damaged and a couple of times, I even found dog vomit all over the car.
I wasn't really sure how to tackle this problem and started to look online. There were numerous ideas that I found over the web but a cousin of mine suggested the simplest one. For 6 to 7 days, sprinkle a little Red Chilli powder on the car. Don't overdo it. Just a little bit to cover the entire roof. Do this for a week and after that, keep a few red chilies aside. When you park your car, leave them on the roof and then remove it in the morning.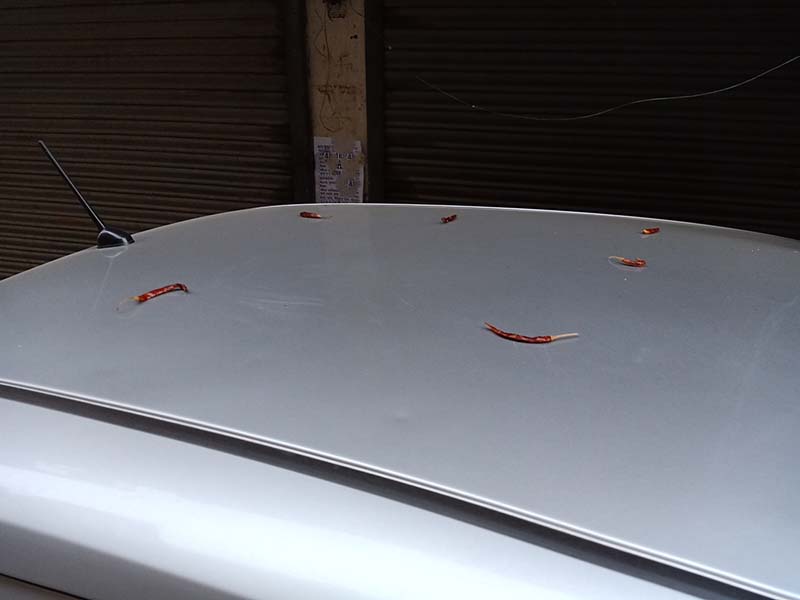 It may sound a little funny but trust me when I say this, it worked like magic. Not even a single dog climbs on the roof now and I find all of them sleeping on the ground around my car. I have been using 6 Red Chilies that I have only for this purpose. I keep them in the trunk of my car. When I park at night, I put them on the roof and then back in the trunk in the morning. Problem solved.
Give it a Try
This by far is the simplest way to handle. A few online tricks suggested spraying vinegar, itching powder, putting something on the roof, block the passage, etc but they all sound a bit messy and hectic. If you are facing the same problem as I did, try the Chilli trick and you are all set.