For anyone planning a trip to Switzerland, the post below and the next ones in this series would definitely be very helpful. Except for the Visa part where I talked more in terms of how to plan a trip to Switzerland from India, the rest of the information will stand relevant irrespective of which part of the world you were coming from.
To be honest, neither of us was too keen on Switzerland as a destination. It had been done to death by many before us and will be done to death by many after us. Most of the locales have already been seen in Bollywood movies and there are numerous mini-Switzerland sprinkled all across India.
The Travelers: Aarti & Harsh
The Machines: An Airbus, a rented Opel Antara
However, we were celebrating our 10th anniversary this year and if there is any place deemed romantic on this planet (at least by Yash Chopra) it was this place. Although we did have to customize the romantic part to suit our tastes, a plan was hatched which was strictly to stick to the Alps whether it be in Germany, Austria, Switzerland, or France.
Since the juiciest part of the Alps lies in Switzerland, we did spend most of our days there. Once you've been there, you will wonder why on earth would one call Khajjiar – a mini-Switzerland. Kashmir, well that definitely is a mini-Switzerland and maybe even more beautiful, but Khajjiar? Please!
How to Plan a Trip to Switzerland from India?
Let me first talk about the logistics part of the trip, including the preparation, flights, route map, and financial side of the trip. After that, I will provide a day-by-day breakdown of the entire trip. For those who would rather skip to the more interesting part just follow this link here to the post for Day 1.
Visas
I do not remember when was it that Switzerland decided to join the EU region, but I'm glad that it did. God bless that politician because of whom we can all now take one visa for the entire Schengen region which earlier excluded this beautiful country.
To make matters simpler, I had been in the region numerous times in the past 3 years. Hence no interview was required and both of us got our visas a good 3 months in advance, after a couple of days of applying at one of those VFS counters in Delhi.
Point of Entry
It was quite clear to us that we wanted to do an Alps tour. This left with us multiple options through which this region could have been approached. They were:
Munich
Frankfurt
Vienna
Milan
Zurich
To be honest, Frankfurt lost out because it was too far away from the Alps and it would have meant making a family/friends visit as well. We were already short on time; 9 days were too few to cover this region properly.
Vienna & Milan did not have a direct flight and the timings were pretty odd. Those destinations would have meant us losing half a day on an already tight schedule. That left us with Zurich & Munich.
Although the flight to Zurich was cheaper by 1,000 bucks the car rental costs were just too expensive as compared to that in Munich. The timings were also not 'ideal'.
So it finally boiled down to a direct Lufthansa flight to Munich which would ensure that we could leave on a Thursday night, to reach on a Friday early morning. That gave us the entire Friday to roam about.
On the return leg, destiny had a very convenient 12 pm flight from Munich and back to Delhi for us. This implied we could easily make it to the office on a Monday morning while getting a late night on Saturday in Munich.
Car Rentals in Switzerland
There are numerous websites out there where one can rent a car, and one just had to read carefully through the fine print on the additional costs in terms of insurance, additional driver, etc to compare apples to apples and finally make a call on which company to use to rent.
The decision to rent was not an easy one – A Volkswagen Polo was being rented out for about 240 EUR for the entire 9 days. A Mercedes B class was for about 260 EUR and a BMW 5 series for about 340 EUR.
So for an additional 20 EUR, we would be in a Merc, even though a B class and for another 60 EUR a BMW 5 series! Well, that was tough! Very tough indeed. I mean where else in the world one can get such a wonderful rate for that kind of a machine. However, the cost-saving instinct took over and we settled for a Merc. B class.
A surprise awaited us at the Munich airport when we were upgraded to an SUV (Opel Antara AWD) because the Mercedes did not come with snow tires. As preliminary trip research had pointed out – most of the passes would be closed during our travel dates, and snowfall was expected in a lot of regions making snow tires a basic requirement.
Otherwise, the Swiss have a knack for finding the money out of you. So we did have to pay extra for snow tires but instead of giving us a Merc B class with snow tires, the kind man at the counter upgraded us to an SUV making everyone happy.
Hotels
The flip side of traveling in an advanced country is that one has to pre-book well in advance to get decent rates for accommodation. The first set of bookings at booking.com was made only for visa purposes. As the itinerary kept getting finalized on a day-to-day basis hotels kept being booked and changed to get the best rates.
At an average cost of 75 EUR per day, the hotels did not come cheap. And mind you, some of these hotels did not have attached toilets! Yes, welcome to Switzerland, one of the bloodiest expensive countries to travel to!
Navigation
On a previous international trip (official) a wise decision was made to invest in an all-world-navigation map from Sygic. Although that did not work during our Central Asia Trip the year before, it worked like a breeze during this one. And it was VERY accurate and updated.
Even the parking lots were clearly marked in the cities, which was a big boon. But we'll come to that later. The maps from Zanavi had been downloaded and kept as a backup, especially if we off-roaded. Needless to say, that was hardly required in the end.
Navigation, once the planned route was known was the easier part. The more difficult part was to finalize the route itself. You see, in Europe, going from Point A to B can be a simple highway affair or a twisty and long (but tarred) approach. For e.g., the drive from Munich to Innsbruck is a simple 3 hr affair, which we managed to stretch for an entire day!
You get the drift, right? The trickier part was to decide on which route to take to get the best bang for our buck.
April
For better or for worse, April made our choices simpler. Most of the passes were closed, including the iconic Stelvio pass, which we really wanted to do. Some were open, and there were tunnels, rail transit across some. Now, this kind of information is hardly available in a lonely planet guidebook.
So after some research, we finally came across this website for motorcyclists called Alpentourer. That served as a bible for us and helped us mark our itinerary throughout the region. Armed with information from this website, another excellent travelogue by a friend & the Lonely Planet Guides with a pinch of Google earth we finalized our itinerary.
Cost of Switzerland Trip from India
The entire trip cost us something just shy of 3,00,000 INR. A breakup can be found below. We really managed to bring down our costs by having food in grocery stores rather than restaurants. To give you an idea the three meals we did have at restaurants cost us 120 EUR whereas all the remaining expenditure on food combined was 220 EUR.
Public mode of transport – especially the cable-cars and trains in car-free places can really increase the budget by quite a bit. One has to really decide on what one wants to do, because if you want to do it all, that section could easily by more than 10%, and can go up to 20-25%. So beware!
A rough distribution of expenses among various heads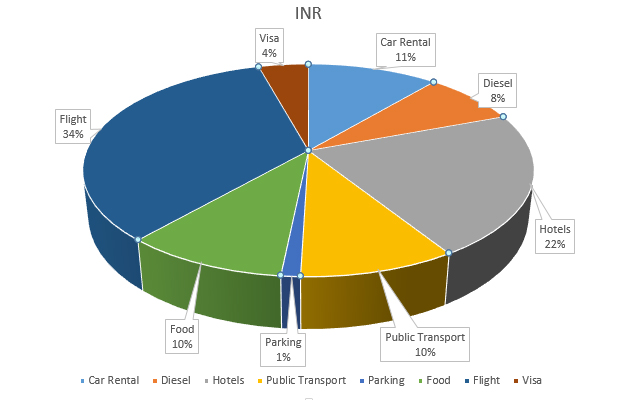 The route Map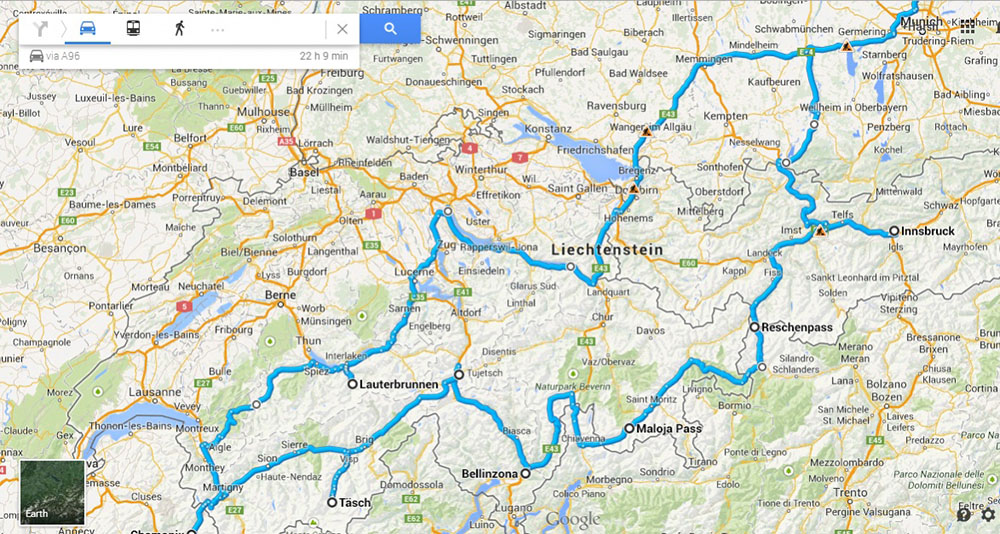 Switzerland Trip Itinerary
Below is how our final itinerary turned out. Pictures below are just a teaser of our trip of the day. A detailed narration of the trip is provided in the following posts. You can click on the hyperlinks to jump straight to any particular day.
Day 1: Delhi – Munich (overnight) – Innsbruck (Austria)
The fairytale castle, Neuschwanstein was worth the detour we took for it. It is quite difficult to pronounce it though 'noysh-waan-stieen'. Click Here to read about our journey on Day 1.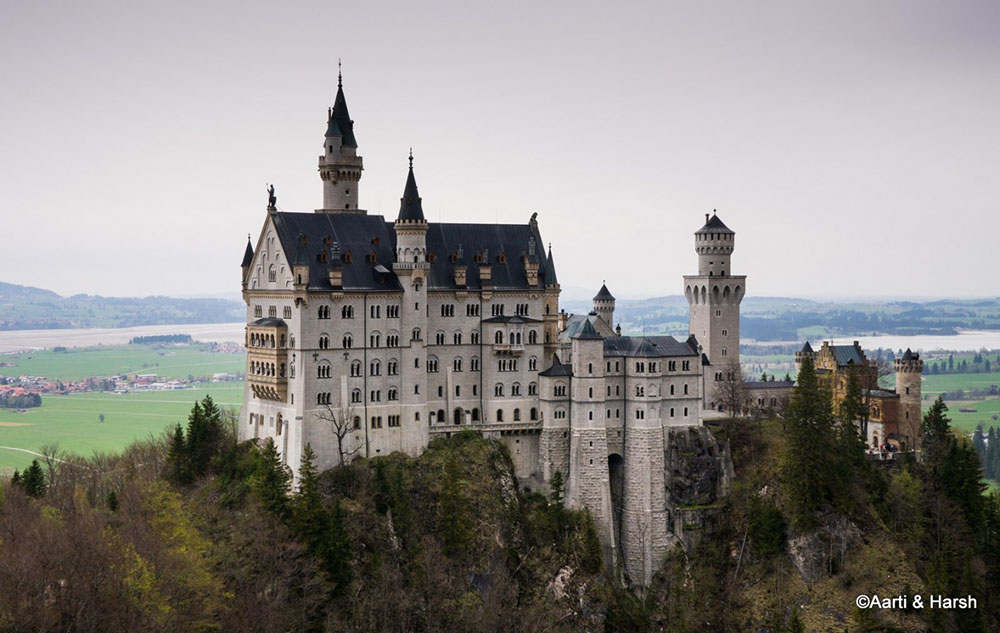 Day 2: Innsbruck – Reschen Pass (Italy) – Mustair (Switzerland) – Ofen Pass – Sankt Moritz
Innsbruck was cloudy, however as we climbed a bit up towards Schloss Umbras, it opened up to reveal the beautiful valley beneath and the peaks above. Click Here to read about our journey on Day 2.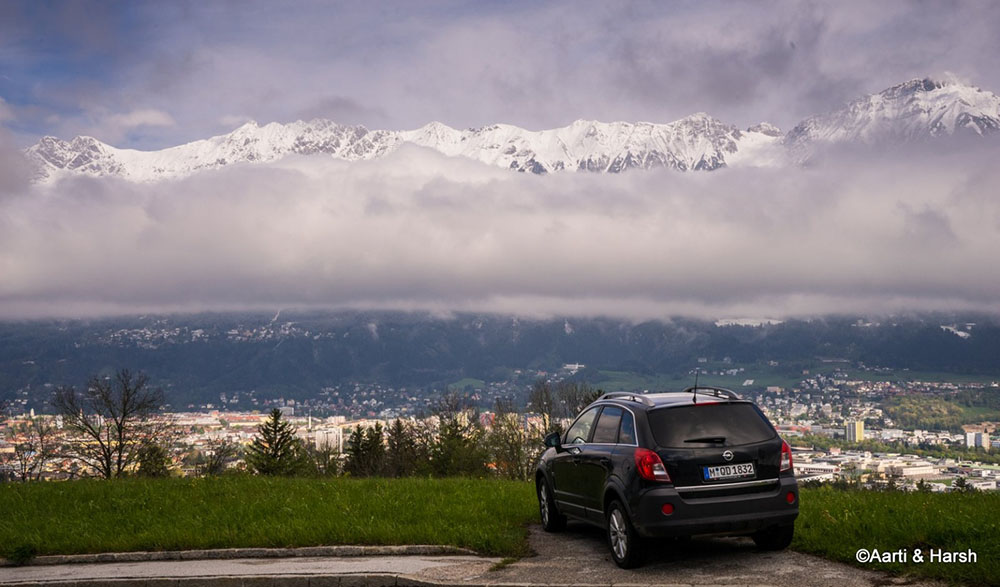 ​Day 3: Sankt Moritz – Julier Pass – Thusis – Bellinzona – Andermatt
The detour towards the lesser-visited Avers valley was well worth it, the only place where a 'rural' Switzerland was found. Click Here to read about our journey on Day 3.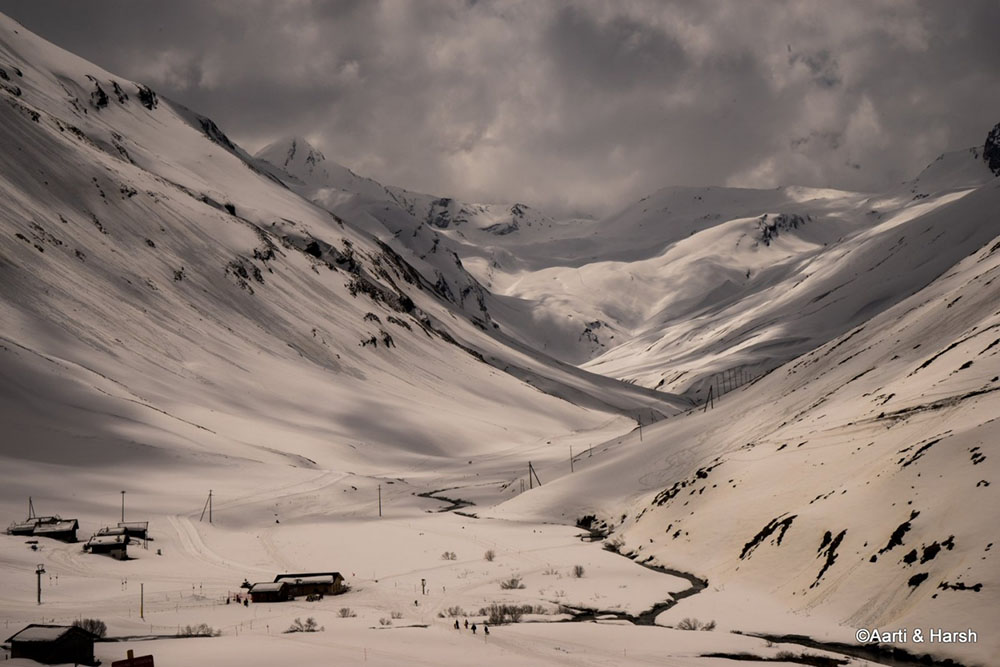 ​Day 4: Andermatt – Tasch – Zermatt
The Valais region of Switzerland has a stark different flavor. The houses are different, and we did find some military installations there. Click Here to read about our journey on Day 4.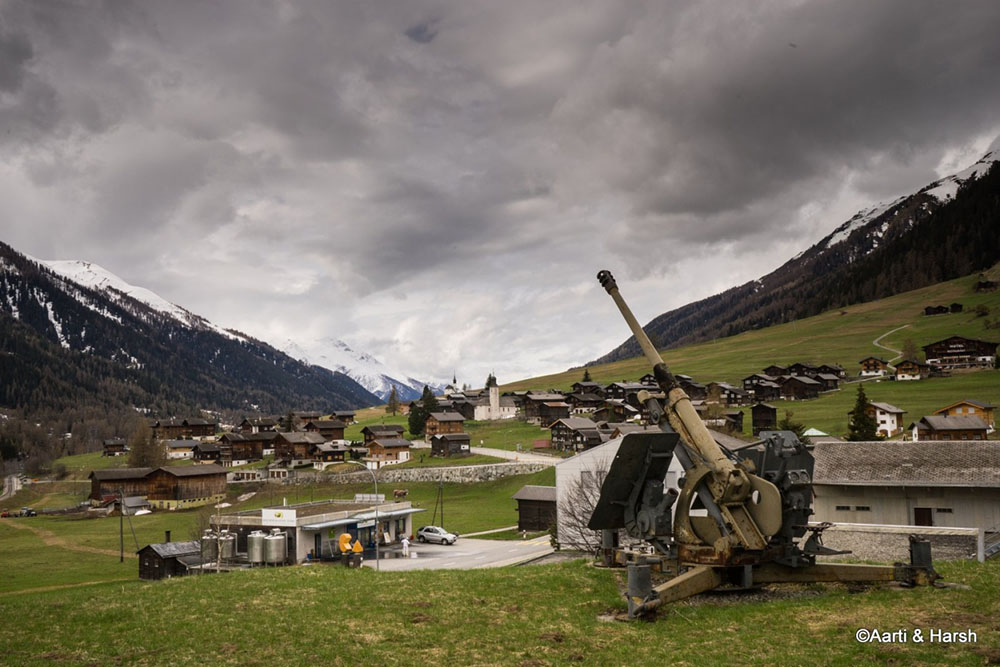 ​

Day 5: Around Zermatt – Chamonix (France)
They say that on a clear day one can see as far as the Mediterranean Sea from the top of Zermatt. We were lucky enough to spot Mont-Blanc and of course the trigonometric beauty, the Matterhorn. Click Here to read about our journey on Day 5.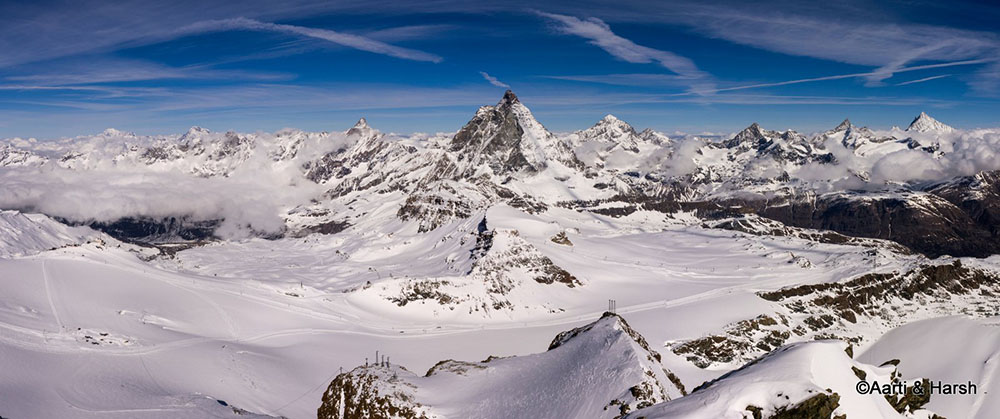 ​Day 6: Chamonix – Montreux – Gstaad – Lauterbrunnen
Mer-De-Glace, a big glacier in the French Alps. Click Here to read about our journey on Day 6.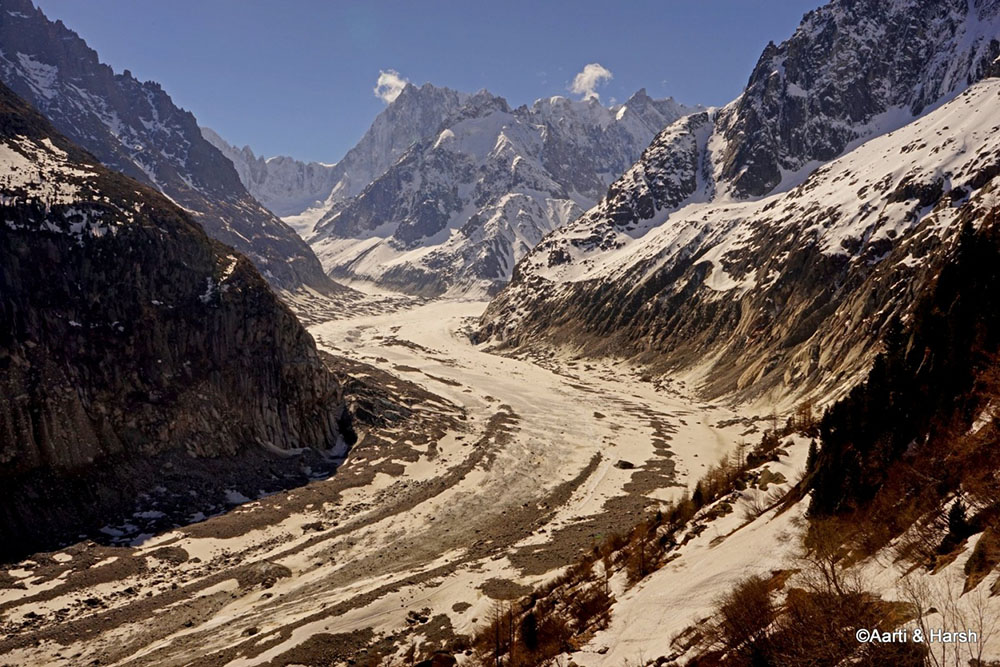 Day 7: Around Lauterbrunnen
The green valley beneath the towering peaks of the Eiger, Monk (Monch), and the Virgin (Jungfrau), takes your heart away. Click Here to read about our journey on Day 7.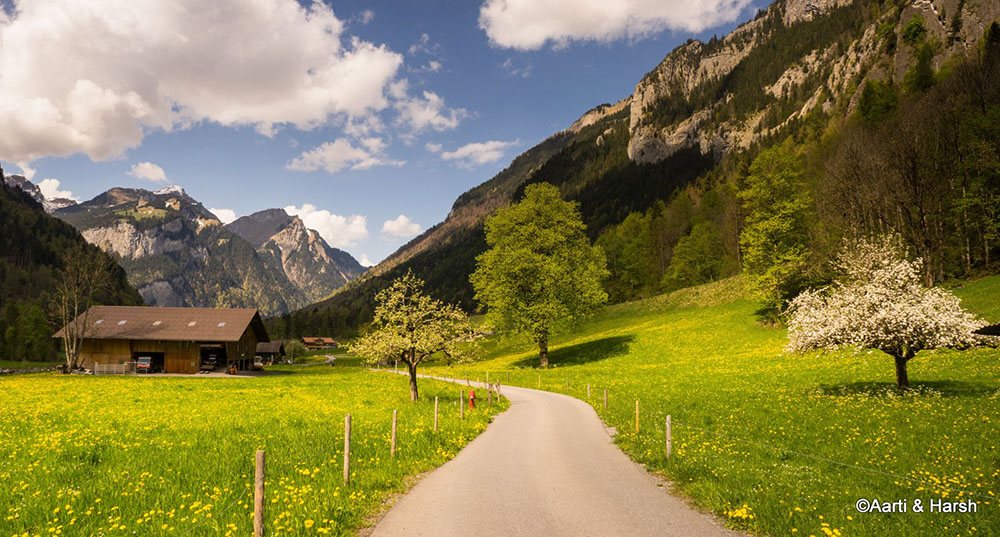 ​Day 8: Lauterbrunnen – Lucerne – Zurich
We barely managed to avoid getting drenched in the rain in Zurich. Click Here to read about our journey on Day 8.
​Day 9: Zurich – Liechtenstein – Dachau Concentration Camp – Munich
Many wonder and would keep wondering why this castle at Liechtenstein exists, or forget about the castle, why does the country exist? Click Here to read about our journey on Day 9.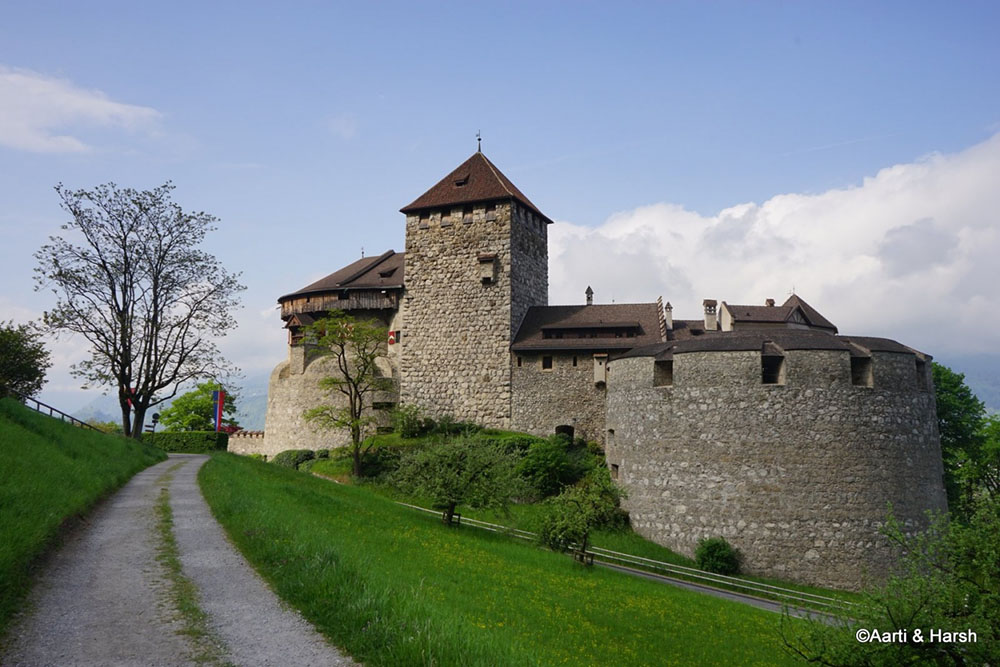 ​Day 10: Munich – Delhi
That was the end of the trip.  Did we get a taste of the adventure in the trip? Let me narrate a small incident for you.
We were cruising at 30 kmph, through downtown Lucerne, Switzerland. There were at least a gazillion road signs that had to be looked at, while the GPS kept barking directions towards our destination. A hatchback was tailgating us and was quite close or maybe it was just the rear-view mirror playing tricks.
The traffic light in front of us suddenly turned yellow. The reaction was purely instinctive. You see in India when the light turns yellow, we accelerate, that is the norm here. And in that split second, I accelerated when I, ideally, should have slammed the brakes hard, without fearing the car behind me.
You see, in Switzerland, people follow rules, and hence the tailgater too would have braked hard. What happened next was inevitable. The cameras flashed and we were caught jumping a red light in a country where one can be sent to the gallows for changing lanes without signaling. This was a crime for which even gods could not save us. A 250 EUR fine awaited.
Unlike all the other road trips we have been on before, this 'incident' above was the only bit of adventure (or misadventure) we could manage on this road trip. They say, in Switzerland if a train is supposed to arrive in 19min and 30seconds, it will arrive in 19min and 30 seconds. Not a second before and not a second after.
Conclusion
So planning an adventure road trip in that country is practically unfeasible. However, where it loses out on an adventure, Switzerland has too many mesmerizing views to over-compensate. The 10 days spent made us realize how an un-adventurous to-the-book planned trip can be fun as well. Please click on the link below to continue reading the next part of the travelogue.
I hope the travelogue, pictures, and information on how to plan a trip to Switzerland from India were of help. If you have any questions, please feel free to ask in the comments section below or at our Community Forum, and I will be happy to answer. You can also follow me on Instagram and chat with me live there or subscribe to my YouTube channel and ask a question there.