Sometimes while you are out on a trip, traveling from one place to another, you will meet people who will leave a long lasting impression on you. You will travel through a place that you will talk about for months to come; or stay at a hotel that you will not forget. I had one such experience during one of my trips to Spiti valley. Quite by accident, I ended up at a hotel which in last few years has become the only place that I stay at in Kaza; and always recommend to everyone heading to Spiti valley. Name of the place is Hotel Spiti Valley and it is located right opposite Kaza Monastery.
In this article I will provide a short a review of the hotel along with a few pictures. In case you were heading towards Kaza anytime in near future, then Hotel Spiti valley can be a good place to stay at. I am not really good at writing fancy reviews making a place sound far from reality; so I will keep this very short and mention just a few facts that can be considered as a plus point of staying at this hotel. Give my reference and you will get a discounted price here.
Also read: How to Plan a Trip to Spiti Valley
Location
This is one of the greatest benefits in my opinion. For rest of the hotels, you may have to enter a little bit in Kaza through its narrow roads but not with Hotel Spiti valley. This place is right there on the main road that goes from one end of Kaza to other. It does not matter if you were arriving from Shimla side or Manali, you will pass from right in front of this hotel. So on the way, you can just stop your car or bike, check in and then be on your way the next day.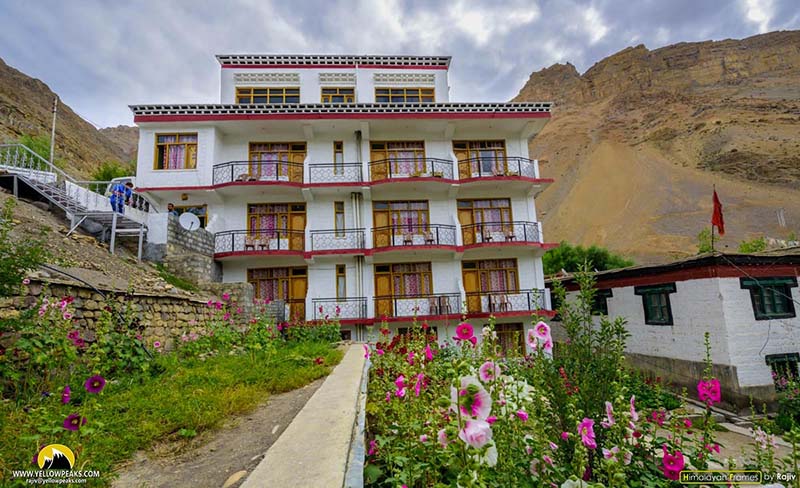 Kaza Monastery
Kaza monastery is right in front of this hotel. In fact, on one side of the road is the hotel and the monastery at the other. You can just step out of your hotel, visit the monastery whenever you wish to and get back in.
Rooms
Rooms were all very spacious and well maintained. There was good furniture in there, properly painted walls and carpet on the floor which gives an overall stylish look to it. I will post a few pictures.
Bed
Bed was large enough for 2 people to sleep on it. The mattress was very comfortable and the blankets, pillows, bed-sheets provided were all very clean with no foul smell.
Washroom
Like the rooms, washrooms at this hotel too are large enough and very clean. Toilet, flush, shower etc was all working fine and there was no issue at all. There are geysers available so yes, there will be running hot water as well.
Food
One of the greatest benefits of this hotel. Even the most basic of their dishes were very delicious and I really enjoy eating here. You can either ask them to serve you in the room or you can also eat at their central dining hall at the top floor. They have quite a comprehensive menu and food will not cost you too much.
Owner
Owner of this place is Tanzin Rabgay and is a very down to earth and simple fellow. He remains available at the hotel throughout the day and will personally attend to your complaints if needed. He knows how to play a good host and does it very well.
Final Verdict – Hotel Spiti Valley

In the end, it is a very nice little hotel and is a perfect place to spend some time in Kaza. I hope the information above was of help. If you have any other questions, please feel free to ask in the comments section below; or at our Community Forum; and I will be glad to answer.