I started watching Hasmukh the last weekend and within 15 minutes, I was bored. I still decided to continue watching in hope that it will get better; but by the end of episode 1, it still remained boring. Ignoring my gut feeling, I gave it a try again and went for episode 2 but now, not only I was bored but also had a headache.
While I was thinking about what to do, the auto-play option on Netflix started episode 3 and I too decided to go along, just to know where it was headed and also for the purpose of writing this review. By the time the show ended, my first impression of the show also turned out to the final one; that it was 'extremely boring'. In a nutshell, do yourself a favor and avoid it.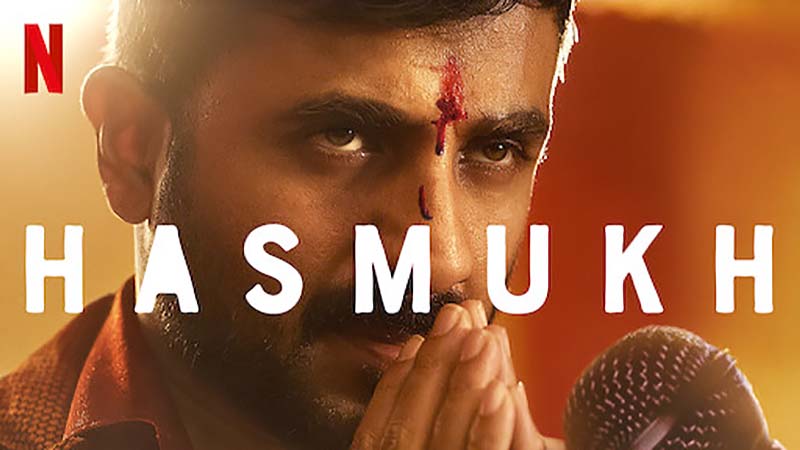 For a brief overview, Hasmukh is an Indian dark comedy web television series that premiered on Netflix in April 2020. The story follows a small-town comedian who is also a serial killer. The series stars Vir Das, Ranvir Shorey, and Ravi Kishan. Upon its release, the show mostly received negative reviews.
Hasmukh
If I am to summarize the story, it is of a timid, small-town man who wants to be a comedian. But he just can't gather enough courage to speak in front of an audience, let alone tell jokes and make them laugh. Out of anger, he ends up committing murder and that is when he realizes that murder is the only way to keep his onstage mojo. Once he has killed someone, his personality changes into that of a confident man who can successfully stand on a stage and give his audience a great time.
So in order to keep his mojo alive, Hasmukh starts killing people. As soon as he kills, he is in complete control of himself; much like a split personality like situation. On a regular basis, he is a gentle and diffident guy but as soon as he has killed, he is a manipulative and confident personality.
There were two reasons why I decided to give Hasmukh a try. The first one was COVID lockdown. We are all sitting at home and when a new Hindi web series was released, it was obvious for me, as an Indian, to give it a try. The second reason was Vir Das. I had seen a couple of his stand up comedies on YouTube. While the guy is definitely not hilarious, he can still tell some funny jokes. So, expecting the same kind of humor, I watched Hasmukh and was terribly disappointed.
Review
A lot of people have been saying that this is not a stand-up comedy so that should not be the expectation from the show either. I respectfully disagree. The very essence of the show is based on a diffident guy turning into a successful comedian while gaining his confidence by murder. Now a successful comedian means that he can tell great jokes but the ones that you hear in Hasmukh are terribly lame.
Vir Das has been an average and modestly successful actor. If it wasn't for his standup acts, I don't think many people would have known him. In Hasmukh, he fails at both being an actor and a comedian. He just can't get his act straight, either has a shy small-town boy or a confident serial killer. When you hear his jokes, the only thought in your mind would be, "How is that funny?". He is such a misfit in this role. His effort is apparent but sadly inadequate.
If I were to summarize Hasmukh in 2 words, they would be 'Simply Pathetic'. The entire show is like one big bad joke with a terrible storyline, huge loopholes, subpar writing. It is slow & predictable as hell with nothing exciting about it. The writing was lazy, insincere, and inconsistent and the direction was amateurish.
They could not even get the accent right. Characters are supposed to be from western UP but sound nothing like it. The only two actors who did justification to their roles were Ranvir Shorey and Manoj Pahwa.
Final Verdict
Poor execution, forced acting, below average storyline, terrible script, bad dialogues, childish screenplay, bad editing, cliché audience reactions, cliché news reporting, and lame jokes is how I would like to sum up Hasmukh. The premise had the potential for being a quirky dark comedy but it suffers from too many issues. It has a few moments but on the whole, it's a waste of talent & resources.