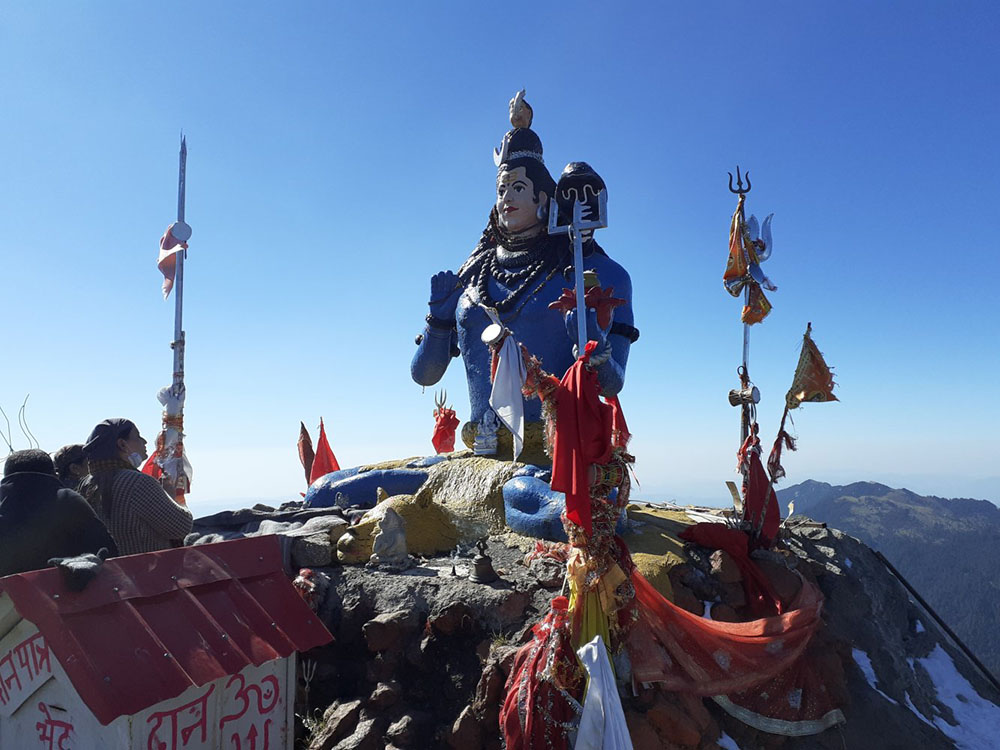 Would you believe it if I told you that I did this trek in 4 hours? That's right. It took me trekking of only 4 hours to complete the Churdhar trek from where I parked my motorcycle. It was indeed a memorable experience and one of the best short treks that I have ever been on in my life.
Churdhar peak is a popular trekking destination in the Sirmaur district of Himachal Pradesh. It was early winter (November) and I wanted to go for a short ride on my Dominar 400 before I sell it. And even better if I could squeeze in some trekking in it.
I wanted to do the Churdhar trek for quite some time but since I had only 3 days in my hand, it seemed a bit difficult. I searched on the internet to find out that the most popular route to Churdhar starts from Nohradhar.
Delhi to Churdhar Trek Route
From Nohradhar, it takes 2 days to reach Churdhar and it was quite impossible to start my trek from here if I wanted to start from Delhi and come back in 3 days. Upon searching a bit more, I found out that the trek could also be done from a village called Sarain near Chopal, Himachal Pradesh.
I learned that from here, it is an 8 kms of a trek but quite steep in the beginning. So I decided to reach Sarain on day 1 and I indeed did. To my surprise, I found out upon reaching Sarain that the trek could be done from another place 6 Kms ahead of Sarain. From there, it is only 4 Kms of a trek to Churdhar temple. And it's not even so steep from there.
This little fact changed my trip from hectic to relaxed. In this blog, I narrate my story on how I did Delhi – Churdhar – Delhi in 3 days. Must have been tough right? Not at all!
Day 1 – Delhi to Sarain
It was the first week of November and the winter chill had started to set in a bit. With riding gears and plenty of winter wear, I started my journey at 6:00 AM from Delhi.
I had two options to reach Sarain from Delhi. One, via Shimla and another, via Vikasnagar. I decided to one route while going and another while coming back.
I traveled to Sarain via the Vikasnagar. The route to be taken is – Delhi – Saharanpur – Vikasnagar – Kherooa – Koti – Minas – Nerwa – Sarain. So with the saddlebags on both sides of my motorcycle and riding gears on, I was all set to ride on this route.
As soon as I was on the Meerut Expressway, I realized that the action camera (DJI OSMOS) on my helmet was a bit tilted. I stopped to adjust it a bit but then, it fell from its place and landed on the ground.
At the very beginning of the trip, I was looking at my broken camera. Thankfully, it was only the transparent lens cover that broke and not the lens itself. So though I could ride with the lens cover off, it meant damaging the lens with all the dust on the way.
Dehradun – Vikasnagar
It was 7 AM and no camera shops were open anywhere. I had no plans to come back to Delhi, so I decided to reach Dehradun and see what could be done there. Yes, I had to take this detour to Dehradun because of this camera trouble.
I reached Dehradun at around 10:00 AM but could not find a shop where I could get a replacement cover. The next best option was to find a watch smith and get the glass replaced on the cover.
There were plenty of such shops near the Clock Tower, Dehradun and one of them happily agreed to do the job. And he did it well. the new glass is of course not as toughened as the original one, but it cost me only Rs 100 (plus some extra miles and a couple of hours) to get it done.
Now was the time to head back to the original route. The 40 odd kms of the ride from Dehradun to Vikasnagar was through constant traffic (it was already 11:00 AM) and loud fat sounds of the Vikram fat fats. Yeah, that's why this name.
After crossing Vikasnagar, I had to constantly check my GPS so that I do not venture on the Chakrata route. The route I took goes along the Tons river (which is also the Himachal Pradesh – Uttarakhand border).
Riding along the Tons River (Himachal-Uttarakhand Border)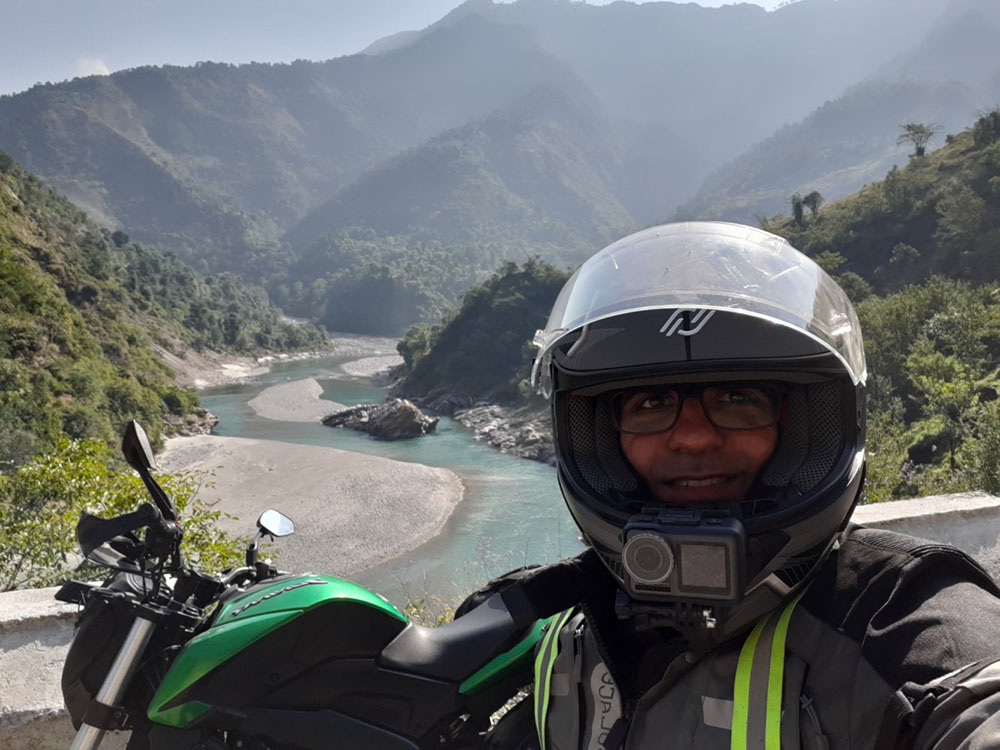 The road is not only isolated but also offers beautiful views of the Tons valley. It was 1:00 PM when I saw a little Dhaba at Kherooa which is a tiny hamlet on the route.
I had the thali which was delicious. All for Rs 30. After 10 kms from Kherooa comes Koti which is the first sizeable village on this route after Dakpathar.
Koti – Minas
Things start to dramatically change after Koti. The isolated road becomes even more isolated and its condition also starts to deteriorate. The next village is Kwanoo from where the road bifurcates into two. The tarred one goes to Chakrata and the graveled one goes to Minas.
I had to take the graveled one now. The road condition was bad and I thought it would improve after entering Himachal Pradesh. Finally, I saw a bridge on the Tons with a board saying "Thanks for visiting Uttarakhand".
Beautiful Tons River on the way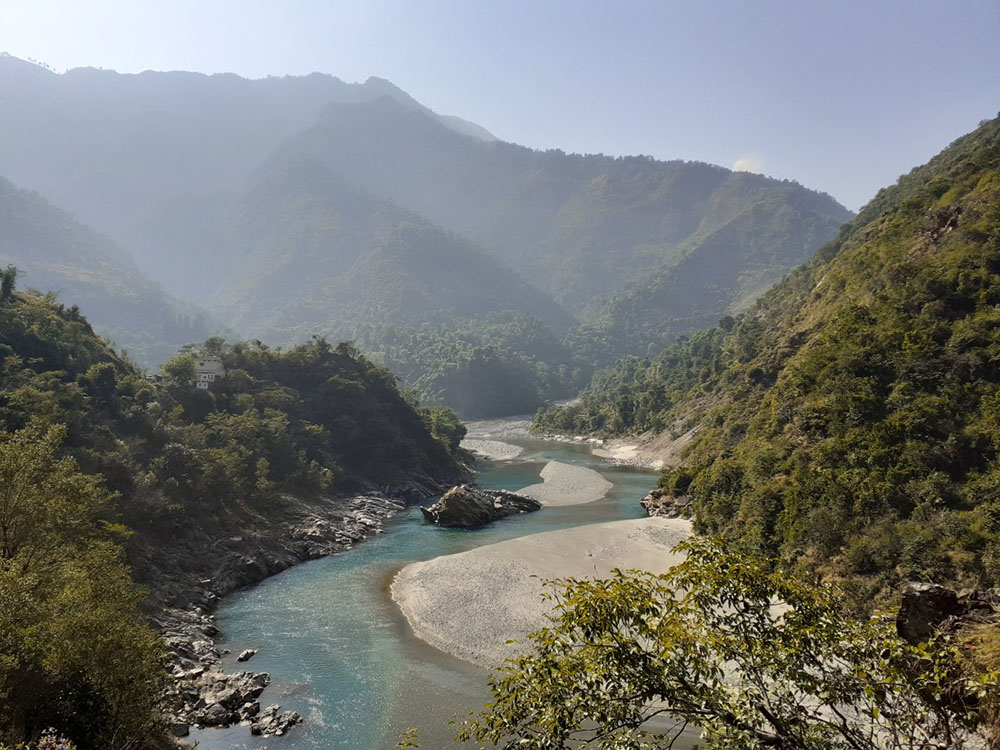 I was entering Himachal now from this place called Minas. The road which was bad on the Uttarakhand side as well, what should I say, terrible on the Himachal side. I wish I had an adventure bike on this stretch.
The terrible road continued till Gumma, the first village on the Himachal side. Since I also spotted a petrol pump here, I also got my motorcycle refueled here. The road condition got better after Gumma.
Himachal side of the route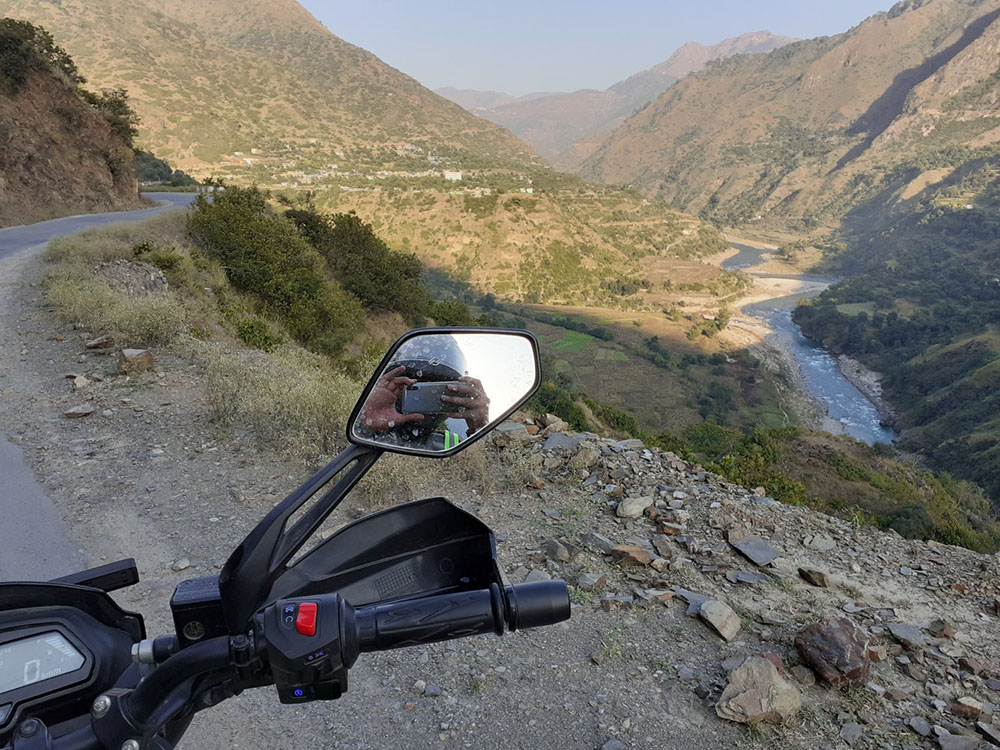 GPS comes really handy in such isolated locations and I heavily relied on it to navigate my way to Nerwa where I reached at around 4:45 PM. It was getting darker and colder. On seeing the pine trees along the road, I realized that I am on a higher altitude now.
This road goes to Chopal if I continue straight, but I saw a big gate on an alternate route with a Shiva statue on the top. The board on the side of the road said 'Sarain -10 Kms'.
Sarain
I was tired by now and my hands were freezing in the cold air. It was such a relief to know that I am almost there. On this isolated road leading to Sarain, I ended by giving a lift to a local who also wanted to go to Sarain. Later, he helped me find a hotel to stay there.
I reached Sarain at 5:45 PM and it was time to rest before I trek to Churdhar tomorrow. I found a pretty decent room for Rs 500. It was actually a dormitory-type room with 7 beds in it. But I got it all for myself as there were hardly any tourists in Sarain at this time of the year.
While having my dinner, the hotel owner told me that I need not start my trek from Sarain anymore as there is a new route to Churdhar now and it's only 4 Kms of a trek to the temple now. It was such a relief to know this.
You can watch the full Vlog for this day in the video above.
Day 2 –  Sarain to Churdhar Peak
It was a beautiful day with a clear sky. At around 7:30 in the morning, I started my day after having some tea and biscuits at the place where I was staying in Sarain.
It was so cold that initially, the motorcycle did not even start. But eventually, it did after several attempts. A road climbs up on the right after a bit ahead of Sarain which is called 'Lihat-Sarain road'.
The starting point of the Churdhar trek is on this road itself. This road is rough and requires some off-roading as well. At one point, it was so bad that my motorcycle got stuck for a moment and I had to take help to take it out.
The person who helped me had his own Alto stuck at that very point. Thankfully, I found a helpful Mahindra Max driver who was ferrying some locals to the trek point. He asked me to follow him.
After riding for around 6 Kms, I reached this point where a lot of cars and jeeps were parked. This was the starting point of the trek. The approximate coordinates of this point are: 30.907420946427163, 77.49318514640711
Churdhar Trek
I started to trek at around 8:00 AM in the morning. Initially, I thought it would be a steep climb as I had read in several blogs. But it was not.
The blogs mentioned the trek that starts from Sarain itself and that must have been steep. But this one was a gradual incline.
The reason for this is that I was starting the trek at an altitude that is already quite high, i.e. 2500 meters. Sarain for reference is around 2000 meters.
Forest area at the beginning of the trek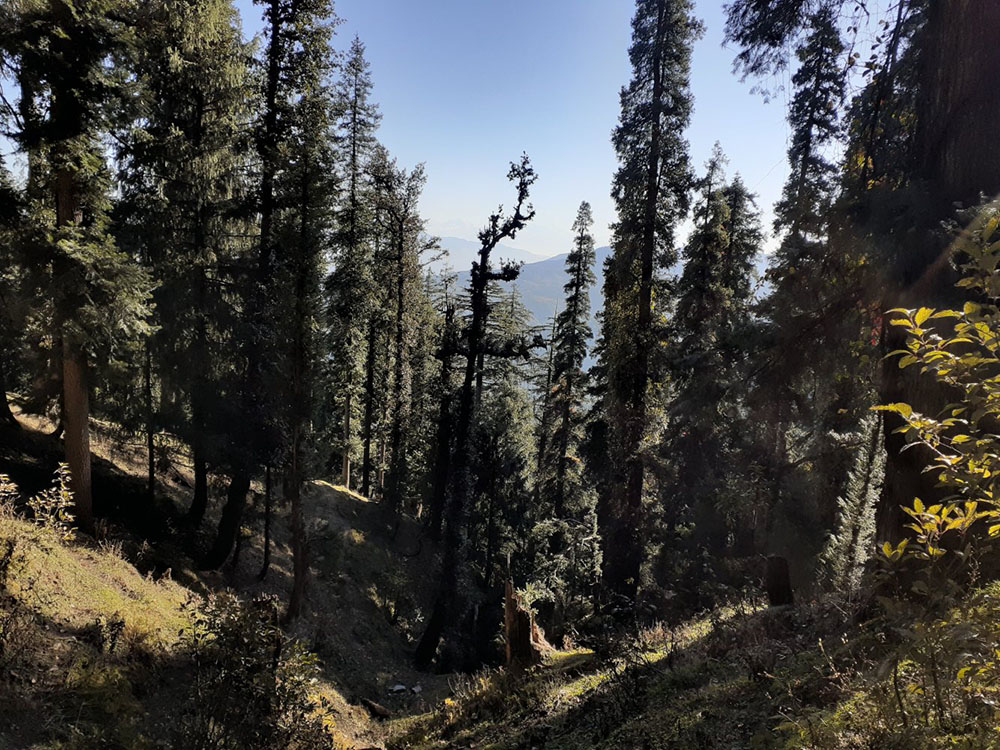 The trek passes through a dense forest. It is a part of the Churdhar Sanctuary, after all. However, if the temple is open (as it was in my case), you will never be alone as many locals frequently trek from this route only, which is the shortest one to reach Churdhar.
I was a bit in a need of breakfast now and saw a couple of huts on the way. They were closed though. However, after walking for another kilometer or so, I found a few more huts.
This time, I could see the smoke coming out of the chimneys. Time for some Aalu paratha and tea. I also charged my camera here (using my power bank) and interacted with locals.
Breakfast break on the way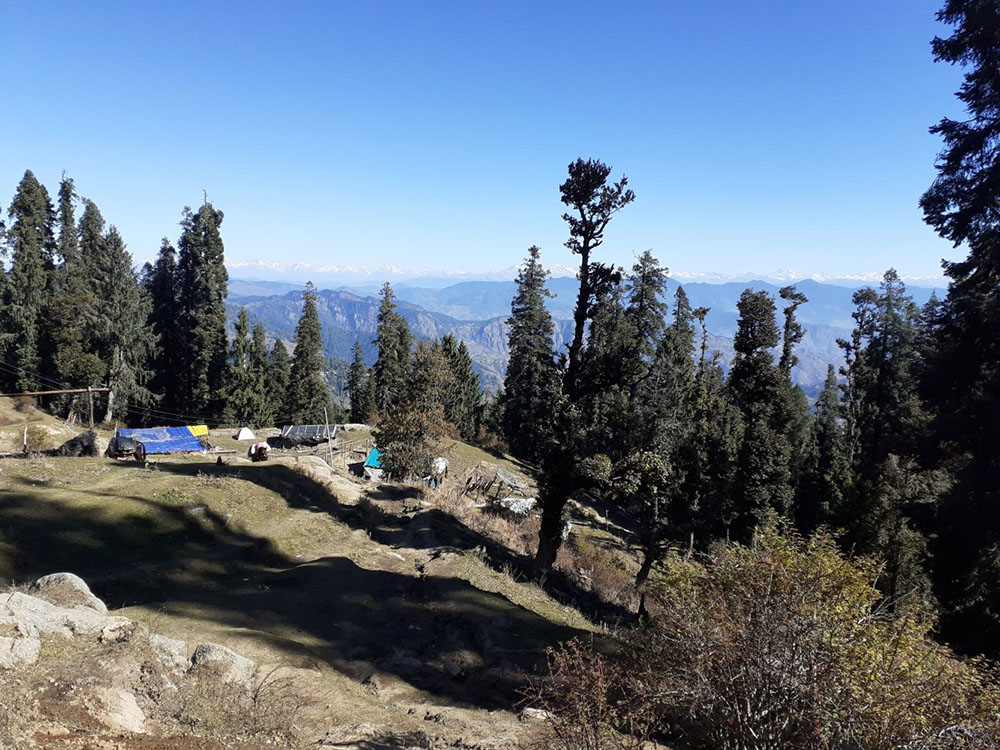 I had walked only for around 2 kms and the dhaba walla told me that its the mid-way to the temple. Wow, already? I said as I moved ahead.
The trail to Churdhar temple from this place onwards is even better. After walking for a few minutes, I finally spotted some snow around the trail. It was November, so I have expected some snow on this trek.
Snow on the trail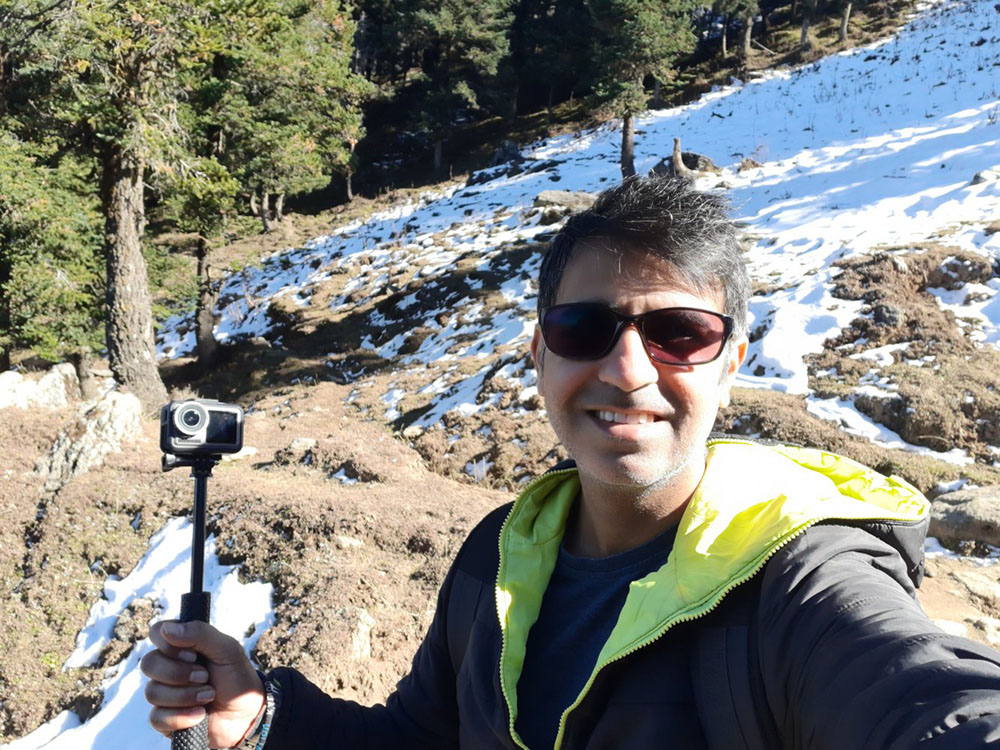 Churdhar Temple
Thankfully, though the snow was there around the trail, it was not there exactly on the trail. That must have been because people were frequently walking on it.
This part of the trek was a bit steep. But not for too long. After walking for a few more minutes, I reached a big meadow from where, on one side the Churdhar peak and temple were visible right in the front, while on the other, Himalayan ranges were also visible.
Churdhar peak and temple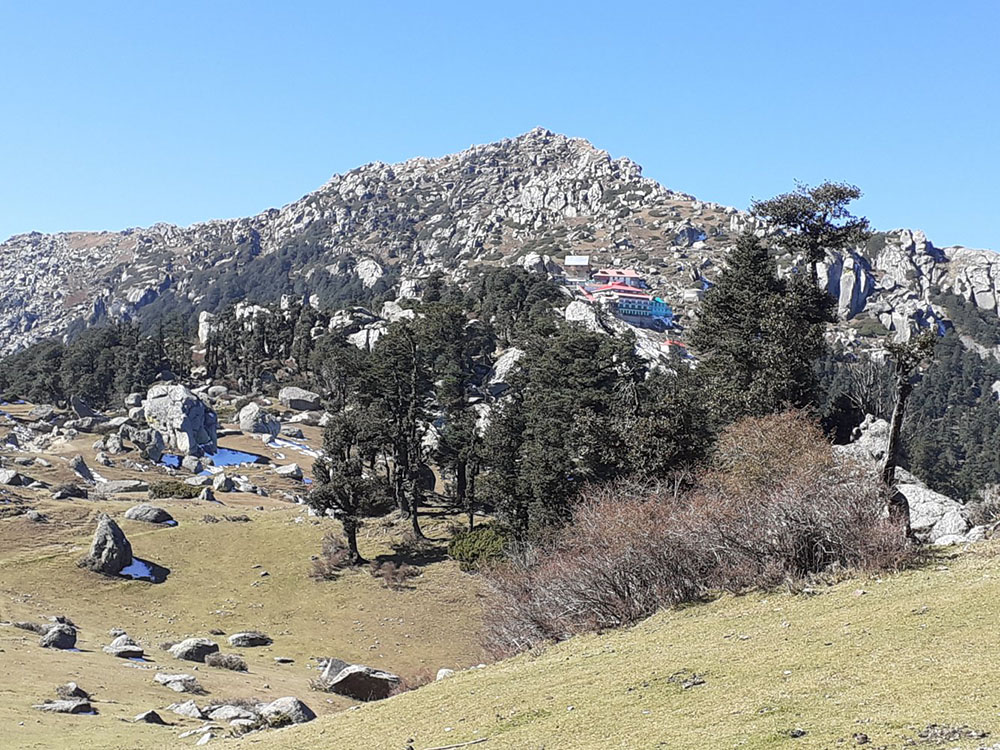 Though it seems from this point that one has already arrived, there is still some distance to be covered before one reaches the temple.
Just before the temple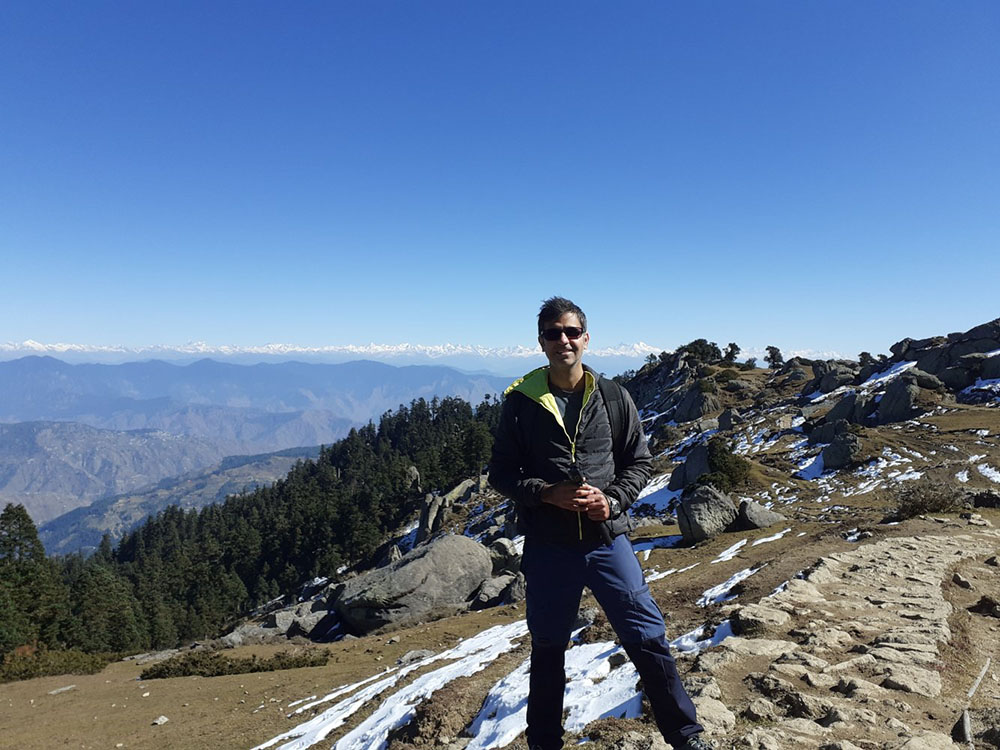 I reached Churdhar temple at 11:45 AM, which is less than 4 hours from where I started my trek. I had plenty of breaks on the way and did this trek at a leisurely pace.
After visiting the temple and soaking in the serene atmosphere of this place, I now headed for the Churdhar peak, which is further 1 km from the temple.
Churdhar Peak
Two different ways lead you to the peak. One is well marked while the other is not. The one I took to climb up was not so well marked but it's still pretty straightforward.
Also, on this route, you get to visit Churu ka Tibba, which is a huge rock on which you can also climb. It's a little tricky though and I did not attempt. Also, you get to see the other side of the views from this route which is the valley view.
The valley view en route Churdhar peak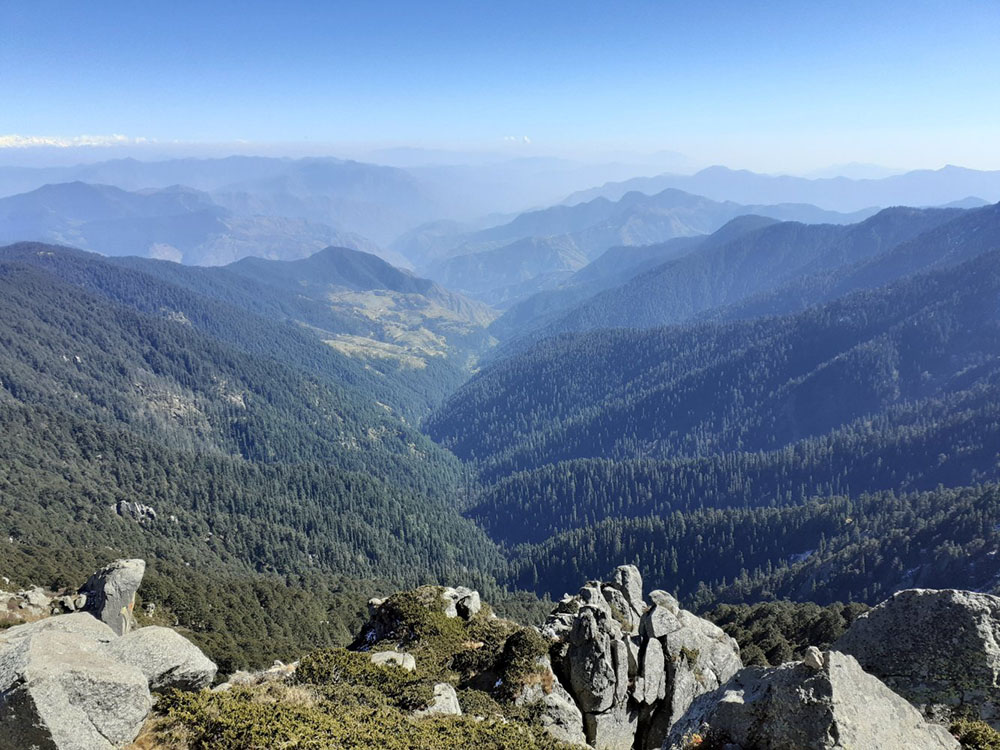 I finally reached the Churdhar peak at 1:00 PM. A huge Shiva Statue (Shirgul Maharaj) is situated at the top of the peak. There is also a pujari who would tell you the story of this place.
Shirgul Maharaj, Churdhar peak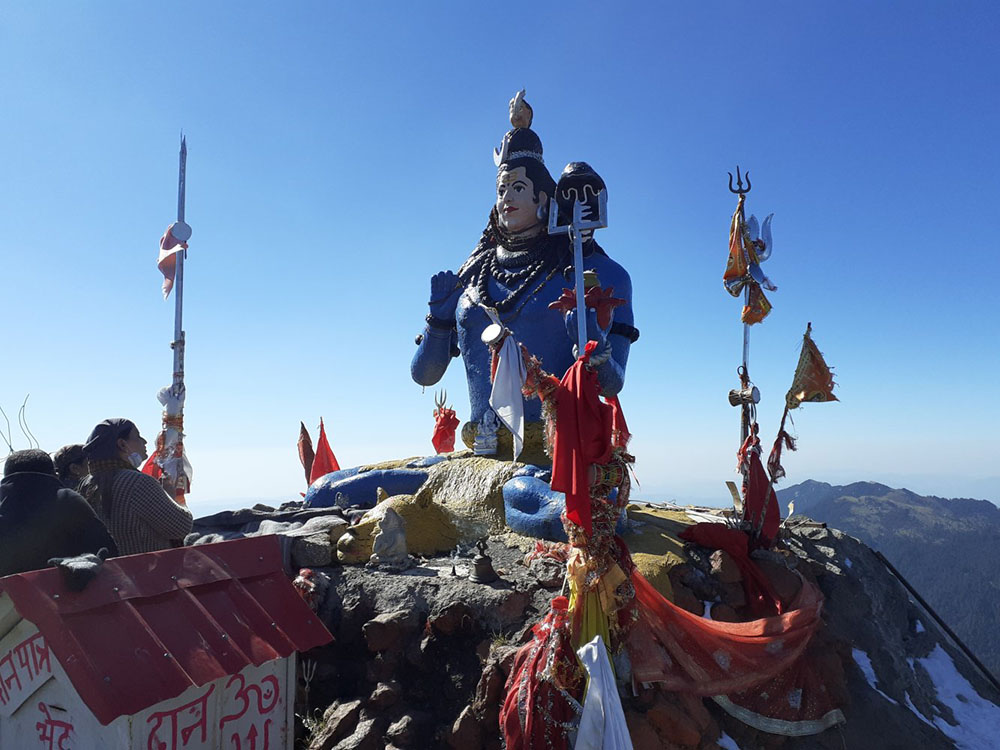 I paid my respect and spent a good one hour on the top enjoying the 360-degree views from here
Himalayan ranges from Churdhar peak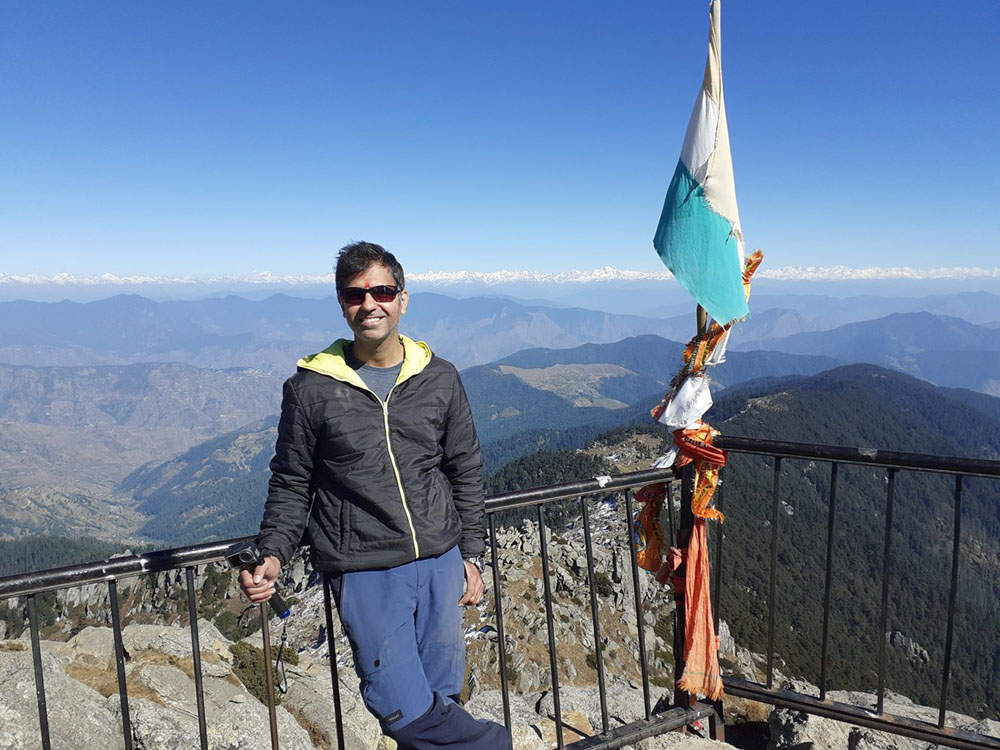 I started to trek back at 2:00 PM from the peak and this time, I took the route to the temple which was well constructed.
Churdhar to Sarain
Initially, I decided to stay at the temple only for the night, but with a lot of daylight remaining, I decided to head back to Sarain the same day itself.
I again stopped at the same place where I had my breakfast in the morning for some tea and pakoras. On the way back, I met some locals from Chopal who were trekking with family. While chit-chatting with the locals, I didn't realize when I reached the starting point of the trek.
I reached this point at around 4:40 PM. I would rate it as an easy trek even when you climb up and descend down in a single day.
Lihat-Sarain road on the way back to Sarain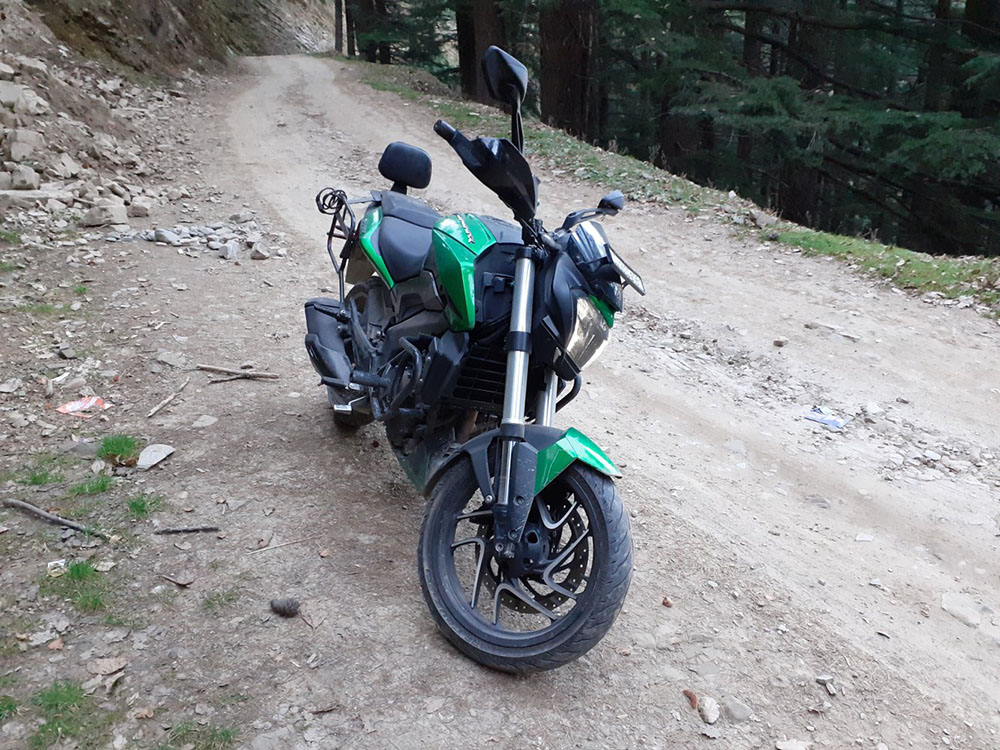 I reached my hotel (Surat Rain Basera/ Verma Jee's Restaurant) where I stayed the previous night at 5:30 PM. I decided to stay here only for this night as well.
My room at Surat Rain Basera/ Verma Jee's Restaurant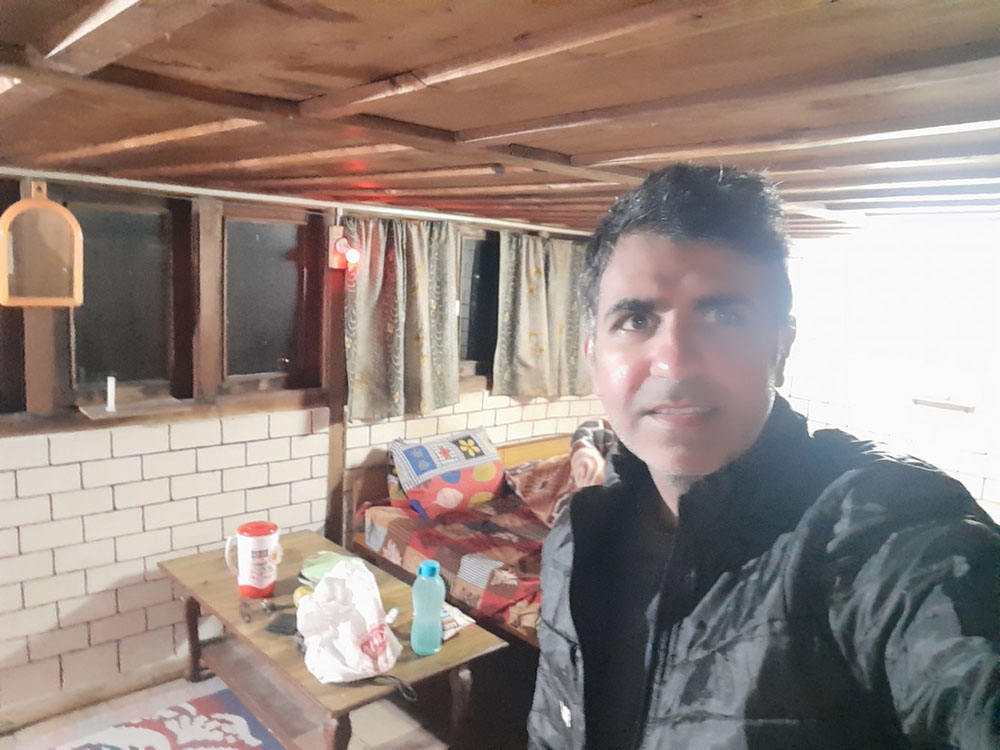 The phone numbers of the hotel are +91 8628863793 and +91 9816308751. You can contact them to stay at Sarain and even to check if the trek is open or not.
The full Vlog for this day is also embedded at the link above.
Day 3 – Sarain to Delhi
A trek that I thought would be tiring, turned out to be an easy one. That said, I had to skip my dinner the previous night. I had no intention of doing so though.
What happened was, that there was a wedding in the village and everyone including my hotel owner was invited there. So, nobody had prepared any food in the village.
Initially, since I thought I would stay at the Churdhar temple itself, I also did not inform in advance that I am heading back to Sarain. Nevertheless, I wish I was invited to that wedding at least. More than once, I even thought of just crashing into it uninvited.
The morning was pleasant and I decided to visit the Bijjat Maharaj temple in Sarain before heading back to Delhi. Though one can drive or ride up to the temple, I wanted to explore the village on foot.
I crossed the narrow lanes of Sarain and reached the temple after walking for 15 mins. Bijjat Maharaj temple is an ancient and beautiful temple that reflects the traditional Himachali infrastructure.
Though photography is not allowed inside the sanctum of the temple, it is quite an experience in itself. It's rather peaceful as well. Don't miss this temple if you are visiting this area.
Bijjat Maharaj Temple, Sarain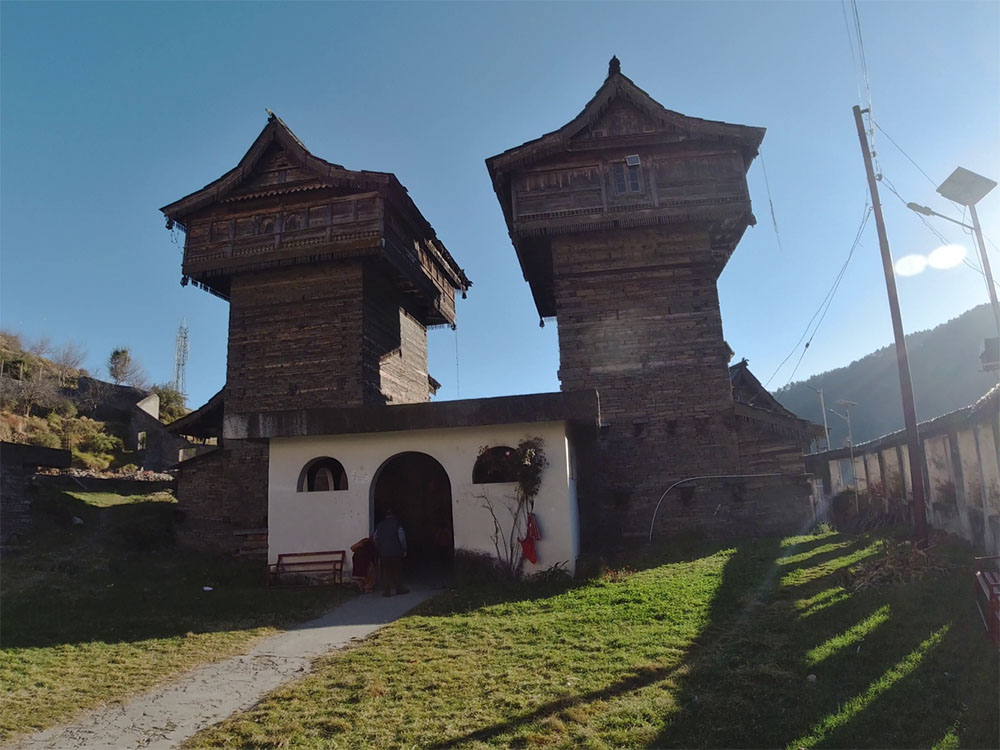 After a quick cut of tea, I started at around 9:00 AM from Sarain for my ride to Delhi. This time, I planned to take the Shimla route which is longer than the one I took while coming here, but with the roads in a much better condition.
Chopal
I planned my first stop at Chopal for breakfast which is around 22 Kms from Sarain but takes around one hour on the winding roads. The Churdhar peak was constantly visible on this road and I could not help myself stopping every now and then to take pictures.
Churdhar peak in the backdrop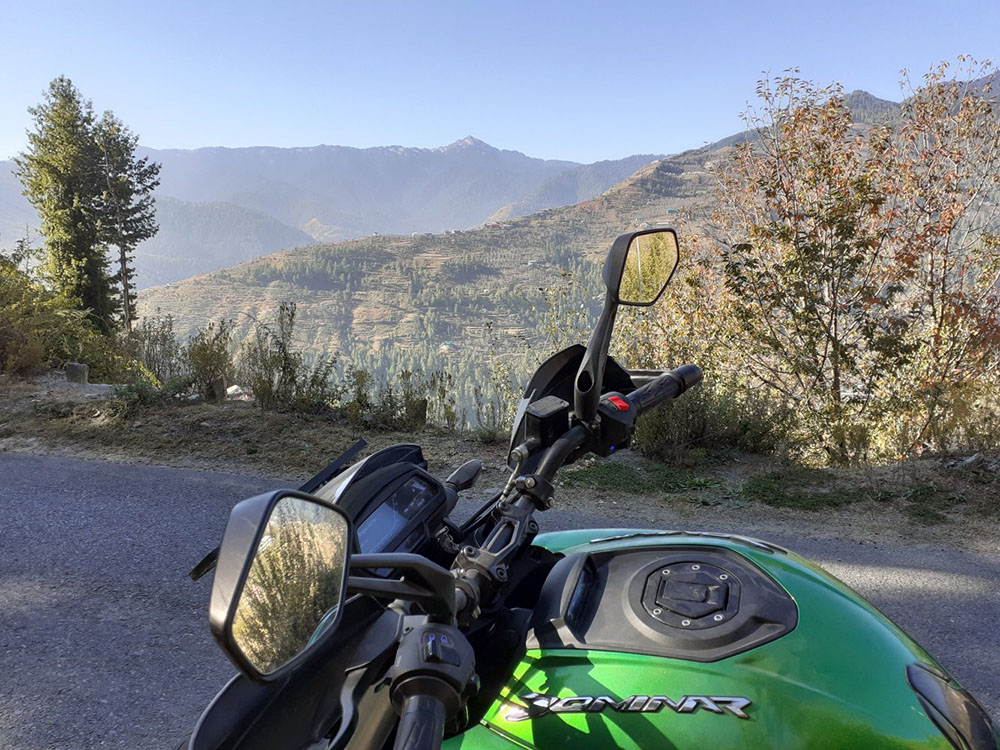 Not only the peak, but the entire landscape was so calming and serene, that I could spend my whole day just sitting there if I didn't have to reach Delhi that day.
Serene valley and step farms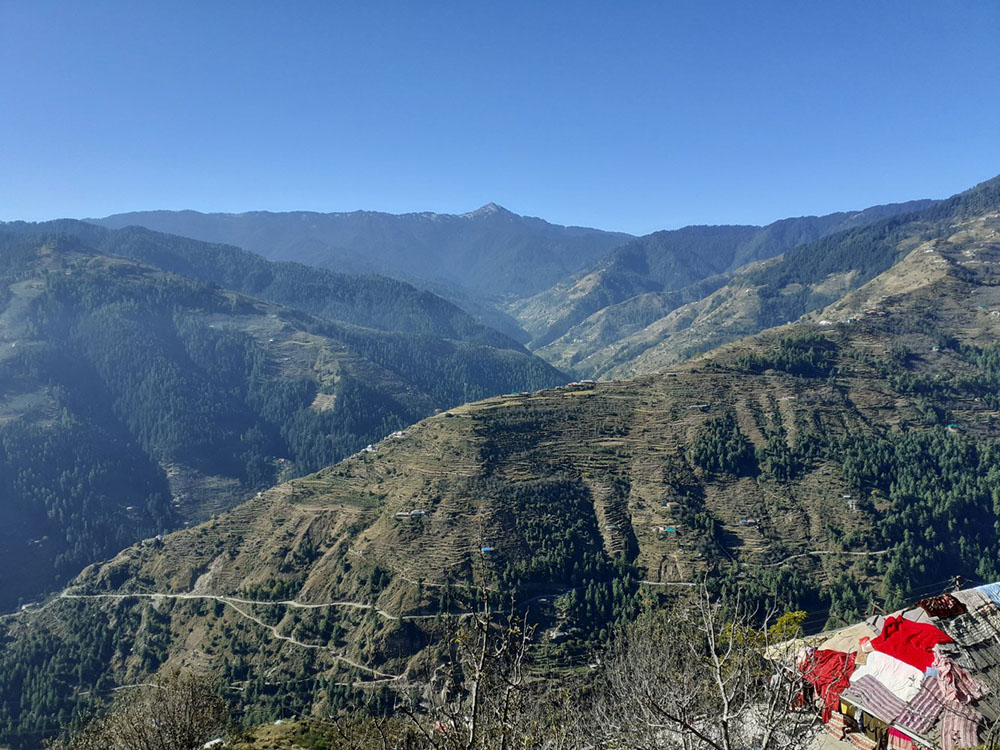 I finally reached Chopal at around 10:00 AM. It was surprising to see how big this town is. I was expecting a small hamlet like Sarain but it was quite a sizeable town with a market, banks, ATMs, colleges, and whatnot.
I stopped at Chopal Bus Stand for the breakfast. It gave me an opportunity to check the bus schedule from Chopal to Sarain. I got to know that a bus starts from Sarain at 9:00 AM for Chopal which goes back to Sarain at 12:00 PM from here. So anyone planning to do this trip suing public transport may take a note.
After Chopal, I was heading towards Theog now. Again, GPS comes in handy as I relied on maps to find the correct route. I downloaded the maps in advance before venturing on to this trip so that I can still use them where the connection was weak.
Chopal is about the same altitude as Sarain at around 2050 meters, so I was expecting the road to descend down from here. But to my surprise, the road started to climb up and at one point, I was even higher than 2700 meters. Not only that, the road offers beautiful views on both sides alternatively.
Theog
For those who love to drive or ride on the Kufri-Narkanda road or even those who loved the Theog-Kharapathar road, add this one (Theog-Chopal) to your list. It provides amazing views throughout and must also be full of snow in the winter months of January and February.
The road also has very little traffic on the way. After riding for a couple of hours on this road, I reached Sainj at around 12:20 PM. The altitude had also declined considerably by now. I was now at 1270 meters.
This is not the famous Sainj near Tirthan valley that we hear a lot about. This one is a different town on this road. From Sainj, I had two options of routes to take towards Chandigarh.
The shorter route goes straight towards Solan and the longer one goes to Theog and then to Shimla from there. I took the longer rote for a simple reason, that I wanted to cross through Shimla. I simply love that city.
Churdhar peak again visible from Theog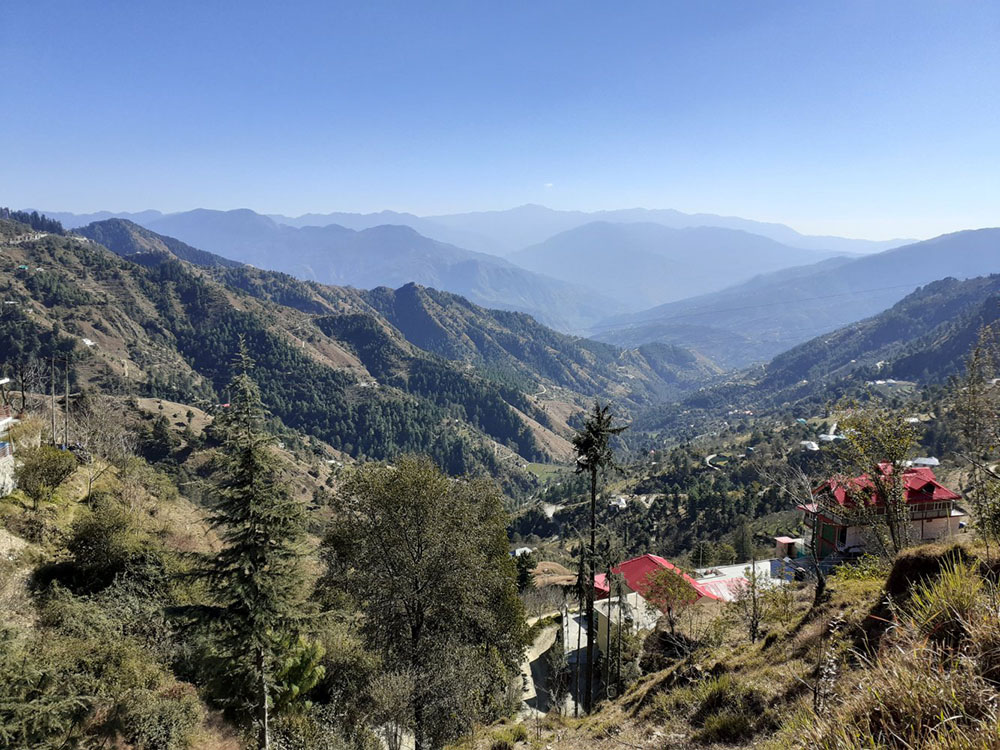 Theog is a large town. Here, I also got on to the National Highway that would take me to Shimla and then to Chandigarh. This meant broader roads, but also more traffic. And indeed, I literally faced my first mini traffic jam of the day at Theog.
Shimla
After crossing Fagu and Kufri, I was looking for a quick bite for lunch. Luckily, I found a van serving noodles and burgers right before Shimla. I had my burger there. Shimla was way too crowded and took me almost 45 mins to cross the city.
I left Shimla at around 3:15 PM. I decided to stop for a few minutes at one of the Railway Stations on the Kalka-Shimla narrow gauge line (Kathleeghat). It reminds me of my childhood days when we used to travel to Shimla on this toy train. What fun it was.
Toy Train on the Kalka-Shimla Railway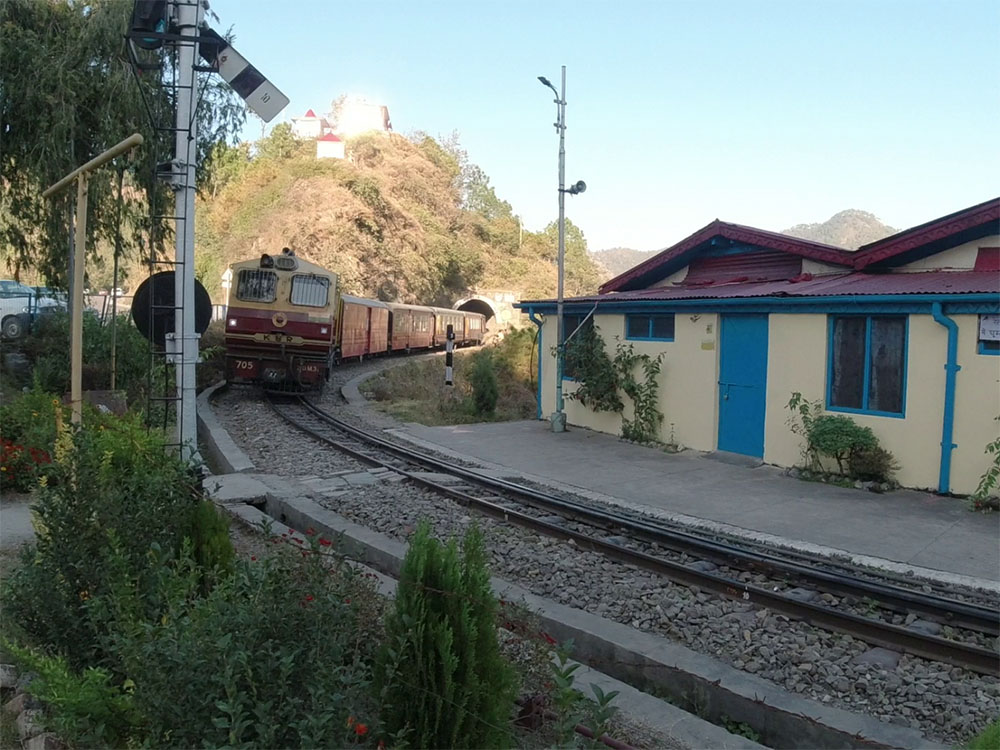 With the ongoing construction of the Himalayan Expressway, the entire stretch between Shimla and Solan was in a bad shape. However, the road after Solan is like a breeze now, as the Himalayan Expressway is fully operational from here onwards.
I crossed Solan at around 5:00 PM and took me less than one hour to reach Parwanoo from there. And I don't believe in riding fast. It's just that the roads are so good that you can maintain a good speed even on this Himalayan terrain.
Luckily, I covered the hilly ride in daylight. But then, with Dominar's fabulous headlight, riding after sunset is also not much of an issue. I reached Ambala at 7:00 PM and I was quite tired by now.
The next stop was at Sagar Ratna here for my dinner. I reached Delhi at around 11:50 PM and it was now the time to take a rest and revisit the memories of this awesome ride plus trek.
Delhi to Churdhar Trek Overview
Total distance covered on road (Delhi to Delhi): 952.9 Kms
Overall fuel consumption on this trip: 28 km per liter
Average speed on this trip: 43 kmph
The full Vlogs for this day are also embedded here.
Bijjat Maharaj Temple
Sarain to Delhi
Delhi to Churdhar Trek  – Conclusion
I hope the travelogue, pictures, and information above on Churdhar Trek from Delhi were of help. If you have any questions, please feel free to ask in the comments section below. You can also follow me on Instagram and chat with me live there or subscribe to my YouTube channel and ask a question there.