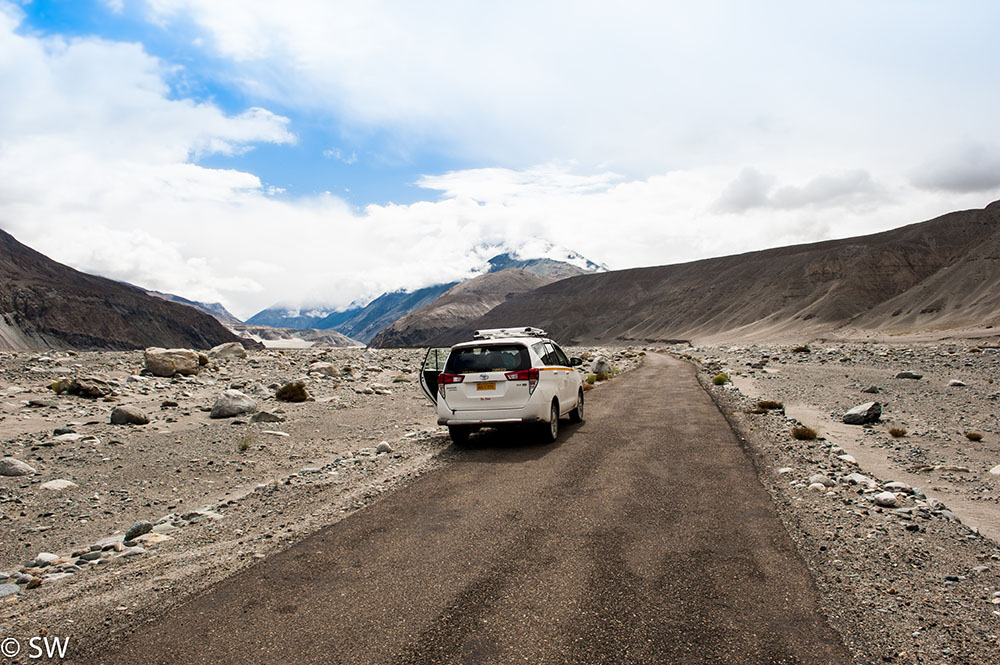 Are self-driven taxis allowed in Ladakh? This is one of the most common questions I get asked by people wanting to drive to Ladakh on their own rather than hiring a taxi with a driver. In this article, I will provide some information on the topic and help answer any questions you may have.
Most people would want to drive to Ladakh on their own rather than hiring a commercial vehicle or using public transport services. In my opinion, it is completely justified. Ladakh is not a place that you can enjoy to the fullest while sitting inside a bus that takes limited stops.
Ladakh and both the highways leading to it are full of awe-inspiring vistas. The scenery would change at every turn inviting you to stop often. Apart from this, there is also the feel of adventure while driving on a terrain where the word road is sometimes just a relative term.
There are several other reasons as well like privacy, comfort, cost which would have you rather sit on the driving seat yourself.
What is a Self-Driven Taxi?
I know the answer to this question is a fairly obvious one. But let me still mention it for the sake of clarification and staying on the same page. Any self-drive is a car rental service that allows you to rent cars by the hour or days. You can take a cab, drive it on your own anywhere you want. At the end of your trip, you can return the car back to the agency.
What to check and verify when you rent a self-driven taxi?
If you planning to hire a self-drive cab, then please make sure that you take the following documents along,
Registration Card (RC)
Insurance documents
All India permit (National Permit DL1N Specially registered for Self Drive service)
Rent-a-cab license
 Most of the cab services have an All India Permit. So you are free to drive them anywhere in the country. While booking the cab, please make sure that it has a yellow plate with black numbers. You do not need a special license to drive such vehicles and your regular driving license would do just fine. You would, however, be required to pay the permit charges while crossing the border into a different state.
Are Self-Driven Taxis Allowed in Ladakh?
Now the big question, Are Self-Driven Taxis Allowed in Ladakh and the nearby areas? The answer to that question is that they legally are. As long as the vehicle is registered as a self-driven cab and has an all-India permit, you are free to drive it anywhere in the country.
But then there is a twist in the story as well. You can safely bring a self-drive taxi to Leh, using any of the two highways. But things get a little tricky when you want to take it to nearby areas like Pangong and Nubra. For that, you will have to park your car in Leh city and rent another local cab from there to show you around.
Why this Rule?
First of all, it is not a legal rule. It is rather something that the locals and the Leh taxi union have agreed upon to impose. They have been successful in implementing it for the last several years now.
Ladakh is a cold desert, a barren wasteland and the livelihood of the people here depends a lot on tourism. Some of these folks are Taxi drivers. So imagine if everyone started to hire a taxi elsewhere and drive it to Ladakh on their own. It is a direct hit on the income of the taxi drivers here due to which you may get into trouble with them.
There have been reports of tourists in self-driven taxis being harassed by the taxi union and local taxi drivers and these are in fact true. There also have been instances where the vehicles were even attacked and damaged in stranded areas where there was no help available to the tourists.
Conclusion
So the bottom line is, self-drive taxis are allowed but it is a risk to drive them around in areas near Leh. No one is going to bother you until Leh, no matter which road you take. As long as you have the proper papers with you, you can conveniently drive to Leh.
Once you reach there, my suggestion is to hire a local taxi driver to show you around to places like Nubra Valley, Pangong, and Tso Moriri. Rent a hotel for your entire stay in Ladakh and hold the room even when you are gone sightseeing.
That way you can leave your car parked at the hotel, in their care; and be sure that there is no risk of it getting stolen. Hire a local taxi while you are in Ladakh and then you can drive back home in your own cab.
I hope this information was useful. If you have any questions, please feel free to ask in the comments section below or at our Community Forum, and I will be glad to answer.