So far all my camera bags have always been the ones that I received as part of the deal while buying the camera. And thankfully, all of those bags were of good quality, spacious and served the purpose well. Same however cannot be said about the small pouch type thing that came along with my new Nikon D7200. It was only enough to hold the camera body and the kit lens but nothing else due to which I had to buy a new camera bag. After a bit of a research I finalized on Amazonbasics Camera Sling Bag; and below is a small review of how I found it to be so far after a few months of usage.
I must admit though that the only reason I bought this bag was because the price sounded a bit reasonable; and all the other reviews I read were mostly all positive. I was anyways thinking about buying a new camera bag to carry all the lenses and the new sorry excuse of a bag that came with Nikon D7200 just gave me an excuse to do so. I looked up online to research and decide which bag to buy; and found out that Amazon had their own line of bags as well. The decision to buy the one from Amazonbasics proved to be right; and while I will not really call it an outstanding or superb bag; it does the job pretty well and is quite satisfactory.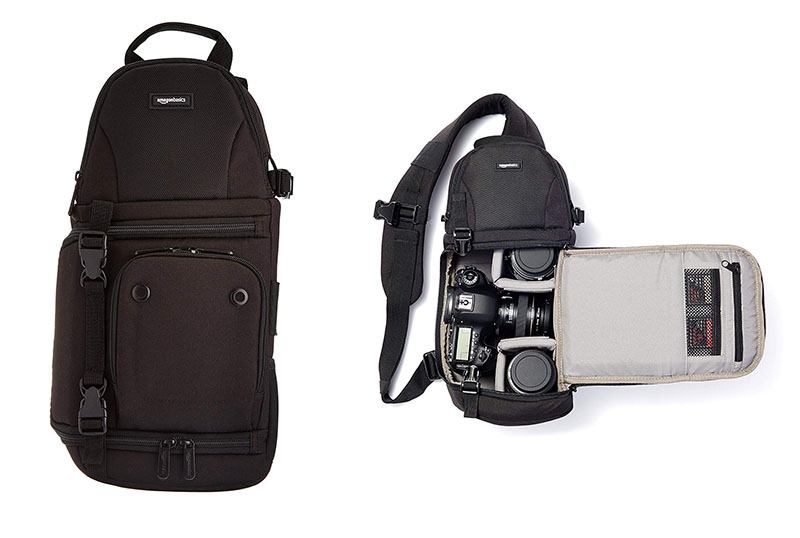 Amazonbasics Camera Sling Bag Review
The bag is quite durable & reinforced at stress points. The space is enough to fit in your camera and 3 lenses easily. The compartment on the top works well to hold the camera charger, filters and occasionally my phone as well. The shoulder straps are padded, as is the back rest. There are spots to clip on carabiner hooks and specialized tripod straps.
The two strap system will allow your to wear in on your back; and then swivel it around to the front without taking it off to change lens or to take out anything you need from the bag. It kind of also works as a quick pouch to hold the camera. You can hang it at front around your stomach and easily take the camera out and put it back in. The bag itself feels highly durable and comfortable to carry around. The rainbag is attached and easily pulls out and goes back into it's holder.
Click on the image below to review the bag on Amazon Online.
Conclusion
In the end, I will say that it is a great bag and is well worth the price. If you are however a more serious photographer with way too many things to carry around than you need to see some other bags and buy a more expense and larger one. This one will suit a casual photographer more who needs to carry a camera around along with a couple of lenses and a tripod. I hope the information above on Amazonbasics Camera Sling Bag was of help. If you have any other question, please feel free to ask in the comments section below.