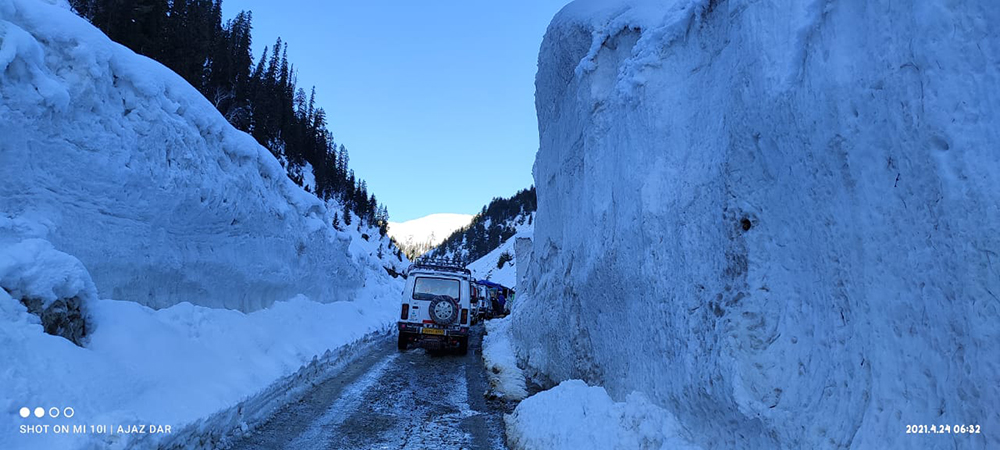 Razdan Pass is a high mountain pass at an altitude of 3557 meters (11,672ft). It is located on the Srinagar – Gurez road at a distance of 72 kilometers from Srinagar and 16 kilometers from Bandipora. The road across the pass connected the valley of Gurez with the rest of Kashmir.
It is also known as Tragbal Pass and Rajdhan pass and remains closed from November to March because of the huge amount it receives in the winter season. It was once an integral part of the Silk route between Kashmir and Central Asia.
Razdan Pass is one of the lesser-known passes of Kashmir. Not many people know of it and hardly any tourists go this way. A trip to Razdan Pass can easily be done in a single day if you were short on time.
If you had a couple of days in hand, you can extend the journey all the way to Gurez and stay for the night in the valley. For more details on Gurez Valley, please take a look at How to Plan a Trip to Gurez – A Complete Travel Guide.
How to Reach Razdan Pass
The route from Srinagar is as mentioned below.
Srinagar – Mansabal – Bandipora – Razdan Pass
The entire length of this road is tarred and in good condition. From Srinagar, you will take the road towards Mansabal Lake and then continue towards Bandipore from there. The ascent for Razdan Pass starts near Bandipora from where the top of the pass is about 16 kilometers.
The total travel time will be about 3 hours to reach the pass. From Srinagar, it will become a day trip and will take about 6 to 7 hours for a return journey.
What to see at Razdan Pass
The only thing to see at Razdan Pass is the mesmerizingly beautiful views. Standing at the top, you get a 360-degree view of the entire valley around. Lush green vistas on every side will surely have their effect on you.
At the top, there is also a Peer Baba shrine.  It sits beautifully overlooking the valley in front and is maintained by the Indian Army.
The entire location and the setup of Dargah make it worth taking a short break. The saint buried here is believed to have arrived from Lahore in 1933 and was buried at the pass.
Also Read: How to Plan a Trip to Kashmir – A Complete Travel Guide
How to Plan a Trip to Razdan Pass
The best way to plan a trip to Razdan Pass is to include it with your Gurez Valley itinerary. On Day 1, start early from Srinagar, cross Razdan Pass and arrive in Dawar in Gurez Valley. Stay there for the night.
You can spend Day 2 of your trip sightseeing in Gurez Valley. Take a drive to Chakwali Village and visit the Tilal District. If you were short on time, you can skip this day.
On Day 3, start from Dawar and cross the pass once again to return to Srinagar. You will have to take the same route back as there is no alternate road for the return journey. This is the only road that connects Gurez to Srinagar.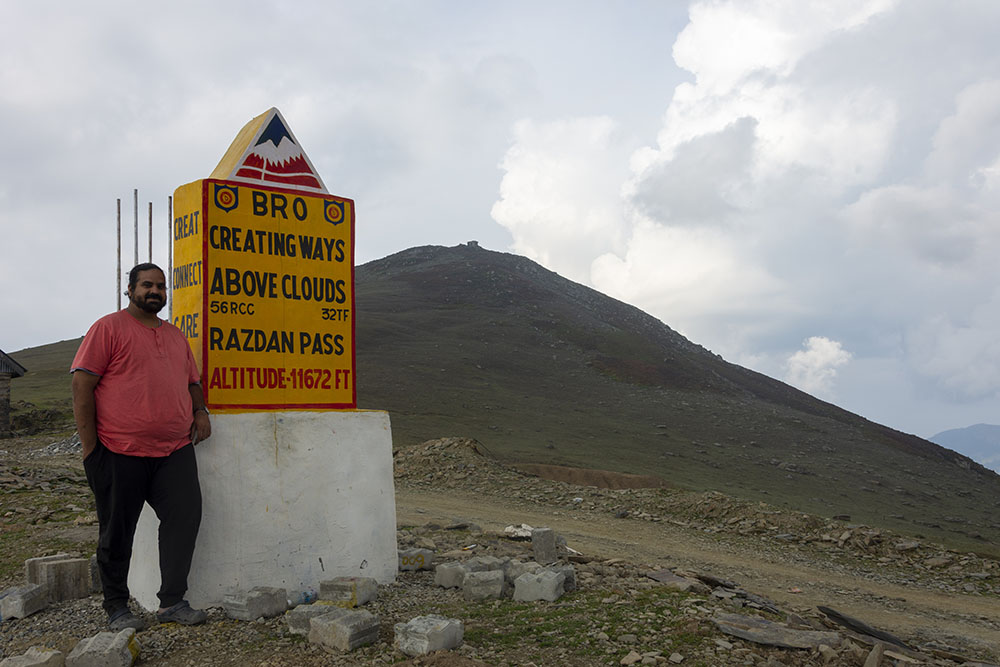 Mobile Network at Razdan Pass
MTNL / BSNL has the widest coverage in this area. Jio has the strongest network in and around Dawar and provides 4G data speed. All postpaid phones will work till Bandipore. But once you cross over Razdan Pass, only a postpaid BSNL or Jio phone will continue to work. Apart from BSNL and Jio, no other network works at Razdan Pass or in Gurez Valley.
Conclusion
I hope the information above on planning a trip to Razdan Pass was of help. If you have any questions, you can contact me on Instagram and I will be happy to answer. You can also consider subscribing to my YouTube channel and asking a question there.