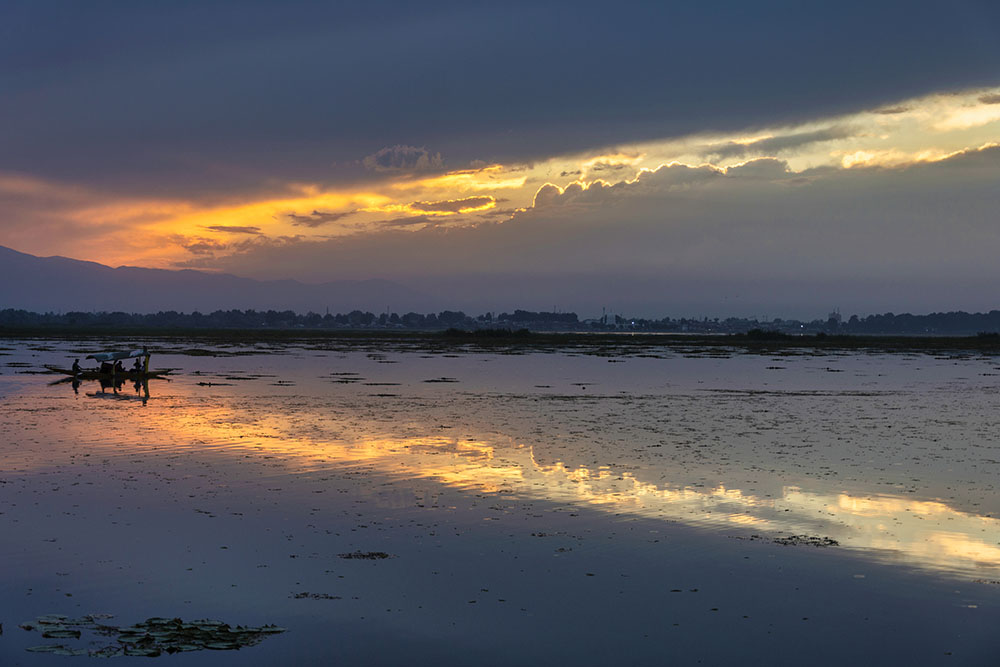 The best sunset point in Srinagar in my opinion is none other than Dal Lake. There are several other places that you can go to but nothing compares to what you see just sitting by the Lake. Take a drive on Boulevard road, find a spot that you like, and watch the sun go down.
Even near Dal Lake, if you asked me, I will recommend a spot between Centaur Hotel and Nishat Bagh. That is where you get the best view. Some other places that you can consider are Pari Mahal, Astanmarg, Nishat Bagh, Shankaracharya Temple, Chashm-e-Shahi, and Char Chinar.
In this post, I will talk a little more in detail about these places and the best place to view the sunset in Srinagar. For any other information on Kashmir, like how to reach, where to stay, what to see, and itinerary planning, please take a look at How to Plan a Trip to Kashmir – A Complete Travel Guide.
Best Sunset Point in Srinagar
Why do I say that Dal Lake is the best spot of all? That is because irrespective of where you go, you will anyway be getting the same view from a different angle. It will always be the sun setting down on the horizon of Dal Lake in the end.
All the other places that I mentioned above will just have you drive up the mountain a little bit (except for Char Chinar). You will gain altitude, and get a more panoramic view of the lake. But the real magic and the dramatic skies can only be experienced when you are standing right next to Dal Lake.
Astanmarg
Let us first talk about Astanmarg, a place that not many people would have heard about. It is a meadow and a viewpoint located at a distance of about 10 kilometers from Shalimar Bagh, after a steep climb. It offers a stunning view of the entire Srinagar City and Dal Lake, surrounded by hills on all sides.
If I was to forget the sunset for a minute, it is possibly my favorite viewpoint of all in Srinagar. But when it comes to sunset, the problem is that you do not get a direct view of the sun going down. That gets hidden behind a mountain to your right. What you see is the city getting illuminated in a magical mix of red, orange, green, and blue, like in the video below.
Nonetheless, it is still a great place to spend some time away from the crowd. Since not many tourists know about Astanmarg, hardly anyone ventures in this direction. The only people you will find there will probably be the locals only.
Nishat Bagh
Nishat Bagh is located right next to Dal Lake and is another great spot to view the sunset. The only problem there is that the front area of the park where you can see the sunset is mostly occupied by a lot of people standing or sitting there.
For someone interested in photography, the road, shops, and the electrical wires right in front can be a little discouraging. But, after walking around a bit looking for a good spot and removing objects from pictures in photoshop, below is the view you get.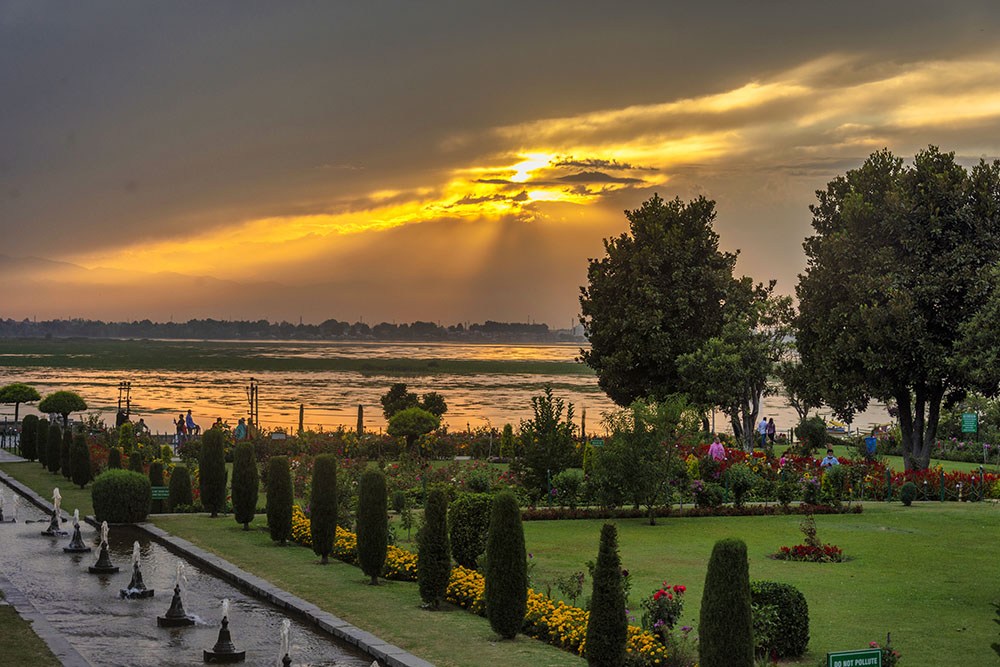 Pari Mahal
Pari Mahal or Peer Mahal, literally meaning The Palace of Fairies, is a seven-terraced garden at the top of the Zabarwan mountain range. It overlooks the city of Srinagar and Dal Lake both. The place is also used as an observatory, for teaching astrology and astronomy. The view you get from there is like in the picture below.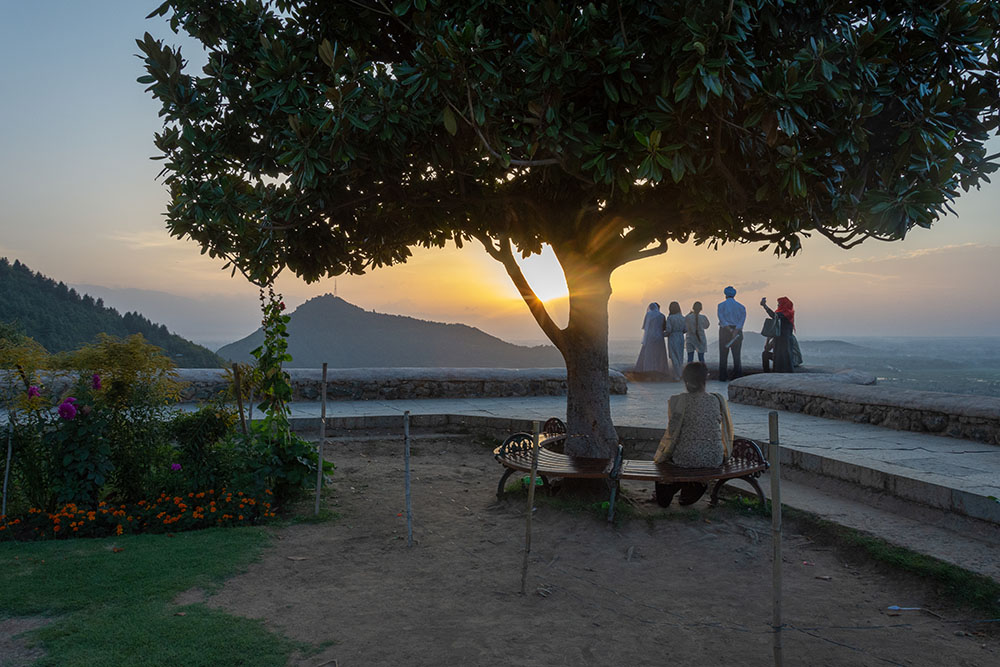 The problem with Pari Mahal is that entry is not allowed after 5 pm. So if you want to go there, you will have to cross the entry gate before 5 pm and then wait for the sunset to happen. Sometimes, you may even be asked to leave before the sunset actually happens.
Shankaracharya Temple
The temple of Shankaracharya sits on the top of a small hill and is dedicated to Lord Shiva. It is also known as 'Takht-e-Sulaiman'.
Shankaracharya temple is another great place that offers a great view of Dal Lake and the surrounding city. There are however two problems if sunset and photography are on your mind.
The first one is that there is a lot of vegetation around the road with tall trees blocking the view. So finding a suitable spot will definitely be a challenge.
The second thing is that you do not get a direct view of the sunset. You will mostly see how the city and the lake look at the time of sunset.
Hari Parbat Fort
I did not actually get to see a sunset from Hari Parbat fort because I was not allowed entry after 5 pm. From what I was told, tourists are not allowed to be on the premises after 5 pm but I could be wrong. The fort, also known as 'Koh-e-Maraan', sits at the top of a small hill and offers a 360-degree view of Srinagar city.
It could be a great spot for Srinagar but unfortunately, I could not make it there. If anyone has been there at the time of the sunset, please do share your feedback.
Dargah Hazratbal
Last but not least is the sacred shrine called Hazratal. It is the only domed mosque in all of Kashmir and looks stunning at the time of both sunrise and sunset.
The picture below is clicked at the time of sunrise but the view can be quite similar during sunset as well. Towards the left of the shrine is the lake where you can sit and watch the sun go down.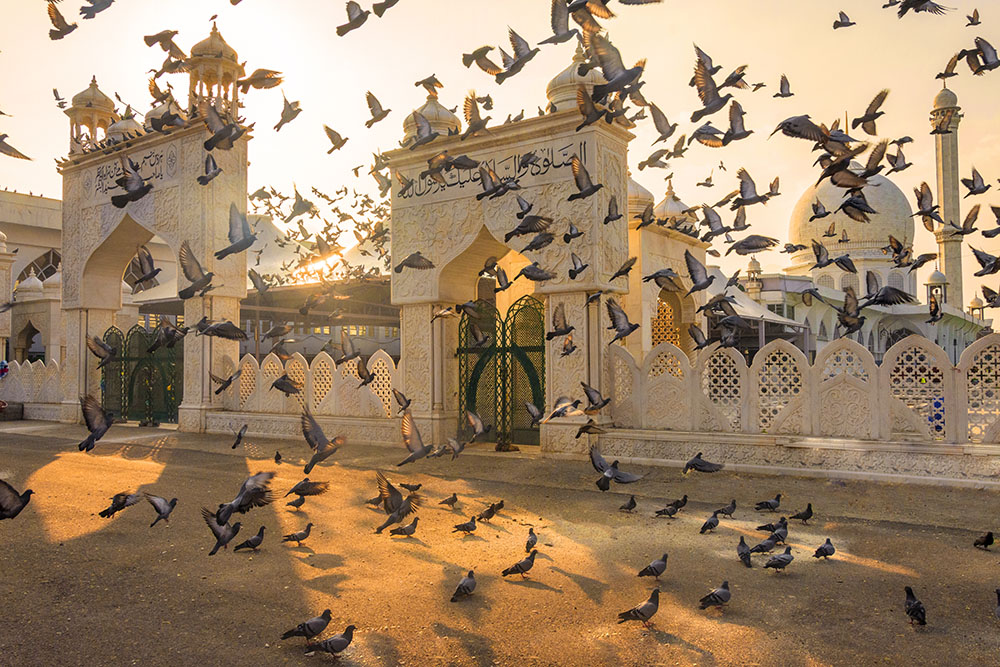 Dal Lake
So coming back to Dal Lake, the reason why I call it the best spot for sunset is that you do not need to go anywhere for this actually. All the other spots I mentioned above actually offer just a variation of what you will anyway see from Dal Lake.
If you want to make it even better, then go for a Shikara ride and see the sunset from Char Chinar. It is a small island located in the middle of the lake. It is named so because it once had 4 Chinar trees on it. Now, with time, only three remain and they too are dying.
On one end of the lake is Dal Gate and Hazratbal on the other. The distance between both places is about 15 kilometers and you drive around the circumference of the lake.
If you were short on time and just spending a day or two in Srinagar, my advice will be that you spend that evening at Dal Lake only. Just drive around the lake, find a spot per your liking, and see a magnificent view.
If you were going to be in Srinagar for a few days then yes, you must visit all of the places I mentioned above. I am not saying that the view from there is any less. It is equally beautiful but for someone short on time, Dal Lake is their best bet.
Best Sunset Point in Srinagar – Conclusion
I hope the information above related to the best sunset point in Srinagar was of help. If you have any questions, you can contact me on Instagram and I will be happy to answer. You can also consider subscribing to my YouTube channel and asking a question there.