A close friend of mind, Dev, recently traveled to Nepal and trekked solo to Annapurna Base Camp. I am posting some pictures here that he shared of the trail and the base camp. The trek was done in the month of March.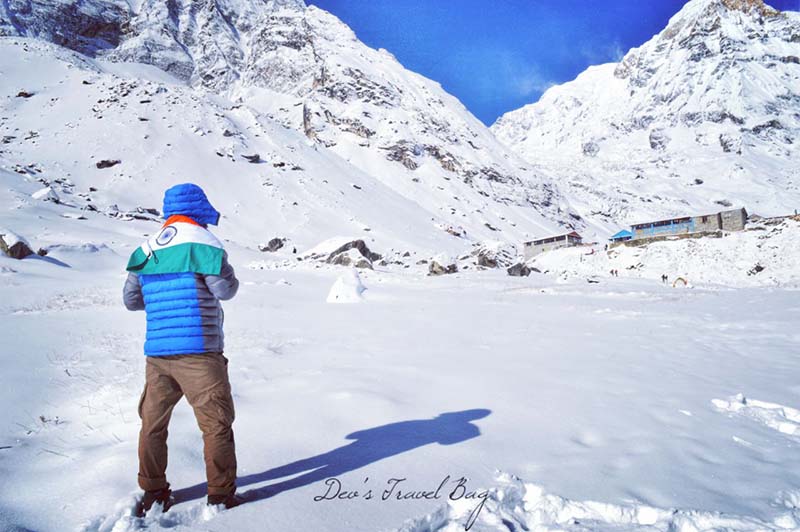 I have never been to Annapurna myself but looking at these pictures, I definitely want to go now.  I have done much traveling but it mostly either on motorcycles or cars; not really trekking. I always thought it was not my cup of tea but off-late I have started to think about doing it again. Idea is to do some easy treks first then move on to a few challenging ones and finally do the Everest Base Camp trek.
Annapurna Base Camp Trek
Annapurna is infamous as the peak with highest mortality rate in the world. That is right, it has killed more mountaineers than any other peak anywhere. Since its first ascent in 1950, Annapurna has been climbed by more than 130 people, but 53 have died trying. This high fatality rate makes Annapurna; the 10th highest mountain in the world; the most statistically dangerous of the 8,000 meter peaks.
But of course, we are not talking about climbing the mountain itself. That would require some serious and years of mountain climbing experience; that I neither possess nor have any intention of possessing. I merely want to trek to the base camp which I have heard; and now proven by the pictures above as well; is one of the most beautiful treks in all of Nepal.
I am not really sure when I will actually be able to do it but for now, it remains to be a plan. The trek starts from Pokhara in Nepal and can be done in about 7-8 days. All that I need to do now I guess is to book tickets to Kathmandu; get leave from work for 10-11 days; but first, prepare myself physically for the trek. The way I am right now, I can barely walk on flat road for 7 kilometers; forget about walking up for 7 continuous days.