I was recently on a 2-months-long road trip to Ladakh. While we were in the city of Leh, we stayed in a small hotel called Radhus Boutique Inn. The post below is a brief narration of our experience at this hotel and whether I will recommend this hotel to anyone else.
We actually spent in several hotels in Ladakh during this trip. The way this trip was planned was that we will spend the weekdays in Leh city and use the weekends to explore the nearby areas like Nubra Valley, Pangong Lake, and others.
Whenever we circled back to Leh from these destinations, it was always Radhus Boutique Inn that we checked in to. I had initially booked only one week in this hotel but after spending those days, it became our preferred choice of accommodation. Read on to find out why.
Radhus Boutique Inn
After the recent increase in tourism, the entire city of Leh has gotten converted into a never-ending series of hotels. There are hundreds of hotels spread all over the city and more continue to come up every year.
To benefit from tourism, the locals have started to convert their homes into hotels now. Hotel Radhus Boutique Inn is an example of one such conversion. It was earlier the home of the owner but now is a modest, simple, beautiful, and very comfortable hotel.
Location
The hotel is located on fort road in the city of Leh. The main market area is hardly 5 minutes of a walk away. This road is actually one of the prime locations of Leh. All the famous restaurants, hotels, and shops are located in and around Fort road only.
What I liked
The best thing I liked about this hotel was the large and spacious rooms. Take a look at the picture below. This was the room that I stayed in.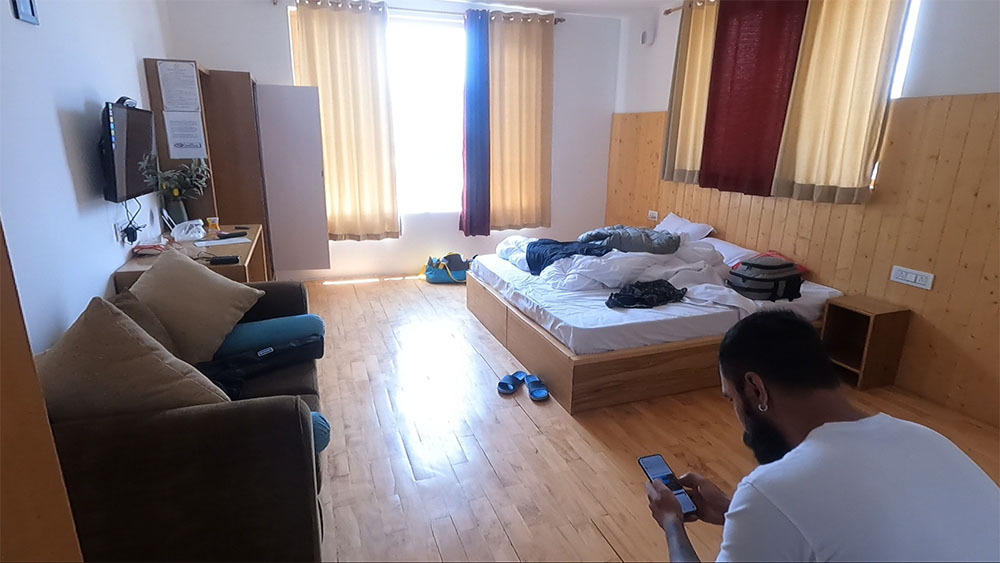 The room was so large and spacious that I absolutely fell in love with it. This was the biggest reason why I stayed here for 7 weeks. We were not squeezed into a small space and has plenty of space to move around.
The rooms, washroom, and bedding were all very clean. The washrooms were also large and spacious with English-style toilets.
There was plenty of space to accommodation all our luggage. The room also had a sofa, chairs, table, and cupboard to make the stay more comfortable.
From the roof and the windows, you get a stunning view of Leh town and the Stok Kangri range. The owner had also built a small roof garden. This made it a pleasant experience to sit on the roof, have dinner there, or even just sit around and chit-chat.
The hotel has a large dining hall and the food served was delicious enough. The staff was friendly and was always available to attend to any of our needs.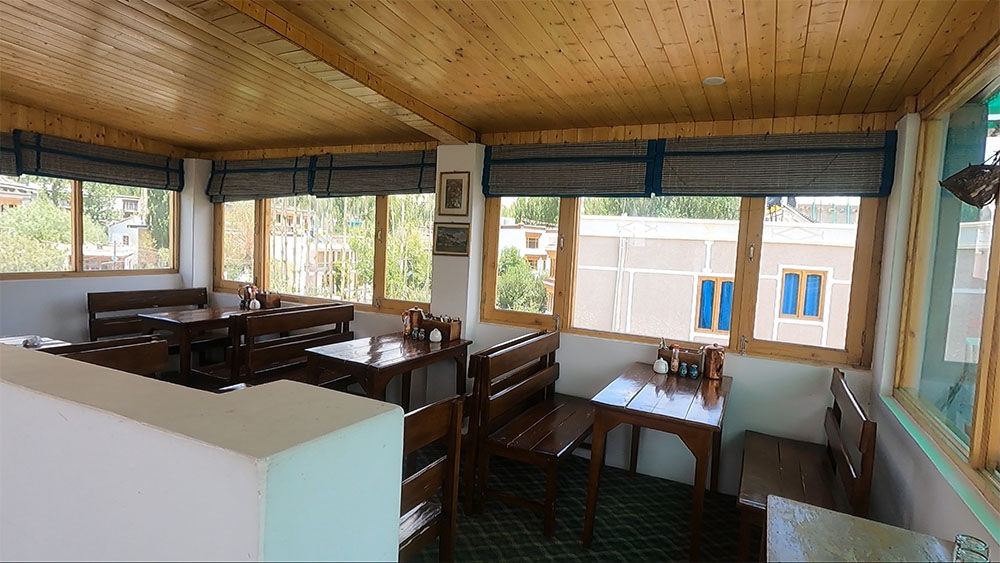 The owner even installed a new wifi connection just for us on the roof. He already had one but installed another just for us and only we knew the password to that.
I asked him for this because we were also working while traveling. This was the reason why we spent our weekdays in this hotel because we had to work for 5 days and needed a strong and stable internet connection for that.
What I did not Like
There were three things that I think could be a problem for some people. The first is that the hotel does not have parking of its own. You will have to leave the car on the main road and walk to the hotel.
This can be a problem sometimes. On one occasion, since my car was parked on the road, it almost got towed and I had to run and talk my way out of it with the cops.
The second was the menu of the hotel. While the food served was good and delicious, the menu was rather small and everything had to be ordered hours in advance.
I think it was because it is a very small hotel. They did not store a lot of groceries. Depending on your order, they will get the items from the market and cook them for you.
The third factor can work in favor of some people while others may not like it. I was in the second category. This is a non-smoking hotel which means that you are not allowed to smoke inside your rooms.
The designated smoking area of the hotel is its roof. So if you want to have a cigarette, you will have to climb all the way to the roof and smoke there.
The owner takes this very seriously and will definitely not like it if they found you smoking inside the room. They will even fine you Rs. 2000 for doing that.
Radhus Boutique Inn – Conclusion
Overall, I would say that it is a decent enough hotel that does have a few shortcomings. I loved staying here because the rooms were very large and comfortable. The roof of the hotel was perfect for us to sit and work while enjoying the views.
If you are Ok with not smoking in the room and plan to eat out anyway, then this hotel is a great place to stay.
I hope the pictures and details above on Hotel Radhus Boutique Inn were of help.  If you have any questions, you can ask in the comments section below. You can also contact me on Instagram to chat with me or subscribe to my YouTube channel and ask a question there.