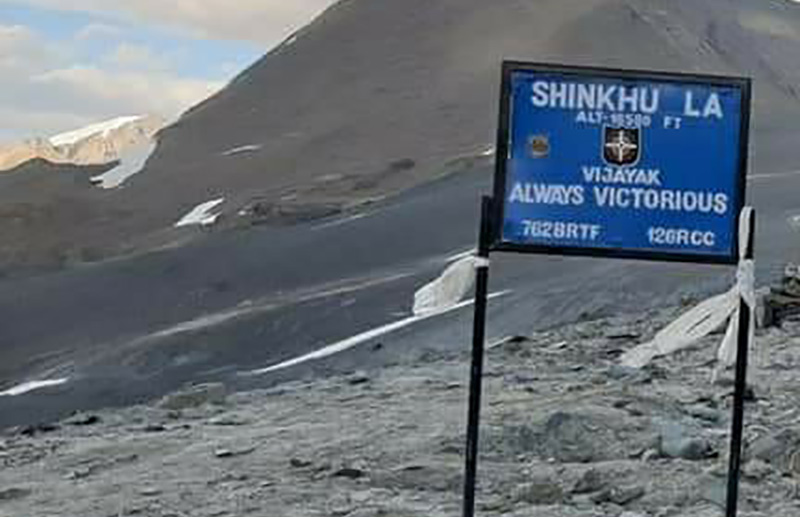 For people who have been to Ladakh numerous times and believe that they have seen it all, there is now a new reason for taking another trip to Ladakh. A road that had been under construction for quite a while and is probably one of the most anticipated in the region has been finally been completed. Yes, I am talking about the Darcha to Shinkula Pass road; also known as Padum to Shinkula road or Jispa to Shinkula Road.
This road is now completed. However, it is still in a bad condition at several places, especially towards the top of the pass. It runs from Darcha to Padum; connecting the two valleys of Lahaul and Zanskar.
Darcha to Shinkula to Padum Road
This road had remained under construction for several years. The only way to reach Padum from Lahaul valley before this was to either travel via Leh which would put the total distance close to 800 km of a road or to trek and walk over the mountains.
There is a high altitude pass on the way known as Shinku La, also as Shingu La or Shingo La at the height of 5,050 meters. It remains covered with snow for most of the year. With the construction of this road, the distance and travel time between the two valleys will cut down by a huge margin.
Apart from the travel enthusiasts, this road is highly critical for both the locals and the military. After the recent Chinese incursions, it had become of utmost importance for the Indian army to connect these areas better so that the movement of troops and supplies can be regular. It would also be a blessing for locals as the movement between the two towns will become significantly easier.
When is Shinkula Pass Open?
The road from Darcha to Shinkula will remain open from June to October. It will remain closed for the rest of the year for civilian traffic. In winters, there will be a high amount of snow at Shinku La top, blocking the route.
There are also talks of creating a tunnel under Shinku La pass. It would open the road for traffic movement in winter as well. After the much anticipated Rohtang tunnel is complete, all these valleys that remain closed in winter as of now will be accessible throughout the year.
Road Conditions
The only catch as of now is that the condition of the road is bad. It is badly broken at some places and is missing the tar entirely. The steep climb, dirt trail, and loose rocks make it extremely difficult to reach the top still. For now, you can only travel only if you have a 4×4 SUV or a high-powered bike.
A friend of mine tried in a 2 wheel drive SUV. But he had to turn back without making it to the top. If you have a 4X4 vehicle, you will easily be able to travel directly from Darcha to Padum or vice versa.
The entire route is highly scenic. It runs through some amazing vistas. For now, even the villagers are crossing it on the foot. But when it is accessible for all kinds of traffic, I am sure it will attract a lot of tourism and will support the livelihood of the locals.
Below are some pictures of the route.
Darcha to Shinkula to Padum Road – Conclusion
There are several villages en route that have so far been completely cut off from the rest of the country. Until now, all these villages could only be reached after a steep trek of a day or more. Once this road is completely operational, it will make the lives of these villagers much easier.
If you have any questions or need any other information about this route, please feel free to ask in the comments section below or at our Community Forum, and I will be glad to answer.