During my recent trip to Ladakh and Zanskar Valley, I stayed for a night at Hotel Moonland in Lamayuru. The post below is a brief narration of my experience at the hotel and whether I will recommend it to anyone.
Please note that my stay here was just for one night. We arrived at the hotel at 7.30 pm and checked out in the morning at 8 the next day. So whatever I write below is based on this brief time that we were in this hotel.
Lamayuru is a small town that has in recent years started to get a lot of visitors. It is located between the cities of Kargil and Leh and several travelers preferred to break their journey here before continuing to Leh the next day.
As a result, a lot of hotels have come up in this small town. Hotel Moonland is one among many but definitely a comfortable one that can be a good place to stay overnight.
Hotel Moonland Lamayuru
The hotel has two different buildings. The first one is the old hotel and the second one has been built quite recently.
Both of the buildings are located in close proximity to each other and are only about a couple of hundred meters from the main highway.
Location
I stayed in the newer building of the hotel. It sits on the slope of the mountain and offers a great view of Lamayuru town, the monastery, and Lamayuru Moonland.
There is plenty of parking space in front of the hotel. There is also a small garden right next to the main gate and seating arrangement for visitors who would like to enjoy an evening out in the open.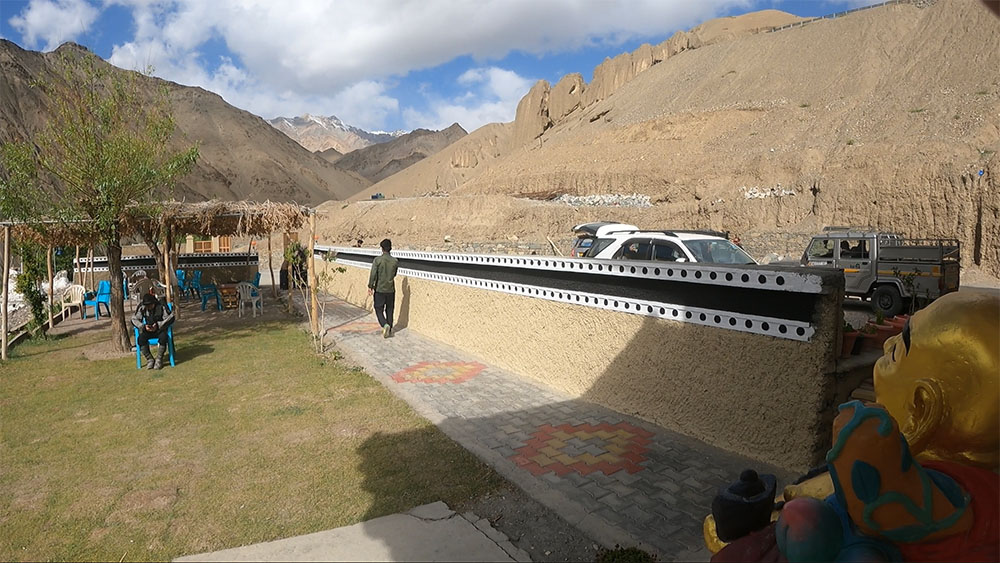 Rooms
The room that we were given was quite a large one. It had comfortable beds, plenty of space to accommodate all our luggage, cupboards, and other furniture, and a pretty little balcony with a great view.
The washroom was clean, and large, with English-style toilet seats and hot running water. I really had no complaints in this regard.
We arrived at the hotel at 7.30 pm after a long and tiring journey from Padum. The only thing on my mind at that time was a warm bath and a comfortable bed and I found both at this hotel.
Food & Service
The hotel has a large dining hall and the per-day charges include both lodging and meals. We had dinner at the hotel as well as breakfast and the food was delicious. They have a buffet-style arrangement and served several different items, both for dinner and breakfast.
The staff was quite friendly and catered to all our needs. I even asked them for a cup of tea late in the night after the kitchen was closed and they honored my request. Whatever we needed was paid heed to.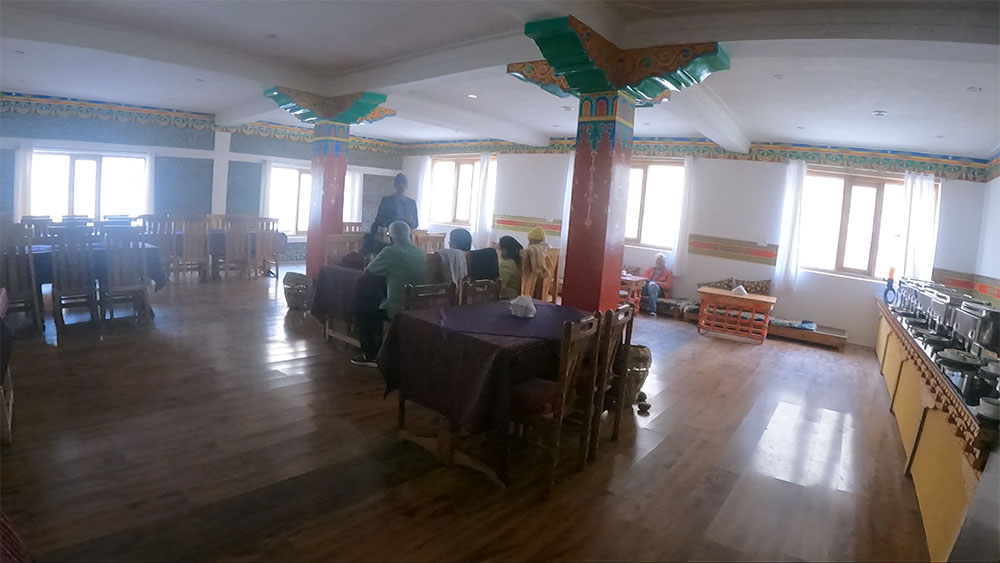 Hotel Moonland – Conclusion
As I mentioned, I only stayed one night here and there is not really much I can add about this hotel other than what I said above. Overall, the little time we spent here was an enjoyable one. If you were planning to travel to Ladakh or Zanskar anytime soon and wanted to stay in Lamayuru, I will definitely recommend Hotel Moonland.
I hope the pictures and brief information about Hotel Moonland in Lamayuru were of help.  If you have any questions, please feel free to ask in the comments section below. You can also contact me on Instagram to chat with me live or subscribe to my YouTube channel and ask a question there.