Continuing from the previous article where I discussed the taxi rates in Leh Ladakh for year 2018-19, in this article I will provide Ladakh Bike Rental Rates for year 2018 – 19. If you were planning a trip to Ladakh this year and wanted to rent a motorcycle for sightseeing in Ladakh; then mentioned below is the daily rental that you will have to pay depending on the motorcycle you chose.
As a matter of fact, there is not really any difference in the rates from 2017 to 2018. These rates are the same that were declared last year and have been carried forward in to this year as well by Ladakh Motorbike Rental Association. The list of motorcycles available on rent too is pretty much the same.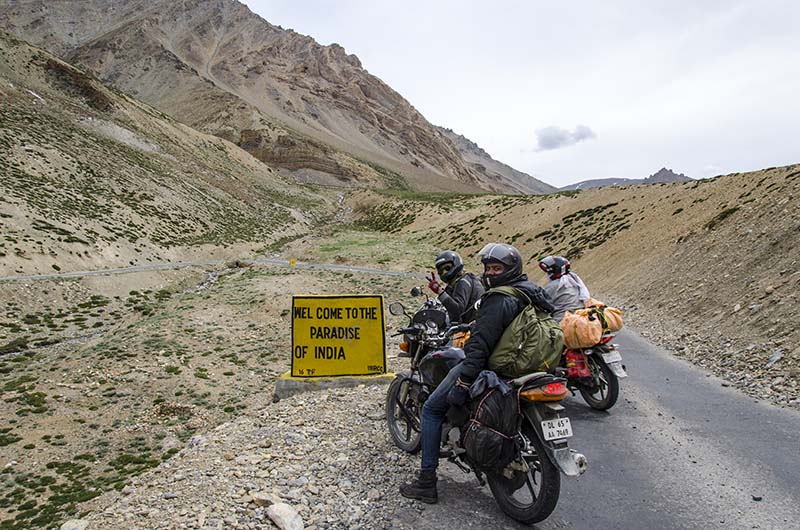 Srinagar Leh highway was declared open earlier this week which more or less marks the beginning of tourist season in Ladakh. So if a trip to Ladakh was on your mind, you are good to plan anytime now as per your convenience. The rental services in Ladakh are available even now so you can get to Leh by Air and rent a motorbike for rest of your trip. There are however a few things that you must pay close attention to while renting a motorcycle here which I will discuss in details further in the article.
Also read: How to Handle Acute Mountain Sickness in Ladakh
Leh – Ladakh Bike Rental Rates 2018 – 19
Mentioned below is a list of motorcycles that are currently available on rent in Ladakh; with their per day rental.
Royal Enfield Himalayan
Engine Size: 411CC
Rental: Rs. 2000 per day, Rs. 1200 for half day
Royal Enfield Classic
Engine Size: 500CC
Rental: Rs. 1,800 per day, Rs. 1,100 for half day
Royal Enfield Standard
Engine Size: 500CC
Rental Rs. 1,600 per day, Rs. 1,000 for half day
Royal Enfield Electra
Engine Size: 350CC
Rental: Rs. 1,200 per day, Rs. 700 for half day
Royal Enfield Standard
Engine Size: 350CC
Rental: Rs. 1,100 per day, Rs. 600 for half day
Bajaj Avenger
Rental: Rs.1,000 per day, Rs. 600 for half day
Bajaj Vikrant
Rental: Rs. 900 per day, Rs. 500 for half day
Hero Impulse
Rental: Rs. 900 per day, Rs. 500 for half day
Automatic Bike / Scooty
Rental: Rs. 800 per day, Rs. 500 for half day
There are a few things that you do need to keep in mind while renting the motorcycle, as mentioned below.
No agency will be allowed to rent you a motorcycle if you cannot produce a valid driving license.
If you are a foreign national, you must produce an International driving license. Your local DL issued in our respective country will not be sufficient.
Apart from the daily rental, you will also pay around Rs. 20,000 as security amount. It will be refunded when you return the bike with no damage.
Please ensure that you are carrying your DL with you if you intend on renting a motorcycle in Leh.
No agency will rent you motorcycles below these rates. If they are found doing so, there is a penalty of Rs. 5000 that they may have to pay.
Half day rental is applicable post 2 PM. It means that you need to return the motorcycle before 2 PM. Failure to do so will imply full day charges.
An extra amount of Rs. 100 per day will be charged for luggage carrier / saddle bag.
Bullet on rent in Leh Ladakh
As you can see from the list above, Royal Enfield is the hot favorite of both the rental agencies and customers alike. Depending on which model you chose, renting a Bullet in Ladakh will cost you between Rs. 1,100 to Rs. 2,000 per day. Royal Enfield Standard 350 will be the cheapest but then it comes with no electric start and no disc brakes.  Royal Enfield Himalayan is the costliest of all the models. A moderate enough deal will be to go for RE Standard 500CC which will cost you Rs. 1,600 per day.
Also read: How to rent a motorcycle in Leh
Hero Impulse

This I believe is on the same lines as a Himalayan but at a much lesser price with a smaller engine. A Hero Impulse can be a good choice if you are on a budget as at Rs. 800 per day, it will cost you half the amount in rental than an RE. However you can only go for an Impulse when you are riding solo and has a thing for sporty bikes. I will not recommend it for riding with pillion.
Bajaj Vikrant
Good choice, within budget but the restrictions will be same as an Impulse. You cannot consider it while riding with a pillion.
Automatic Bike / Activa / Scooty
This is a great choice but I will recommend it only for city purpose. Do not rent these for going towards Nubra, Pangong or Moriri. Due to small tires, these will be a big problem on bad roads. But for sightseeing and moving from one place to another in Leh city, these can be a good choice.
Bajaj Avenger
No offense meant to people who own an Avenger and love it but I will not recommend it for riding in mountains. The large turning radius may be a problem. A bigger concern however is that if you applied sudden brakes, you will be on the ground flat before you get your feet down.
Also read: How to Obtain Inner Line Permit for Ladakh
What to Check While taking a Motorcycle on Rent in Leh Ladakh
I am not a mechanic myself but I will still list a few things. Check the condition of the chain set and ensure it is not worn out. If the motorcycle is electric start, try bringing it to life a couple of times and ensure that it doesn't cough or give trouble when you press the start switch. If it is kick start, ensure that there is no starting problem and the motorcycle is a single or at most two kicks start.
Check the condition of the tires if they are worn out. Sit down on the motorcycle to check that the seats are comfortable enough. Do a thorough inspection of the motorcycle for any oil leakage, either from engine or front shock absorbers. Check that the headlamp is bright enough and get it replaced if it is not. Also check the tail light and that both the indicators are in working condition.
Other Tips on Motorbike rental in Leh
Motorcycles rented outside of Ladakh are not allowed here. This applies to bikes rented from Manali and Srinagar as well. Riding these bikes, you can only travel on Manali Leh or Srinagar Leh route and reach the town of Leh. However for sightseeing in Ladakh, you will then have to rent a local registered bike; and leave the motorcycle you arrived on parked somewhere in the city. You may even have to keep a room at any of the hotel for this purpose. This applies for going towards places like Nubra Valley, Pangong Tso and Tso Moriri.
The Ladakh Bike Rental Association has check posts at several places; and they may send you back to Leh if found on a motorcycle registered outside of Leh. If this argument gets ugly, they may even damage the motorcycle or worst yet, impound an hold it. This happened with several people in 2017; post which there was a huge altercation between Manali and Leh bike rental associations.
Also read: Clothes for Ladakh Trip – What to Pack?
Privately Owned Motorcycles
The rule above however is only applicable to rented motorcycles. Privately owned motorcycles are free to travel around as you like without any restriction. Please note that in case of personal vehicle, you can only take a motorcycle that is registered either in your name or in your parent's name. Let us say that if you are traveling on a motorcycle registered in your father's name, you can produce any valid identity proof to prove the relation. If however, you are traveling on a motorcycle registered to a sibling or a friend, you must leave it in Leh and rent another motorcycle for local sightseeing.
Bike Rental in Leh Ladakh
Some rental agencies in Manali, Leh and Srinagar have ties ups with each other. So for example, if you rented a motorcycle from Manali and then rented another in Leh from the company that the Manali people are in tie up with; there can be some discount given on Leh motorcycles. You may want to ask about this while renting bikes from Manali or Srinagar.
Ladakh Bike Rental Cost
Overall for bike rental, you will pay between Rs. 1000 to Rs. 2000 depending on which motorcycle you chose and then Rs. 100 per day for the saddle. However, apart from this cost, there is another heavy charge for leaving the motorcycles at another city. For example, if you rented a bike from Leh and left it at Manali or Srinagar, you will be charged with an additional Rs. 10,000 to Rs. 12,000 as transportation cost.
Ladakh Bike Rental Price – Security Charge

Another amount that you will be paying is the security charge which can be up to even 25,000 to Rs. 30,000 depending on the company and motorcycle. You should also ask about this before you finalize a motorcycle with any of the companies.
Conclusion:
I hope the information above was of help. If you have any further questions, please feel free to ask in the comments section below; or at our Community Forum; and I will be glad to answer.