Traveling comes with choices. It is said that if you are a true traveler then you should travel indigenously leaving all sort of judgments behind. To get the best experience in travel you must visit different types of places of different stories. While talking about the types it is not only the stereotypical beach, mountain, and pilgrimage but also the sites which are less visited. Sounds difficult? How about visiting the Top 10 Haunted Places in India? Intrigued?  Here you go!
You can guess from the title that we are going to talk about some nerve-racking sites in India which are approved by ASI. These sites are always in the headlines due to the unpleasant and eerie circumstances. There are numerous places in India which are interpreted with fake descriptions but on the other hand, there are few really haunted sites which can't be ignored and they have given the proof of the presence of negative energy. This has been always a topic of discussion where different experts spoke about their experiences with adequate proof.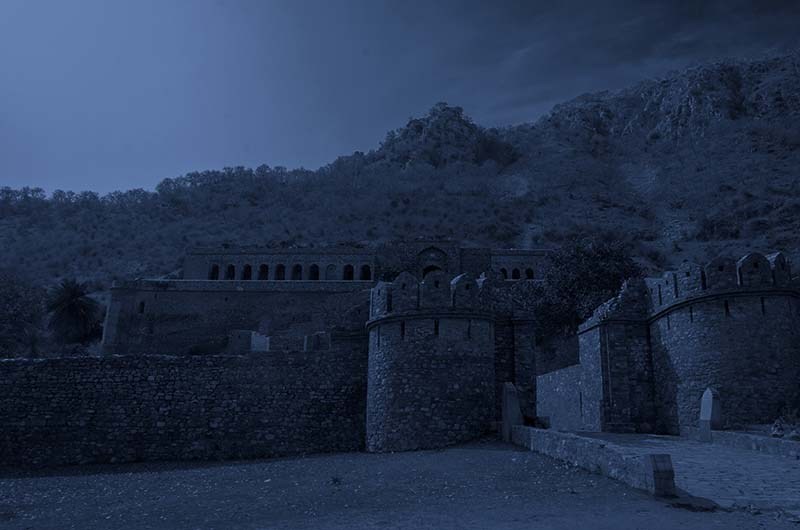 India is famous for its indigenous culture and prime heritages which show the myths, believes and different cultural practices. People visit those places to experience the 'difference'. Likewise, a few different places which are completely abandoned but famous tourists' places have proved to be haunted. Let's start with the list of the places and why they are recognized as haunted.
Bhangarh Fort in Alwar, ASI approved
This is one of the most and truly believed hunted historical sites in India. Personally, I have heard a lot of stories from my friends who have visited this place. According to them, the feeling is completely different inside the fort. Maybe because of its architectural style and the antique, abandoned feel or the stories said about this place.  It is strictly prohibited to stay in the fort premises after dark as many visitors experienced uncertain and irregular behavior like missing of friends and various awful sounds.
This 16th-century fort is located 300 km from Delhi and this ruined city was built by Raja Madho Singh. There are numerous local stories about why this place is believed to be so haunted. These myths were lived by the people from ages and lately, in contemporary India, people found these attractive and dare to visit this fort. The lucky or unlucky ones witness some of the paranormal incidents.
Kuldhara village, Rajasthan
The second top hunted site is Kuldhara, popularly known as ghost village of Rajasthan. It is considered to be the most haunted place in India and it should be in your bucket list. The whole abandoned village will surprise you with a hollow silence and an untold mystery. This village remains empty from centuries as it's believed that the villagers who used to live here were forced to leave the place as they could not pay the huge tax.
It was not that popular in tourists itinerary because of it's remote, haunted and abandoned appearance. Locals say that it is completely unknown how the whole villagers disappeared in one day and what happened to them later on. From that time onwards this place remains empty. Tourists are not allowed to stay in the site after dark. This place is an easy reach and especially if you are planning to visit Rajasthan then it should be in your bucket list to experience a bit 'different'.
Also Read: The Hauntings Of Bhangarh – Reality Or Myth?
Jatinga- The valley of dead birds, Assam
This beautiful scenic valley unveils the mystery of more than thousands of dead birds every year. Jatinga is a small hill situated on Dima Hasao District (DHD), in the northeastern state of India. This is an ideal place for a traveler to travel and to experience this unbeatable fact. It is said that birds from different places arrive here to commit suicide. Sounds unbelievable? But it is completely true.
If you are visiting Kaziranga and Kamkhhya temple in Assam then add this place to your bucket list. Every year from September to November night from 7 pm to 9 pm people witnesses this massive suicidal incident. Not only the migratory bird but the local birds also show suicidal tendencies. There are many interpretations but the natural phenomenon is still unsaid but this massive event is attracting many scientists' eyes to disclose the truth behind it. This is the only place in India where this weird mass bird's suicide happens. Isn't thrilling? Then do visit.
Also Read: The Suicidal Birds Of Jatinga
Terra Vera, Bangalore
This old, ancient uninhabited palace wore a crown of mystery which is still unsolved. The history said that the palace is built by the Ej Vaj in the year of 1943 that gifted it to his two daughters. The story took a wrong turn when one of the daughters was stabbed by an unidentified murderer. Her body was buried in the premises and the other lady left the palace and never came back. From that time onwards the palace stands as it was. People soon began to witness weird incidents like sounds of piano, screams at night and many more. Do not miss the chance to see this gothic architecture with a twist of spine chilling experience.
Also Read: Vaz Villa – The Misery, The Haunting and The Irony
Madh Island road, Mumbai
This is another hunted place in Mumbai, India. It is really unbelievable that this hunted site is located in a metro city like Mumbai. Sounds unpromising!! But it is true. In the busy life of Mumbai, this Madh island road holds many unsolved mystery and incidents. Though this road remains busy at day time; after dark people think twice to walk on the road as there are myths and incidents like a bride ghost that chases people. Dare to visit?
The Shaniwarwada Fort, Pune
This Brilliant fort is excellent in one word in terms of its architectural quality and style. It is really unbelievable that the urban metro hub like Pune can hold a mysterious fort like this. This ancient fort is very famous for its spooky incidents. It is said that many supernatural activities take place here on a full moon night. The story goes of a young prince who was brutally killed in the palace and sound of his screams and agony can be heard. The best time to visit the fort is day time because it is strictly prohibited to visit at the night time.
Also Read: The Legend Of Shaniwar Wada Fort
DOW hill, Kurseong, Darjeeling
This beautiful boarding school on a mountain is considered to be one of the most haunted places. This girl's boarding school is surrounded by the forests and it is said and witnessed some spooky activities reported by the woodcutters. They witnessed headless figures and many spine chilling visions. It is said that numerous murders activities have been reported in the forest. Due to this, the forest is considered hunted and it is always better to stay away from the forest premises after dark.
Also Read: The Headless Ghost Of Dow Hill, Kurseong
Dumas beach, Surat, Vadodara
This beautiful beach is situated in Surat, Gujrat. It is famous for its black sand and unexpected mystical activities. It is said that many people have lost their lives and no clue has been found. Their bodies were never found. It is said that it was a Hindu burial ground before and due to that people believed on the presence of those hunting souls. If you are a brave heart you might take a call to experience the mystic silence and unique aspects of the beach before dark for sure.
Also Read: The Haunted Dumas Beach of Gujarat
Brijraj Bhawan Palace, Kota
This palace should be in your list as it is considered to be one of the most haunted places. This old fort was converted into a hotel and the truth is that a British was killed here during the revolt of 1857. People believe that he still resides with his son in the palace and still haunts it at nights. The brave hearts can definitely experience the ancient character of the palace by staying here and take a lifetime experience.
Also Read: The Legend Of Brijraj Bhavan Palace – The Ghost Of Major Burton
Fern Hill Hotel, Ooty
This hotel is completely shut down now due to many supernatural activities reported. People experienced sounds of rearranging the furniture on the above level but later it was found that there is no floor from where it was coming. Due to the spooky activities and scary behavior, the management was forced to shut it down. The reason is still mysterious and unanswered. If you are visiting Ooty then at least pay a visit to the hotel premises to experience the place.
These above-listed places are a must visit of the travelers who do not segregate and prioritize preferences. I hope the information above was of help. If you know of any other haunted places apart from the ones I mentioned above, please do comment below and suggest.