If you were planning a trip to Kashmir in near future; or maybe heading to Ladakh via Srinagar; and wanted to rent a private taxi for the same then mentioned below are the taxi rates in Srinagar that you will be paying. These rates are applicable from Tourist Reception Center in Srinagar; which is near Dal Lake on Srinagar Leh highway. Charges mentioned below are all for non A.C. Cabs. If you opt for an AC Cab then you will have to pay a 20 percent extra of the total taxi cost.
These charges will be applicable if you were boarding the cab from TRC. If you however want the taxi to pick you from a different spot; like your hotel or Airport; then the drive may charge you a little extra for that. Based on my own experience though, they keep the rate same even if you ask them to pick your from elsewhere. A lot of people ask the driver to pick them directly from the airport so that they can head straight towards Pahalgam or Sonamarg. Even in that case, drivers in Srinagar usually ask for the same charges mentioned below.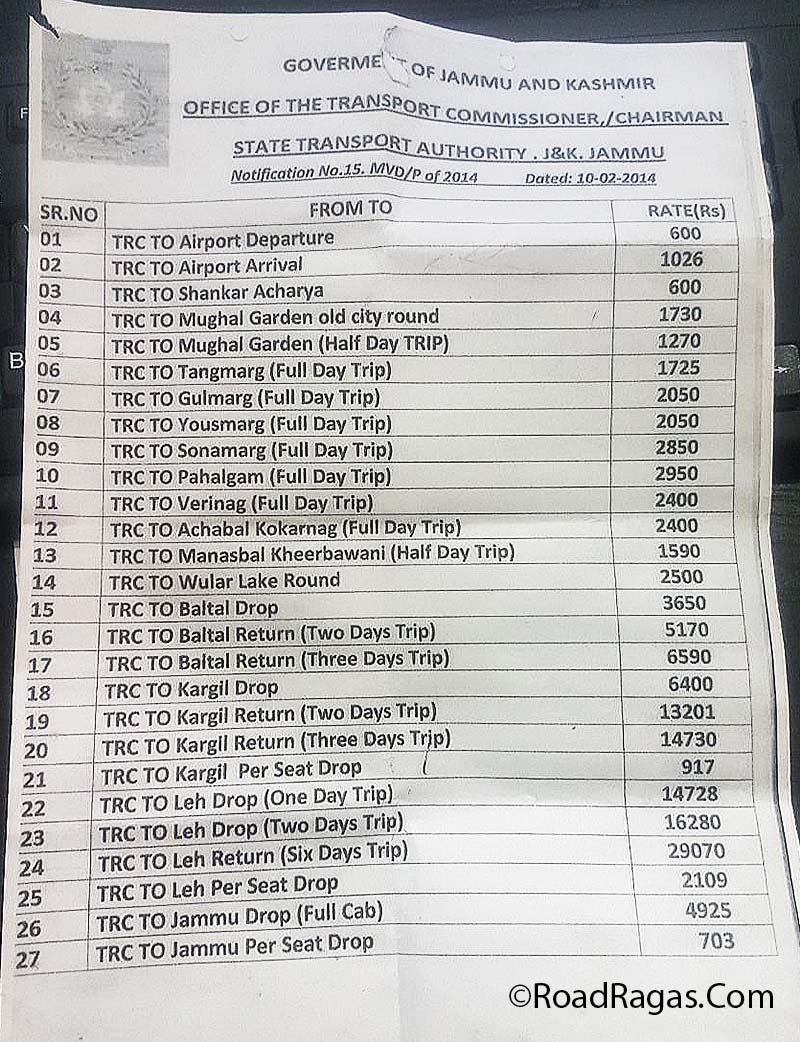 Taxi Rates in Srinagar
Please note that the charges mentioned in the attached image are all for private taxis. If you want to board a shared taxi, you will have to go to TRC in Srinagar and ask around. You will find several travelers there heading towards Ladakh and looking for a shared cab that you can partner with. Even some of the drivers there pick random tourists heading towards the same destination and can travel together. The total cost of the cab will then remained the same as of the private taxi but will then get divided equally among all travelers.
I hope the information above on taxi rates in Srinagar was of help. If you have any further questions, please feel free to ask in the comments section below; or at our Community Forum; and I will be glad to answer.