Srinagar Leh highway is open for vehicular traffic. This will be a dedicated post for Srinagar Leh highway status 2017. As the year progresses, I will continue updating the status and condition of the road in this thread.
Current Srinagar Leh Highway Status 2017 :

OPEN
Also read: Manali Leh  Highway Status 2017
---
---
Update June 30th: Update on road conditions towards and in Ladakh.
There was a cloudburst on Manali Leh highway causing a landslide near ZingZing Bar. Tourists were stranded on both sides of the road for about 17 hours before it was cleared. Though vehicular movement has started again, authorities have issued warning of further cloudbursts in the area.
The road from Sanku to Padum is in a really bad state with numerous water streams to cross. The road around Pensi La from Rangdum is in a terrible state.
Road from Srinagar to Leh Highway is mostly smooth except for the stretch around Zojila which as always is in bad condition.
There is some sort of construction work happening in Leh town due to which it is dug up all around.
Construction is happening at Sakti Village as well so if you are planning to towards Pangong, you will have to take a diversion towards Wari La for about 10-12 kilometers and then turn around back on Pangong road.
The entire road between Leh and Pangong is quite good except for around Chang La top where it is completely broken.
From Pangong to Chushul and Tsaga via Man Mera is a dirt trail like always but easily doable.
Tsaga to Hanle and Nyoma Mahe is good smooth road.
Sumdo to Karzok is completely dirt trail as always.
Road to Nubra valley are all good except for the stretch around Khardung La top which is completely broken and in terrible state.
---
---
Update June 15th: I have been receiving this question almost everyday so thought of adding this in the form of an update. There is nothing to worry about if traveling to Srinagar right now. Life has returned to normal and there are a lot of tourists in the valley; either visiting Srinagar or going to Leh. It is safe to travel to Srinagar right now.

If you are planning a visit in near future, please know that construction work is going on the stretch between Qazigund and Srinagar. This will cause delay and you may as well take about 4-5 hours to reach Srinagar from Qazigund; depending on the traffic.
Also, Amarnath Yatra is about to begin on 29th June. This time will see huge traffic on both Jammu Srinagar highway and on Srinagar Leh highway as well. Movement of army vehicles too will increase as there is also a huge change of violence breaking out during this time. If your plan was after 27th June, then best to delay it by a few weeks.
---
---
Update May 31st:Curfew was lifted today and life has returned back to normal. Traffic from both Jammu and Leh side is getting allowed through the city. A lot of tourists travelled through Srinagar today. It will however most probably remain all closed again on Friday, June 2nd.
---
---
Update May 31st: Traffic from Jammu to Srinagar is being regulated at Udhampur, Ramban, Ramsoo & Jawahar tunnel. There is news of snow pelting at local vehicles and very less traffic is coming through Srinagar.
No traffic is being allowed currently on their own on Srinagar Leh highway. Mughal road is currently closed too. Army is escorting vehicles coming from both Jammu and Leh side. The Bandh is expected to be called off today but there is no confirmation as such.
There is no word on how people flying to Srinagar are able to make it out of airport.
Best would be to avoid traveling to Srinagar and wait until situation is back under control. Manali Leh highway should open within a week or so and if the situation is not under control in Srinagar, travel to Ladakh via Manali.
Entire Kashmir valley is under a complete shutdown right now, curfew imposed and internet services unavailable. Tourists are not currently being allowed to enter Srinagar. For anyone planning a trip right now, please give it another 7-10 days before you start and keep an eye on the news.
---
---
Update May 28th: Update on Road conditions:
Stretch between Sonmarg to Drass still has a lot of snow. There are numerous water crossings created by melting snow. The entire stretch is slushy and slipper so drive carefully.
Road between Drass and Leh is tarred and an OK drive all the way.
From Leh to Nubra Valley, roads are extremely around Khardung La for about 10-12 kilometers. Rest of the roads in Nubra Valley are good.
Towards Pangong, roads are bad around Chang La top, rest it is all tarred and OK drive.
Wari La route is closed as of now however the Agham Shyok road is open.
---
---
Update May 18th: Thank you Ramya for providing another update on road condition in the comments section. Copy pasting it here.

"Hello All,
All's well here. We bunch of people from Bangalore left from Srinagar to leh on 15th. We reached leh yesterday. There is no issue with the roads or situation. Hope this news helps.
Don't forget to carry warm clothes. Apart from that there is no issue here. We are now leaving from here to pangong and nubra.
All the best everyone who are travelling."
---
---
Update May 15th: Update on road conditions. Copy pasting from the comments below by a fellow reader who is travelling to Leh from Srinagar today.
"Weather is pleasant. Driving from Srinagar r to Kargil. Road is bumpy for 10km on zero point. Lots of water from melting snow flowing over the road. It is an absolutely fabulous journey till Kargil. At Sonamarg checkpoint police will stop the vehicles at 8AM and leave only on 11AM. So plan to cross Sonamarg before 8AM. Road works are going on many places nearby zero point."
Road from Srinagar to Sonamarg is good, really bad around Zojila and smooth again all the way till Kargil.
---
---
Update May 12th: After remaining closed for over 4 months, Srinagar Leh highway was finally declared open for vehicular traffic today. As per DSP Traffic Ganderbal, Liyaqat Qadri, only light-motor vehicles are currently allowed to move on the highway ahead of Sonamarg as of now. Authorities will decide about the movement of heavy vehicles on the highway later. The opening date officially remained 12th as I had updated earlier on May 3rd.
The highway usually gets open towards Late April however Owing to the heavy snowfall this year around Zojila, the opening was delayed by couple of weeks. Snow was as deep as 30 ft at several stretches around Zoji La Pass.
 There is still a lot of snow around the road and a high chance that BRO may close the road temporarily for restoration work. The worst partch is around Zoji La where the melting snow has created a lot of slush. Even though open, crossing the pass even at this time is quite challenging. Landslides and avalanches can still happen around this stretch.
If you are planning a trip on Srinagar Leh highway in next couple of weeks, please be very careful and practice caution while driving. Best advice would be to give it another 2-3 wees before you travel on this road.
---
Update May 10th: The entire stretch is now clear of snow and light motor vehicles from Kargil were able tor reach Srinagar, crossing Zojila, without any problem. Trials run were scheduled for last week but after the avalanche at Zojila, the road was blocked again. It was scheduled again for today and was successful; a vehicle carrying an ill patient too was also allowed to ply from Drass side. The highway will be officially declared open within next two or three days. As of now, vehicles had to pass through six to eight feet of snow wall on both sides.
---
---
Update May 8th: BRO was able to clear snow and restore connectivity between Kargil and Srinagar a few days ago ; however a recent landslide at Zojila has again gotten the road blocked. BRO is again working on restoring the road and this will push the opening date by a few days. As of now, road is not expected to open until May 15th.
---
---
Update May 6th: A few news agencies reported yesterday that the highway was declared open and people were already traveling from Srinagar to Kargil; this however is incorrect. BRO is expecting to clear snow by Saturday, May 6th, post which administration will take a call on by when to allow traffic. A team of officials from Drass reached the zero point earlier this week. A group consisting of SP Kargil and SDM Drass which probably what started the news that the highway is now open.
BRO has crossed the 107 km of the highway and their target is to reach Zero-Point at 108 km by Saturday afternoon.
---
---
Update May 5th: It will be a matter of couple of days only before the highways gets declared open. There are conflicting news as of now. Zeenews reports that the highway was open today however Dailyexcelsior says it will take another week or so. I will update here when I hear more and better.
---
---
Update May 5th: Highway may get open in next 4-5 days but for the first few days or maybe a week, Army will continue the restoration work. During this period, only locals are allowed to ply on the route till BRO determines the road to be safe to allow tourist traffic.
If you are planning a trip to Sonamarg, then be prepared to stay in dark with no phone reception still. There is still no electricity, phone or ATM connectivity anywhere in Sonamarg. Neither BSNL nor Airtel, the only two networks available at Sonamarg are functioning,
The road connecting Sonamarg and Thajiwas glacier too is still not restored and will take another week or so. You will not be able to go to the glacier right now for sightseeing.
---
---
Update May 3rd: As per the most recent update, it may not take until May 15th for the highway to open. Officially, it is expected to be declared open by May 12th and unofficially, by May 8th. This however is just an estimate and may change anytime.
For the unofficial opening date, Army may allow motorcycles and light motor vehicles to traverse but commercial vehicles will strictly not be allowed. It will also depend on how smooth you can talk your way in asking them to let you go. Tourists usually get allowed considering all the way they have travelled to reach Sriangar.
I must however advise word of caution. Traveling so early in the season and before the official opening date can be risky. Roads will be in a terrible state, specially around Zoji La.

---
---
Update April 29th: Sharing a most recent pic of Srinagar Leh highway between Sonamarg and Drass.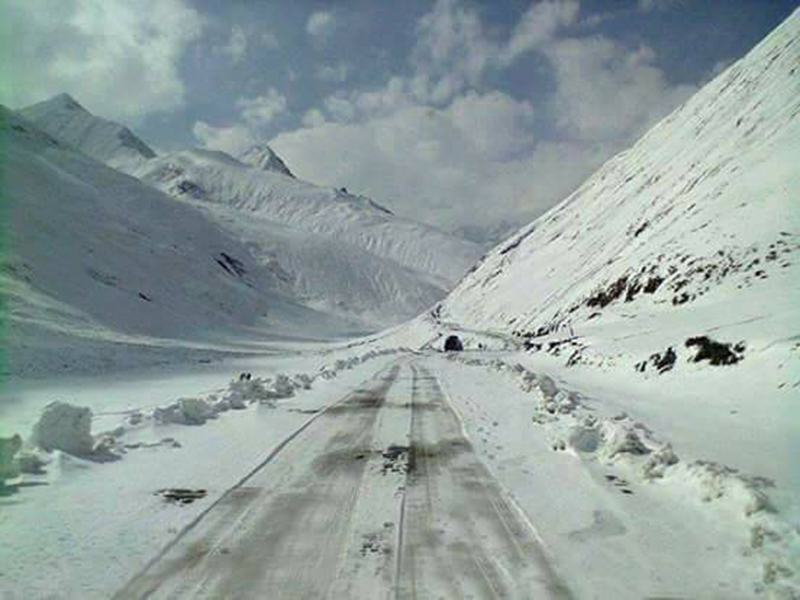 ---
---
Update April 27th: Copy pasting the update provided by one of the readers in comments section below. Thank you Syed Hussain for providing this information.
Talked today with a tour guide based in Srinagar, he is still confident of getting the road open on 6th May. I'm still not sure because of too diverge information. I sense things may not be too bad but for safe option one should plan for later than 15th May. I'll update again tonight…"
"I got back some message from Srinagar – Kargil travel guide source that says it'll take around 20 days to open the road. That means it is 15th of May. Two weeks back there was snow fall on the same place that made the thing delayed."
---
---
Update April 26th: Expected official opening date of Srinagar Leh highway still remains to be around May 3rd Week. The road until Sonamarg is completely and a few kilometers after that as well. Below are a few pics of a couple of friends who went towards Drass last week. There is still snow on the road and Army is allowing general public only a little after Sonamarg. As you start to get closer to Zoji La, there is a check post at which you will be stopped.
---
---
Srinagar Leh Highway Status 2017 – Update April 24th: As per BRO officials, the snow clearance work on Srinagar Leh highway is in full swing. About 40 feet of snow has been estimated to have accumulated on the road along Zojila. As per Chief Engineer Brig A K Das, BRO is facing a tough situation due to heavy snowfall and frequent landslides along the road. Snow clearance work is expected to be completed by May 15 if weather remained favorable. Only then, after assessing the road conditions, the decision to allow civilian traffic on the road will be taken. Per BRO, the opening is expected to get delayed  and the highway is likely to be thrown open for traffic only after 15th May.

For now, my advice would be to not plan to travel on Srinagar Leh highway at all in May. Even after the road opens after 15th May, BRO will still take some time to restore it. In this initial couple of week,s road conditions will not be good and there will always be a high chance of a temporary closure anytime.
---
---
Srinagar Leh Highway Status 2017 – Update April 22nd: With temperatures soaring high all over the country, even hill stations like Shimla and Manali too were no exception. Shimla recorded the highest temperature of 28 degrees Celsius since 1999 and Manali at 27 degrees. As a result of the heat, snow is melting faster than expected, expediting BRO's snow clearing operation. Expect the Srinagar Leh highway to open by May 15th as of now.
 Word of warning though, with snow melting that fast, entire stretch is filled with numerous water streams that are quite furious. This also means that the road conditions too will be really bad in initial few days. If you are planning a trip to Ladakh, it is best advised to give it at least 2-3 weeks after the Highway has been declared open.
---
---
Srinagar Leh Highway Status 2017 – Update April 16th: The road to Sonamarg has been completely restored  and the local business including hotels and guest houses have started setting up for upcoming tourists seasons. There is however a definite lack of even some of the basic amenities in the region as of now. All the telephone lines are still dead and there is no electricity in the area yet.
There were avalanche warnings issued across Kupwara, Bandipora, Kargil last week. Snow clearing works continues around Zojila however there is no expected date by when the road will open yet.
---
---
Srinagar Leh Highway Status 2017 – Update April 4th: Road from Srinagar to Sonamarg has been officially declared open and safe to travel on. You can safely plan a tip to areas like Sonamarg, Gulmarg, Pahalgam however the road beyond Sonamarg is still closed.
The 10-km long Gagangeer – Sonamarg road stretch on Srinagar-Leh highway was declared open for light motor vehicles on Monday. Work on clearing the snow on Srinagar-Leh highway has reached near Bajri nallah around the Zoji la area.
As per BRO Officials, due to heavy snowfall this year, re-reopening of the highway may take more time. Due to avalanches, Zoji la and the area around it received over 30 to 35 feet of snow this winter.
---
---
Srinagar Leh Highway Status 2017 – Update April 1st: Work still continues to open Srinagar Leh highway at earliest. Road between Srinagar to Sonamarg is currently open. Snow is expected to be all cleared from Zoji La by April 15th post which the highway will open for vehicular traffic. Last year the road opened on 30th April, this year it could be anytime in May 1st week but that is highly prone to a change.
---
---
Srinagar Leh Highway Status 2017 – Update March 18th: There is a weather forecast of more snow in the hills in next few days. The good news however is that BRO has already started clearing snow from Srinagar Leh highway from Gagangir. Zoji La has received huge amount of snow this year and there is still no date on by when this stretch will be cleared, connecting Drass and Sonamarg.
---
---
For now the highway is closed as the entire Himalayan region experienced a heavy snowfall this year, as a matter of fact heaviest in last five year. Temperature in Leh dropped down to a minus 18 and Srinagar saw temperature as less as minus 5 this year. Both cities experienced their coldest nights in last 4 years. Usually the highway opens sometime in late April but considering the heavy snowfall, there could be a delay in opening this year.
BRO has already confirmed that Manali Leh highway opening may be delayed as several stretches along the 474 kms long road received over 20 ft of snow. The same delay can be expected for Srinagar Leh highway as well but there is no confirmed news as such. Last year the highway was declared open on 30th April however this date may get pushed a little this year.
Snow clearing hasn't yet started on Manali Leh highway however the work has already begun on Srinagar Leh highway. BRO is currently working on clearing the snow from Srinagar to Sonamarg.
If you are planning to travel on Srinagar Leh road this year, my best advice would be to not plan your trip any earlier than late May. Even if the opening is delayed, you can rest assured that you will not have to change your plans at last minute. If the road opens on time, delaying your trip by a few weeks would ensure that roads will not be in their worst conditions. After the opening snow clearing still continues for some time as BRO stabilizes the road which may result in the road getting closed temporarily by  a few hours or even a day. You also need to consider in the fact that the vehicular movement between Drass and Sonamarg (across Zojila Pass) will be one sided and time bound. In 2016, the timings were as mentioned below,
Drass to Sonamarg (Civilian Traffic): 4 AM to 8:30 AM
Drass to Sonamarg (Army vehicles): 8:30 AM to 11 AM
Road closed for maintenance: 11 AM to 1 PM
Sonamarg to Drass (Light vehicles): 1 PM to 3:30 PM
Sonamarg to Drass (Heavy Vehicles): 3:30 PM Onward
I hope this information was helpful. If you have any further questions, please feel free to ask in the comments section below and I would be glad to answer.