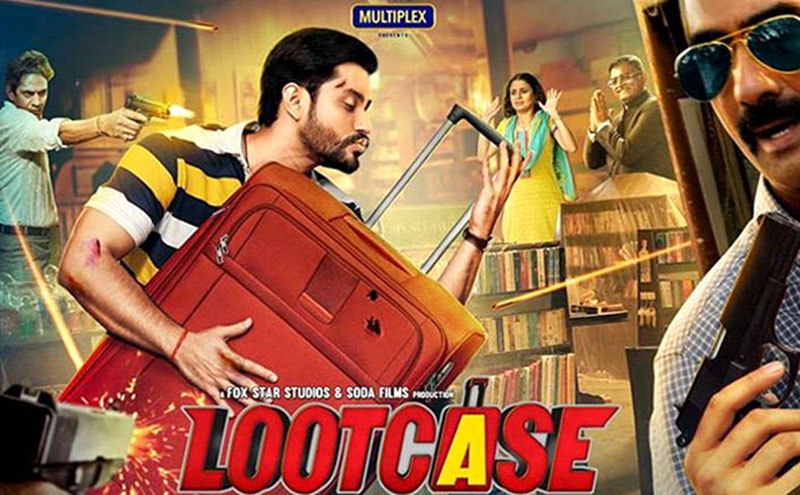 If you were reading reviews trying to decide whether to watch Lootcase or not, let me save you some time by saying that it is a great movie that you will surely enjoy. I agree that it is not going to win any awards, nor will it go down in history as the greatest comedy. But one thing is for certain. It will certainly crack you up. It is a perfect mix of a bit of light humor and a crime thriller that will make it worth your time.
Lootcase
For a brief overview, Lootcase is a dark comedy film starring Kunal Khemu, Vijay Raaz, and Ranvir Shorey. The film was scheduled for theatrical release in April 2020 but the release was postponed due to the COVID-19 pandemic. After a wait of 4 months, it was released online on Hotstar.
The film revolves around Kunal Khemu who is just an ordinary common man, trying to make ends meet. One night, while returning from work, he stumbles upon a red-colored suitcase full of Rs. 10 Crores in cash. With no idea who the bag belonged to or why it was left on the road, he brings the suitcase home, hiding it from everyone including his wife.
Unknown to him, the cash belonged to a powerful politician and underworld. What then follows is a game of cat and mouse with the goons trying to find the money and Kunal Khemu trying to figure out how to hide and spend it.
Review
The best part about the movie is its pacing. There is no unnecessary build-up and it wastes no time. The movie starts with Kunal Khemu finding the suitcase and stays on point after that. The script never deviates from the story and stays focused. It never slows down and will not let you get bored even for a minute.
This movie will remind you of a few others like '1:40 ki Last Local' and '99'. It is much better than the trash like Houseful movies, Judwa 2, Mubarka that Bollywood is producing in the name of comedy.
The dialogues are superb. All the actors were brilliant and put on a great show. The direction was spot on. I never really thought of Kunal Khemu as much of an actor but he would surprise you in this movie. Vijay Raaz as always was brilliant and Ranvir Shorey too lives up to the expectation.
The movie also has 3 songs in it but there wasn't anything special about them. It actually works in favor of the movie. One is a simple dance performance and the other two are played in the background. Since they are average at best, you do not think about them much and remain focused on the story instead.
The script is what really stole the show. It is a well-written and neatly executed comedy movie. The comedy was subtle and the timing of the jokes was just right. The humor was never loud or forced, not even in a single scene.
Conclusion
My final word on Lootcase is that it is a well-balanced comedy comprising of a brilliantly written screenplay, an interesting premise with absolutely engaging progression & a glorious star cast. The movie offers genuine laughter and will keep you entertained for its entire length. Give it a try !!!