Lolab Valley, also known as 'Wadi-e-Lolab' or 'Lolov' is a valley located about 90 kilometers from Srinagar and 3 kilometers from Kupwara in Kashmir. Known as one of Kashmir's offbeat destinations, it is a part of Kashmir that, even though beautiful, has remained cut off from the tourist map for a long time due to the unrest in the region.
It is an oval-shaped valley with stunning beauty and sprawling mountain ranges, rich in eco-tourism, and boasts stretches of apple, cherry, peach, apricot, and walnut orchards. But unfortunately, it receives almost no tourists at all and the ones that do come here are mostly the local Kashmiris looking for an outing on a Sunday or a holiday.
As a matter of fact, until a couple of years ago, this entire region around Kupwara was never considered a tourist destination due to militancy-related problems. This also included destinations like Bangus Valley, Keran, Machil, Tangdhar, and Teetwal. However, things are slowly starting to change now and efforts are being made to promote tourism in the area.
I visited Lolab Valley during my recent Kashmir Trip and spent an entire day exploring the region. The post below is a brief narration of our visit and provides all the necessary details on how to plan a trip to Lolab Valley. You can also take a look at the video below that I shot during my visit to get a better idea of what you should expect during your visit.
About Lolab Valley
The name Lolab literally means Land Of Love And Beauty. The valley is also known as "the fruit bowl of Kashmir" because of its fruit orchards and rich potential for producing dry fruits like walnuts. It is also the birthplace of the famous Islamic scholar Maulana Anwar Shah Kashmiri.
As you drive through Lolab Valley, from one village to another, there are two things that will definitely catch your attention. The first one is its lush rice fields and the second one is the mountain slopes covered with dense forests of deodar, pine, and fir that are home to many ancient springs.
The following lines by famous poet Muhammad Iqbal aptly describe the beauty of Lolab Valley and its springs.
Pani Tere Chashmon Ka Tadapta Hua Simaab,

Murghan-E-Sahar Teri Fazaon Mein Hain Betaab,

Ae Wadi-e-Lolab!
Lolab Valley is highly under-developed and possibly the only thing in good condition here are its roads. It has a major tourism potential but feels ignored and even fails to invoke interest sometimes. Read on to find out more.
Let me first talk about how to reach Lolab Valley and then I will explain what to see here, where to stay, and how to explore.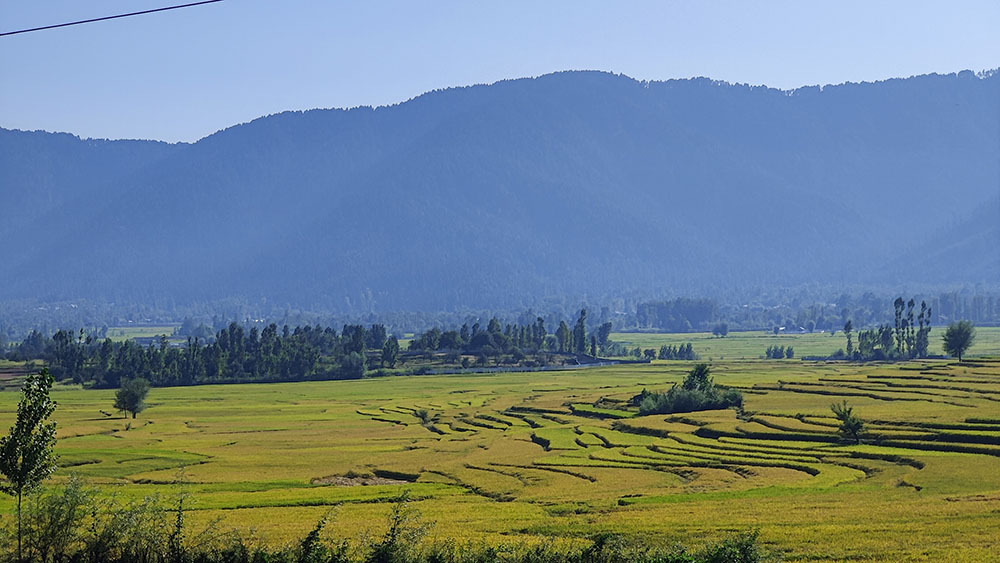 How to Reach Lolab Valley
The only way to enter Lolab Valley by road is from Kupwara. The entrance gate to the valley is about 2.5 kilometers from Kupwara Market and is currently the only way in and out.
If you were in Kupwara, just ask any of the locals and they will gladly point you in the right direction. This entire region has good network reception with 4G data speed so you can also just follow Google Maps and it will take you to the right destination.
Also Read: How to Plan a Trip to Kashmir – A Complete Travel Guide
How to reach Lolab Valley from Srinagar
So if you were in Srinagar and wanted to visit Lolab Valley, you would first have to reach Kupwara. It will be a journey of about 80 kilometers but it is a single-lane road that sees heavy two-way traffic. So the travel time can be anywhere between 3 to 4 hours.
Once you are in Kupwara, just ask around and follow the road that goes to Lolab Valley as I mentioned above. More details on the route are mentioned further in the article.
By Bus / Shared Cabs
Planning this trip by Public transport will be tricky and is not advised. You may be able to find a bus from Srinagar to Kupwara but there is no regular bus service within Lolab Valley.
In Srinagar, depending on where you are staying, you will first have to reach Parimpora. That is where you will get either a bus or a shared cab to Kupwara.
You can travel from Srinagar to Kupwara by Bus but beyond that, it is best advised to look for a private taxi. A trip to Lolab Valley means moving from one village to another and exploring the region which can only be done in a taxi.
The Kupwara bus and taxi stand are right there in the main market. You can go there and ask for a bus or shared cab to Lolab Valley but the problem is that it will drop you only to a particular village. Once you are there, you may not find public transport to go to the next village or even return to Kupwara.
Also Read: How Much Does a Trip to Kashmir Cost?
By Private Taxi
You can plan this in two ways. The first one is that you hire a private taxi from Srinagar itself. This will cost you anywhere between Rs. 3000 to Rs. 4000 for a day trip to Lolab Valley.
The second way is that you first go to Kupwara by public transport and hire a cab there. This will cost you anywhere between Rs. 1500 to Rs. 2000 for a trip to Lolab Valley lasting 2-3 hours approximately. For more details, please take a look at Taxi Rates in Srinagar.
Permits for Lolab Valley
There is no permit required to visit Lolab Valley. You are free to travel around as you deem fit. Please do carry a valid government-issued Identity Card though, preferably your Aadhar Card, with you.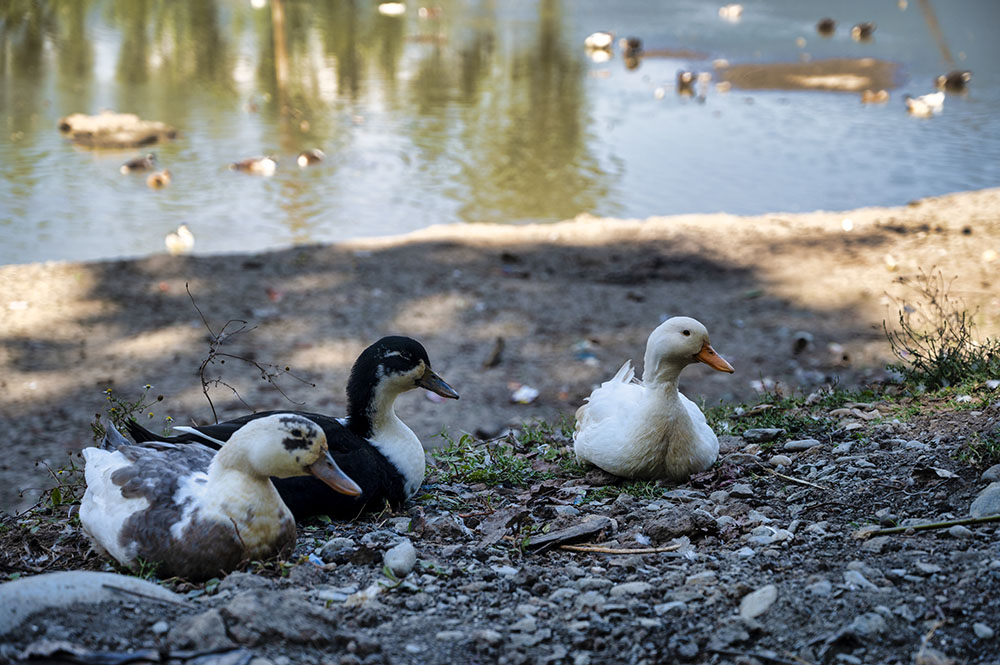 Places to Visit in Lolab Valley & Things to Do
Now let us briefly talk about what to see in Lolab Valley. A one-line honest answer to this question is the natural beauty of the place and that's about it.
Lolab Valley, as I mentioned above, is majorly a forest area but is still underdeveloped in terms of tourism. The green meadows surrounding the villages look quite beautiful and that is what you come here to see. Other than that, there is not a lot to see here but a few places are worth mentioning.
Satbaran
Also spelled as Sat-baran, it is a large rock sitting at the top of a hillock. What makes it famous and mysterious are the seven door-like carvings on this rock. Take a look at the picture below.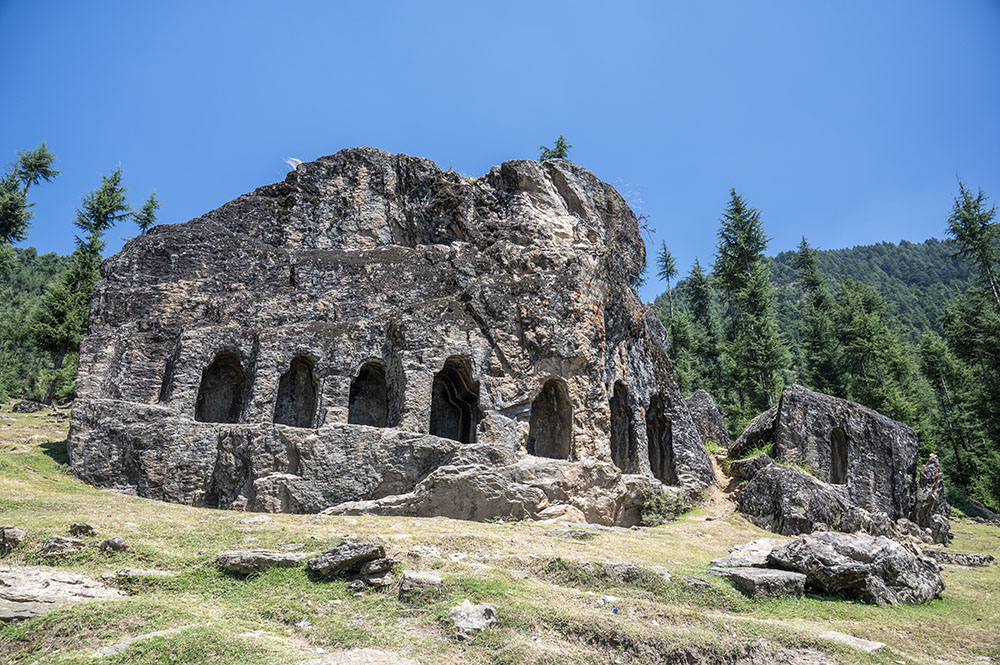 The name 'Satbaran' also literally means 'Seven Doors'. But there is no known information about who carved them or why but it surely makes it look a little mysterious. There is no data available on the archaeological significance of this rock but it continues to be a tourist attraction.
The most popular theory is that Satbaran may have been a part of a larger structure, possibly a temple, which collapsed or was intentionally destroyed. What now remains is just this giant rock with seven doors-like carvings on it.
Kalaroos Caves
Kalaroos is the name of a village in Lolab Valley. Near this village, in the forests, and up the mountain, are some caves that are said to be part of an ancient tunnel system to Russia.
This is why it is known as Kalaroos, roos meaning Russia. It was earlier called Qila-e-Roos, which means Russian Fort. But over time, Qila got twisted into Kala, and the village is now called Kalaroos.
Both Satabarn and Kalaroos are actually located in the same vicinity. From the village, you will have to trek up a mountain and will first reach Sataraban Rock. Continue walking for another 20 minutes into the forest behind Satabaran and you will reach the spot where this cave is.
There are 3 caves in total. Cave 1 is the first cave to reach beyond Satbaran Rock after a short walk. Its entrance is a narrow up-trending passage. This is the one that I reached.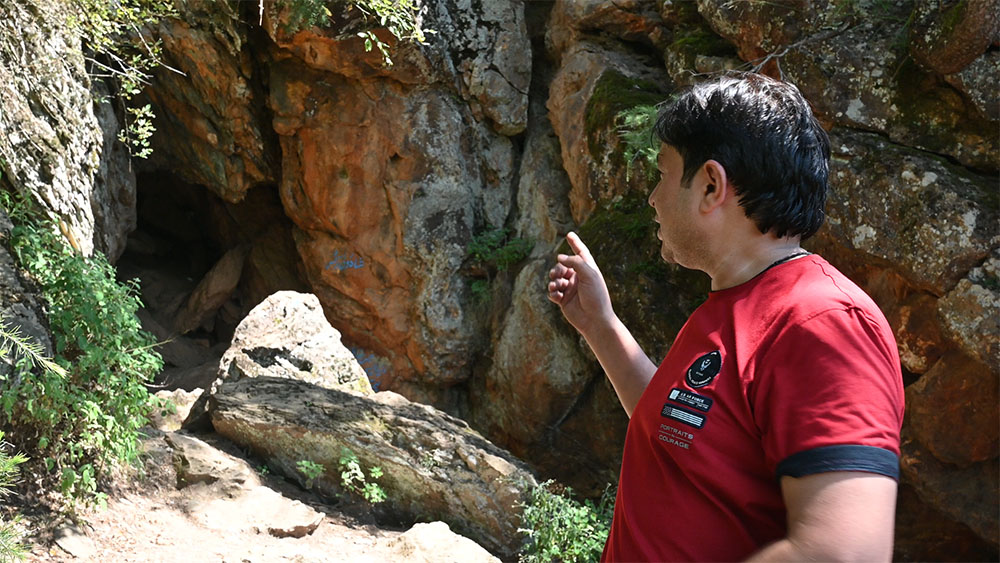 Cave 2 is located higher up on the mountainside and has the largest entrance of the three caves. Cave 3 sits at the highest elevation on the mountain.
The myth that the caves are a tunnel to Russia was proved wrong by a couple of US explorers a few years ago who went in and found that none of the three caves move beyond 50 meters.
Zamindar Gali Pass
Zamindar Khan Gali is a high-altitude pass located about 21 kilometers from Kalaroos Village. It is popularly known as Z gali and is at an altitude of 3150 meters (10,334 feet). On a clear day, you can also get a view of Nanga Parbat from the top of Z Gali.
Please note that in order to go to Zamindar Gali, you will have to seek permission from the officials in Kupwara. It is not open to tourists yet.
Also Read: Clothes for Kashmir Trip – What to Pack
Machil
After Zamindar Gali Pass, if you drive down another 15 kilometers to its other side, you will reach Machil Valley. There are about 15 small villages located in this valley.
Machil is a Dardic name meaning fish, which are in abundance in the streams in this valley. It is a charming village with lush green meadows during spring and summer.
Like Z Gali Pass, Machil is also not open to tourists. If you want to visit here, you will have to get a permit from the DC Office in Kupwara. If you do not get permission, you will not be able to visit either Z Gali or Machil.
Anwar Shah Kashmiri Memorial Lolab Gate
This gate really serves as the very symbol of Lolab Valley. Most of the articles about Lolab Valley will have this picture posted. It is located right at the entrance of the valley and about 2 kilometers from Kupwara.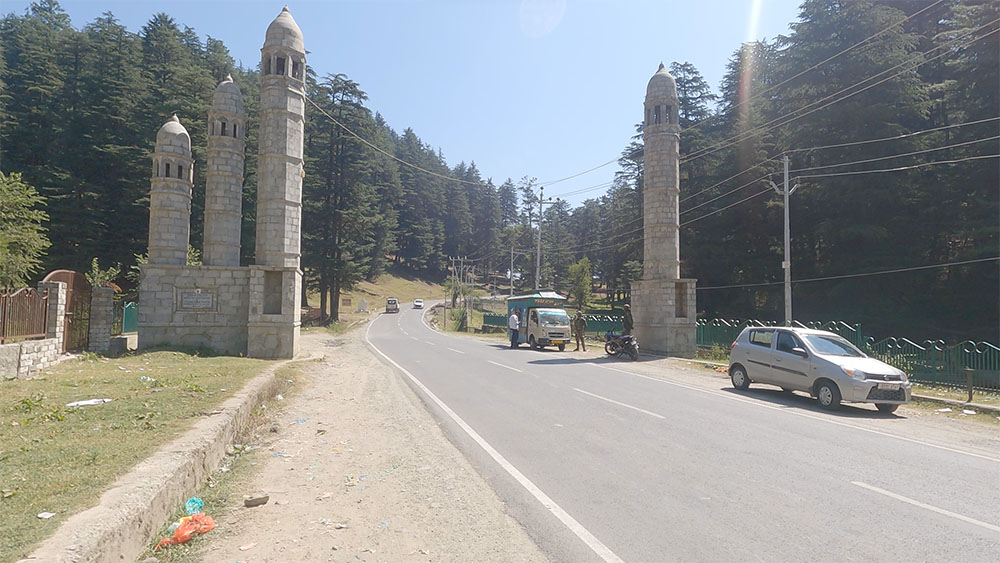 There is not much to this gate, just two stone pillars on each side of the road. Still, it really looks pretty and charming. I am not really sure when this gate was built but it was to commemorate Anwar Shah Kashmiri, a Kashmiri Muslim scholar and jurist.
Lolab Valley was the birthplace of Anwar Shah. He spent his childhood here before moving on to other parts of the country. He is greatly respected in Lolab Valley and throughout Kashmir and regarded by many as one of the most versatile and prolific hadith scholars produced by the subcontinent.
If you are visiting Lolab Valley, posing in front of this gate and clicking a few pictures is something you cannot miss. It is like a ritual that you have to do. Right next to the gate is a small park and a meadow-like area next to the river. The overall setting of the place and the gate is very scenic.
Other Attractions
Together, Satbaran and Kalaroos Caves are the biggest tourist attractions of Lolab Valley. There are however a few other places of interest that I will list down below.
I cannot verify these details because I have not been to these places. This is the information that I found on the web actually. Maybe the next time I am in Lolab Valley, I will try and look for these spots.
There is supposedly the final resting place of the saint Kashyap Reshi located in Lolab Valley, at a distance of about 1 km from village Lalpora. There are two springs near this spot, one called Lavnag and another one called Gauri Spring.
I did not know about these places during my visit to Lolab Valley so I cannot really confirm where these are or if the springs are worth visiting. This is on my list to see the next time I go to Lolab.
I read about a new Tourist Site in a village called Kairwan that was being developed by the authorities but I did not really find anything when I went there. But I know that it is an eco-park somewhere up in the forest that was developed by the forest department.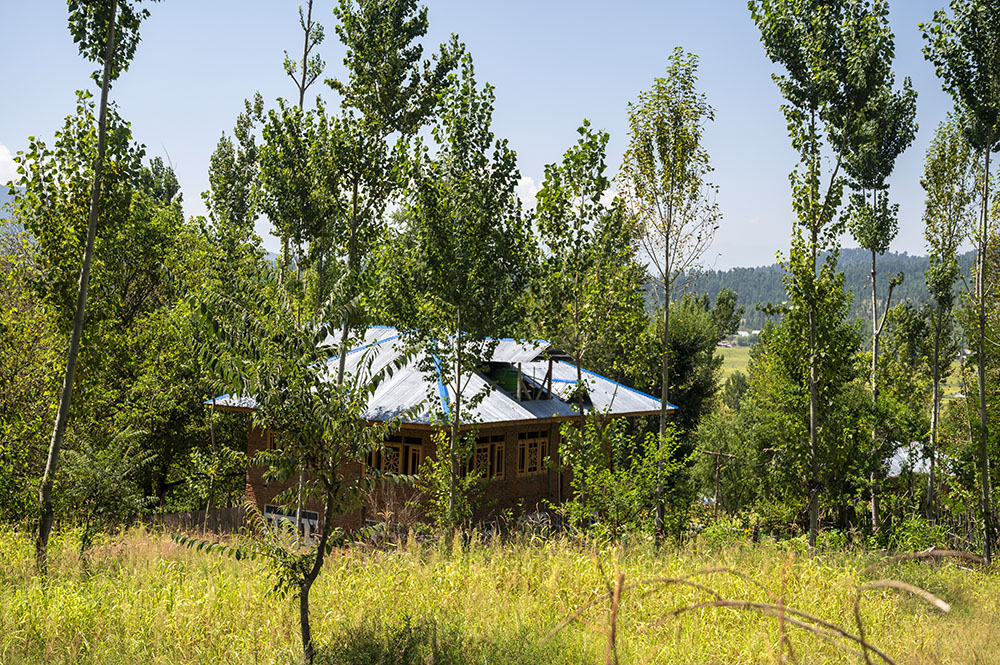 Things to Do in Lolab Valley
Other than visiting all the above-mentioned places, trekking is an activity that you can enjoy in Lolab Valley. It can also be a great place for camping but there are no camping sites here yet so you will have to bring your own gear.
That is mostly it. This is what you see and do while you are there in Lolab Valley. The plans are the develop this place for adventure-tourism but all of that is yet to happen. It is still an under-developed region of Kashmir and mostly it is the natural beauty of the place that you focus on as you drive from one village to another.
Also Read: When is the Best Time to Visit Kashmir?
Where to Stay in Lolab Valley
There are three choices of accommodation currently available. You can either stay in a hotel, a J&K Government Dak Bungalow, or as a paying guest. Let me talk about these in detail one by one.
Hotels in Lolab Valley
When it comes to hotels or guest houses, your choices are severely limited. Currently, there are only two hotels in this region and both of them are located in Kupwara town. One is called City Park and the other one is known as Raj Palace.
Both these hotels are near the main market of Kupwara, opposite the bus stand. Please note that these are very old, poorly maintained, and shabby hotels. The rooms are very small, and dirty, have no TV, and have old broken furniture in them.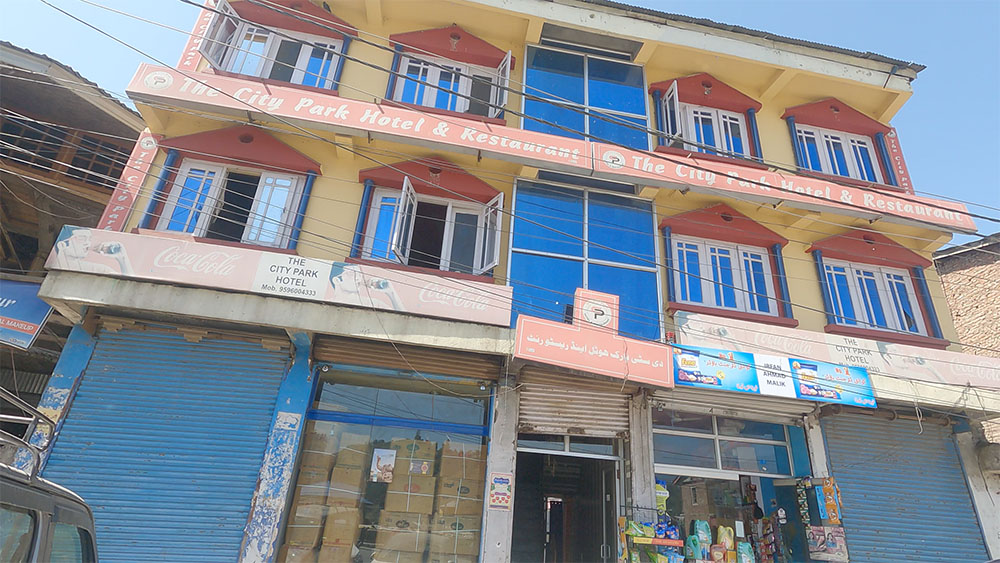 Since they are located right along the main road, the sound of the traffic drove me crazy while I stayed there for a day. It was so bad that I could not even sleep properly.
The biggest reason behind this scarcity of hotels is that there is no tourism in this area. The only tourists that come here are the local Kashmiris, out for a picnic or an outing on a Sunday. They would obviously go back to their homes by evening and wouldn't stay in a hotel.
Because there are no guests, tourists, or customers, there are no hotels either. The ones that exist are not maintained well. Slowly, as tourism increases, I am sure more hotels will come up in the coming years but as of now, there are none except for the two in Kupwara.
J&K Government Dak Bungalows
Hence, your best bet for accommodation is the J&K government Dak Bungalows, also known as Forest Huts. There are a lot of these rest houses in this region, some maintained by the tourism department and others by the Forest department.
In Lolab Valley, there is one Dak Bungalow in Chandigam Village, and another one in Kalaroos Village as well. These are the two I know of but there could be more. I think there is one in Kairwan Village as well but I cannot say that for sure.
These were the Dak Bungalows located right in Lolab Valley but there is also one in Kupwara, another one in Kralpora, and a third one in Chowkibal. All of these are located within a 10-kilometer range of Lolab Valley.
The bookings of these rest houses are available online on the online portal of J&K Tourist Department and the website of J&K Forest Department.
If the rest house was not listed on the portal for some reason, then there is a number provided on both these websites. You can call that number and book your stay over the phone.
J&K Dak Bungalow in Reddi, Chowkibal
This is the Dak Bungalow I stayed at for 3 days while we explored Lolab, Bangus, and Keran. It is located in a small village called Reddi, about 6 kilometers from Kralpora.
It is a beautiful rest house located right next to a river. The rooms were well-maintained, spacious, and had clean bedding. The name of the caretaker here is Iqbal and his phone number is 968 264 9223. You can call him directly to book your stay.
The rest house has a kitchen as well and you won't have to go out to have food. You can just let the caretaker know and he will cook for you as well. You can read a detailed review of this rest house at J&K Dak Bungalow – Reddi, Chokibal.
The rest house in Kralpora is behind the Kralpora Police station if you want to stay there. I have not stayed there but from what I was told, it is also in good condition.
Paying Guest
Last but not least, another choice of accommodation you can opt for is a homestay. While you are in Lolab Valley, you can talk to the locals and see if anyone would accept you as a paying guest for a day or two.
Since there is no tourism in this area yet, there are no set homestays available for now. So I cannot tell you a name or number but you can try your luck and see if you can find one.
My advice would be that you stay in a J&K rest house. The one in Chandigam would be a good choice if you wish to do so. It is in a good location and is well-maintained.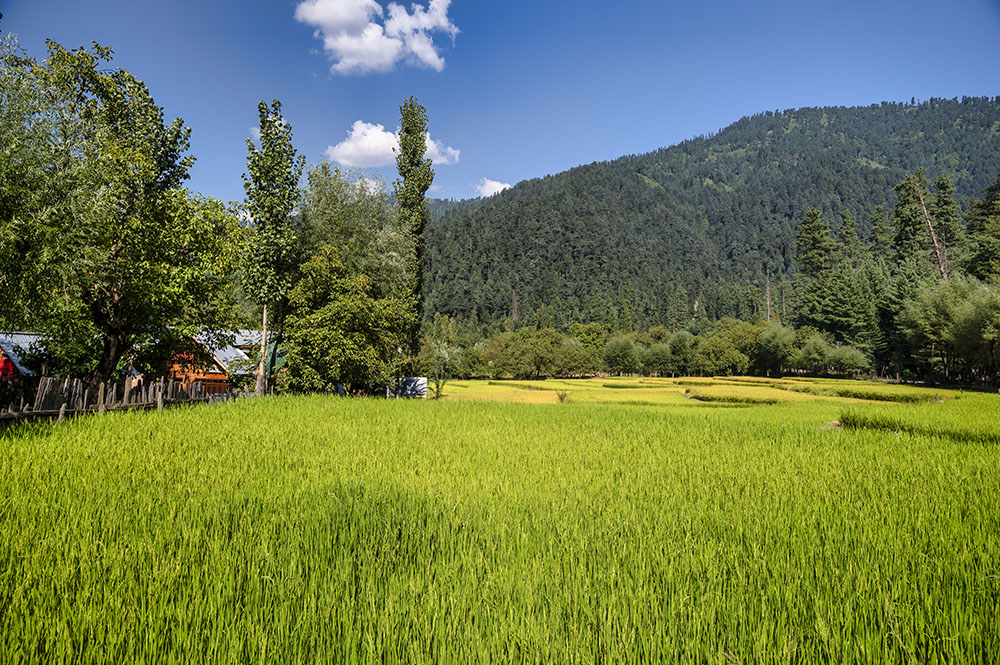 Weather of Lolab Valley
Let me also add a note about the weather here or maybe I should call this a word of advice. In all my years of travel and all the places that I have been to, I have never faced such harsh sun as I did in Kupwara and Lolab Valley.
I do not know what the reason is but the sun here is scorching hot. I was there in Lolab Valley for a day and the entire day the AC of our car was on. It was running at full capacity and yet the car did not cool down.
We were sweating in the car all day long. What made things worse was the sun. Whenever the sunlight was touching our skin, it felt like burning and all of this was in the month of September. I cannot imagine how things here would be in May and June.
The number of trees in the valley is also alarmingly low. It is mostly just paddy fields and trees are limited to the mountain slopes in distance. So there is really no escape from the sun and there will be sunlight finding its way into the car, on your body, and burning it.
It was hard to believe that it was Kashmir that we were visiting. It felt like I was somewhere in Ladakh. As a matter of fact, even the sun in Ladakh did not feel as harsh as it did in Lolab Valley.
So I would strongly recommend carrying a sunscreen location of the highest SPF. You will surely need it. It won't help with the heat but at least it can prevent tanning to some extent.
Also Read: How to Plan a Kashmir Trip Itinerary
Mobile Network and Data Connectivity
Irrespective of which network you are on, your phone will work fine in Lolab Valley. We were carrying Airtel and Jio connections and received strong connectivity with 4G data speed. In fact, I used Google Maps the entire time we were exploring the valley and faced no problems at all.
We did not have Vodafone or Idea connections with us but I am sure they will also have connectivity in Lolab Valley. BSNL / MTNL of course works pretty much everywhere in the country. For more details on this topic, please take a look at Mobile Network in Kashmir & Data Connectivity.
Best Time to Visit to Lolab Valley
The best time to visit Lolab Valley is either in March, April, September, or October. The valley remains open for all 12 months though and you can plan your trip all year long.
During January and February, Lolab Valley receives a considerable amount of snow. Since the road remains connected, it can be a good winter destination but the snow you will find here will not be as much as Gulmarg, Sonamarg, or Pahalgam.
The weather remains pleasant in March and April with plenty of greenery around, making these months a good time to be here. In May and June, the weather will be very hot and you may not enjoy your visit as much.
July and August are the time of the monsoon. A trip to Kashmir is best avoided in these months due to the rains and Amarnath Yatra which results in a lot of traffic regulations that may hamper your sightseeing plans.
September is again a good month to visit Lolab Valley. There will be plenty of greenery around and monsoon would be all gone by then. October is also a good time if you want to see the colors of autumn in the trees.
November and December are generally a bad time to visit Kashmir. The weather in these months will be very cold, the views will be dull and dry, and there won't even be any snow around.
Lolab Valley in Winter
Lolab Valley remains accessible in the winter season as well. The Indian Army keeps the road from Srinagar to Kupwara and then to Lolab Valley free of snow even during the peak winter months of January and February.
Will you see a lot of snow here? The answer is no. You may find some snow around but not a lot like it happens in places like Gulmarg, Sonamarg, or even Pahalgam. But it will still be a pleasing white valley that you will witness. The trek to Kalaroos Caves and Satbaran also remains open in winter.
How to Plan a Trip to Lolab Valley / Lolab Valley Itinerary
Now to end the post, let me also briefly talk about how you can plan a trip to Lolab Valley. As you would have guessed by now, it is a wide valley with a lot of villages in it. So your sightseeing will have you move from one village to another, completing the journey in a circuit in 5 to  6 hours. Here is how you can do it. Refer to the Google Maps image below to better relate to what I am talking about.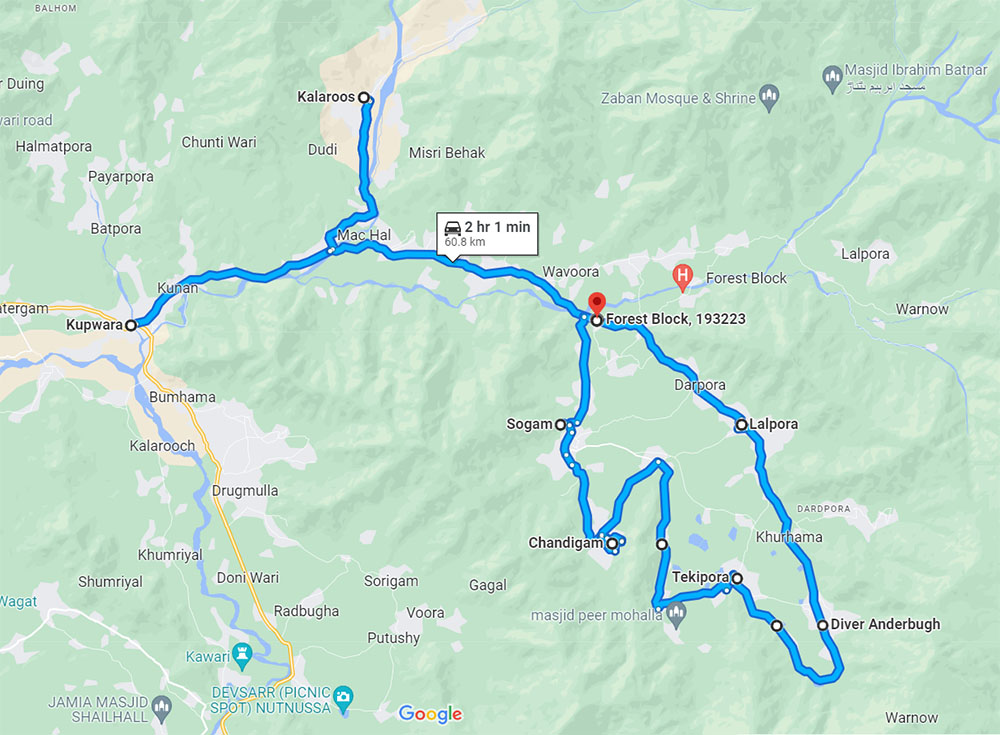 Srinagar to Kupwara to Khumriyal
Assuming that you were starting from Srinagar, the first part of the journey will have you travel from Srinagar to Kupwara. It will be a journey of 80 kilometers that can easily take as much as 4 hours to complete.
From Kupwara, turn on the road toward Lolab Valley. After about 2 kilometers, you will arrive at the entrance gate of Lolab Valley.
About 2 kilometers after this gate, you will reach Khumriyal, the first village of Lolab Valley. Take a break if you need to and get something to eat as you may not find a lot of options further in the valley.
Khumriyal to Kalaroos
Immediately after Khumriyal, the road will bifurcate. See the picture below. The one on the left goes to Kalaroos Village and the one on the right goes to the other villages of the valley. Take a left turn.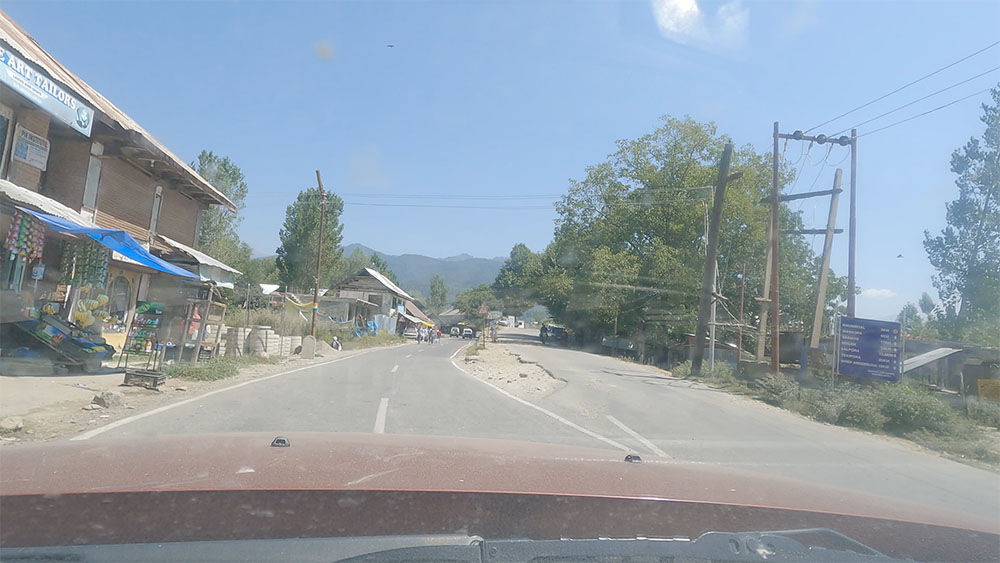 Drive for about 5 kilometers and you will reach the Kalaroos Village. The road to the caves will be a little hard to notice and you will have to ask the locals for directions.
Driving through the narrow streets of the village, you will reach a spot where the motorable road ends. From here on, you will have to trek up the mountain to reach Satbaran first. It will be visible in the distance.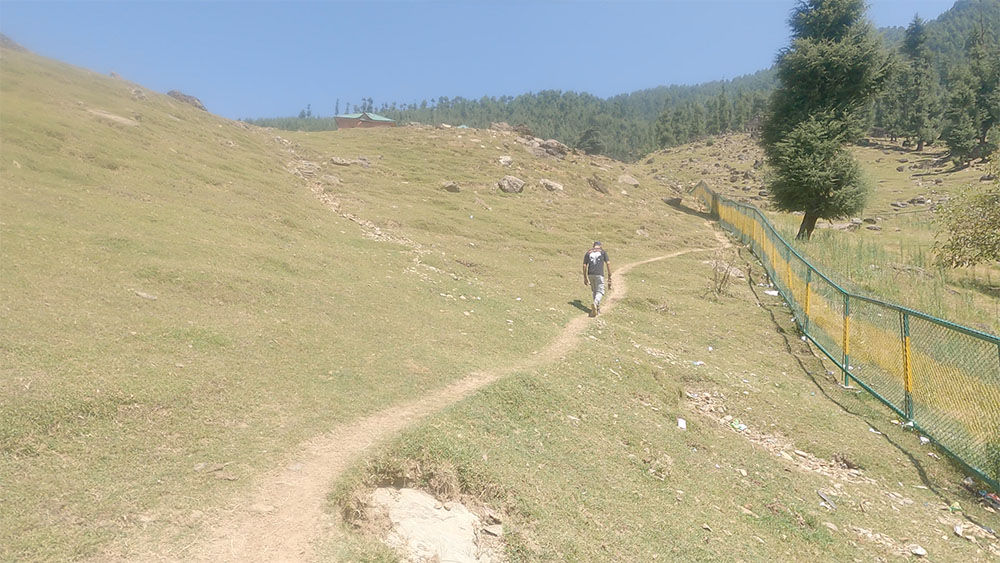 Trek up the mountain to the rock. Take a break there and then walk for another 15-20 minutes further to reach the first cave.
The other two caves are further in the forest and I will recommend bringing a local villager with you to help navigate the way faster. It can get confusing up there in the forest and it will be hard to find your way to the caves.
After visiting the caves, trek back down to your car and go back the same way that you came. You will have to drive all the way back to Khumriyal to the same spot where you took the left turn.
Khumriyal – Badibera – Chandigam – Wani Doursa
From Khumriyal, turn right this time. You will cross a bridge and then continue driving to Badibera. From here on, the journey will be in the form of a circuit.
After crossing the bridge, drive for about 8 kilometers and you will reach Badibera. Here, the road will bifurcate again. Turn right toward Sogam, the district headquarters of the Lolab Valley.
You will drive through the paddy fields, cross Sogam on the way, and will soon reach Chandigam. From there, drive back down to Gundmancher and take the road toward Wani Doursa.
I liked the part of the journey when we traveled through Wani Doursa. It is really a very secluded and silent forest area and the views here will get better.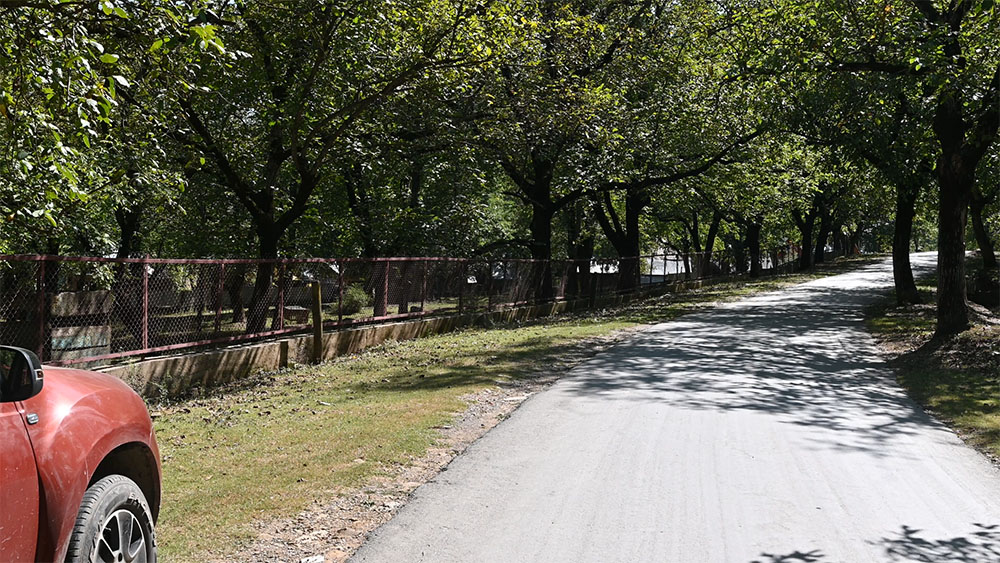 Wani Doursa – Tekipora – Kairwan
After Wani Doursa, drive back down to Tekipora Village and then turn right toward Kairwan. Ask any local or just keep following Google Maps. You will remain connected throughout the journey and Google Maps will work.
There is a water reservoir in Kairwan and an eco-park somewhere nearby. It is another good spot to take a break. This one is also located up in the forest and the views here are possibly the best in Lolab Valley.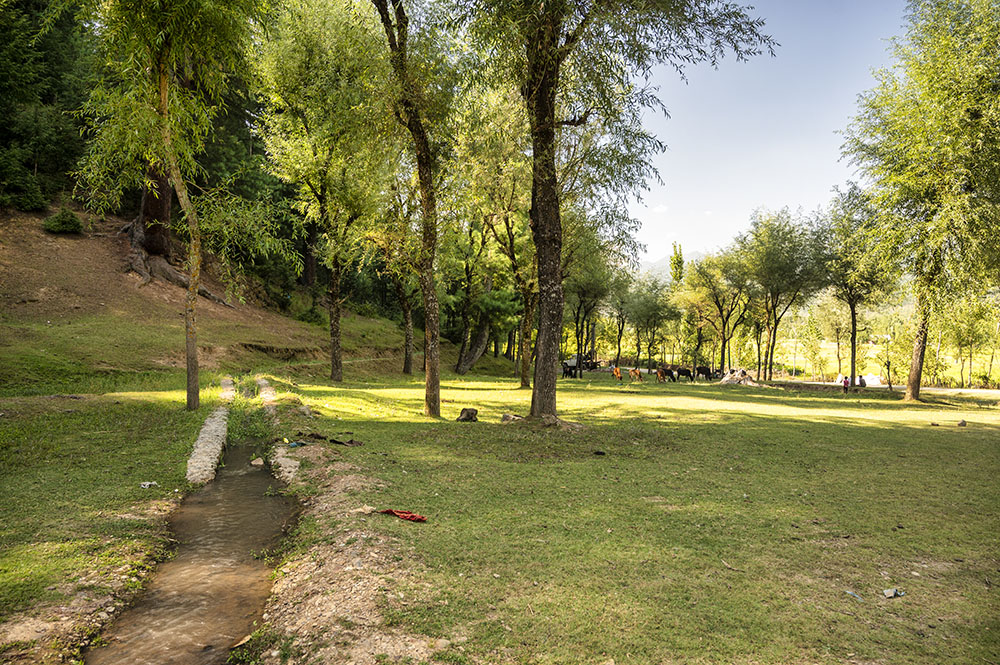 A couple of things I would like to add here. The first one is that while following maps, you will see a lot of blue spots which will make you think that these are small lakes in the valley.
Do not be confused. These are just small ponds and water reservoirs and most of them are very dirty. Do not go chasing those. I made that mistake and was severely disappointed.
The second is that the eco-parks and the gardens in the valley are not maintained at all. Most of them are just dry grounds now and don't even have proper grass on them.
Kairwan – Lalpora – Badibera – Khumriyal – Kupwara
After spending some time in Kairwan, start your return journey. Drive for about 8 kilometers and you will reach Lalpora Village. As I mentioned previously in the article, supposedly there is the final resting place of Kashyap Reshi and a couple of springs near this village.
Since we were a little short on time, I did not take a break here to visit these places. But if you wish to, ask any of the locals for directions and see if you are able to find the shrine or the springs.
Otherwise, continue driving back down to Badibera and complete the circuit. From there, take the same road back to Khumriyal and then to Kupwara.
This is it. That is how you can complete your tour of Lolab Valley. I mostly drove around the valley, keeping close to the forest because I did not find the villages scenic enough.
It was 2 p.m. and the sun was shining bright on our heads, burning our bodies. So we avoided the villages and kept ourselves closer to the forest around. There is nothing to see in the villages at all and you will be disappointed.
Lolab Valley – Conclusion
This is it. This is mostly all that you need to know about visiting Lolab Valley. I am sure I will be there again to explore a little more and see the other two caves that I missed and will update this article when I do so.
I hope the information above on visiting Lolab Valley was of help. If you have any questions, you can contact me on Instagram and I will be happy to answer. You can also consider subscribing to my YouTube channel and asking a question there.