Srinagar to Leh highway was declared open earlier this week which pretty much marks it as beginning of tourist season in Leh Ladakh. Thousands of people are busy preparing their itineraries and the locals too have started to gear up for the tourist season ahead. One such preparation related to Tourism industry was the announcement of Leh Ladakh Taxi Rates 2018 – 2019 that was made earlier this month. For a more detailed version of this information, you can review the taxi rates directly at Ladakh Taxi Union official website where they have broken these rates down by each and every village in the valley.
Official Website: Ladakh Taxi Union Rate List
However, that website contains several pages of articles which in my opinion is not really relevant to many tourists. In this article, I will summarize the taxi rates to all popular tourist destinations as a quick reference. I will cover places that are mostly visited by tourists and provide taxi rates for drop and return journey; and also break it by the kind of vehicles available.
There are three types of taxi services available in Ladakh.
A Class – Innova, XUV and Aria
B Class – Scorpio, Safari, Xylo, Tavera, Qualis
C Class – Sumo, Eco, Van
Type A of the cabs is the most expensive one followed by B and C class.
Ladakh Taxi Rates 2018 – 19
I will first post a brief summary of the rates which will be more relevant for the tourists. Then I will post a complete rate list for that particular area.
Leh Airport Taxi
A taxi from Leh airport to a hotel in Leh city will cost you between Rs. 500 to Rs. 650; depending on how far your hotel is. If the location of the hotel is within 7 kilometers of the airport, the cost will be Rs. 501; Rs. 550 for Choglamsar Bridge and Rs. 664 for a taxi from the airport to Stok Palace.
Also read: How to Plan a Trip to Ladakh – Complete Travel Guide
The pick below shows the rates you will end up paying for hiring a cab from the airport. Rates for all three types of cabs for airport services however are same but these start to differ when you book them for a longer distance.
Nubra Valley Taxi Fare
As per the rates in 2018, if you want to visit Nubra Valley in one day; then you will have to pay close to Rs. 7000 for a round trip. This will include a cab from Leh to Diskit, Hunder or Panamik; with a difference of a few hundred rupees depending on which cab you chose. If you however want to cover Wari La as well, then the charge will be approximately Rs. 10,000.
If you however want to make it a 2 days journey, then the charge will be close to Rs. 12,000 depending on which cab you chose. In 2 days and this charge however, you can cover the valley all the way until Turtuk.
A private tax for Leh to Khardung La and return will cost about Rs. 2,800.
Leh Pangong Lake Taxi Fare
A two day trip from Leh to Pangong and back will cost you close to Rs. 10,000. If you want to continue further, then a round trip to Chushul will cost Rs. 12,000 for one day and Rs. 14,000 for two days. A private taxi to Hanle will cost about Rs. 15,000 round trip. If you want to complete the Pangong – Chushul – Tso Moriri – Leh circuit then a three day trip on this route will cost you about Rs. 21,000
Leh to Manali Taxi Fare
A 2 days journey from Leh to Manali in a private taxi will cost you Rs. 20,000
Leh to Srinagar Taxi Fare
A one day non-stop journey to Srinagar will cost you Rs. 15,000 whereas the same journey in 2 days will cost you Rs. 18000. A round trip to Srinagar from Leh will be Rs.23,000
Leh to Kargil Taxi Fare
A drop from Leh to Kargil will cost you Rs. 7000 whereas a return journey will be Rs. 10,000. If you however want to cover Batalik on the way, then the same journey will cost you Rs. 11,000 for a drop and Rs. 14,000 for return.
Leh to Jammu Taxi Fare
Leh to Jammu in two days will be Rs. 25,000 for drop and Rs. 33,000 for return journey. The same trip in 3 days will cost you Rs. 28,000 for drop and Rs. 37,000 for round trip.
Taxi Services in Ladakh
Apart from the rental rates above, a few other things that you must keep in mind are,
Non-local taxis are not allowed for sightseeing either in Leh City or other areas of Ladakh.
You can only use these cabs to reach Leh but then must rent a local cab here for traveling to nearby places.
If you are bringing a privately owned vehicle, please make sure that it is either registered in your own name; or your spouse, or your sibling or your parents. In a way, where you can prove that the owner of the car is in your blood relation and you are not renting it.
If registered to your father or wife, it would be easy to prove the relation. In case of mother, brother or sister, make sure you are carrying sufficient documents that can prove your relationship with owner of the vehicle.
There are no self drive rentals available in Ladakh.
The above regulations related to Non-Local taxis apply to self drive rentals as well.
If you are planning a solo trip to Ladakh and the taxi charges seem a bit out of budget, then you can always look for a travel partner online. Click on the Travel Partners Link in the menu above and post a thread at our Community Forum. Anyone whose travel dates match that of yours will respond and you can travel together and share the cost.
Mentioned above was a quick summary of the fares on routes that are traveled upon the most by tourists. Below however is a complete list of all the places with the fare mentioned.
If you wish to download the entire rate list in PDF format, you can do so from the link below. Or you can also save the images one by one.
Taxi Rates for Sham Valley Route (Towards Lamayuru, Kargil)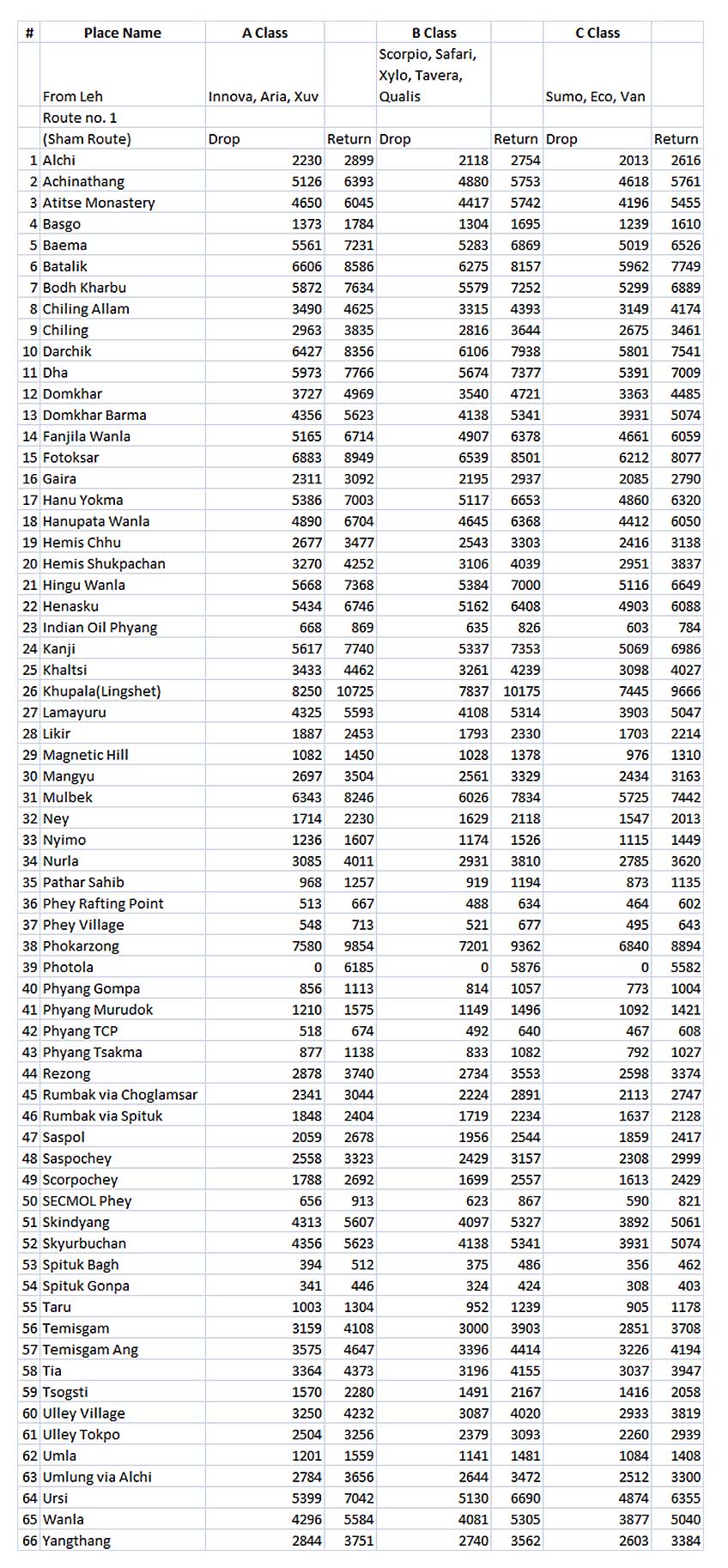 Rates for Stot Route (Pangong Tso, Tso Moriri, Chumathang, Hanle, Chushul route)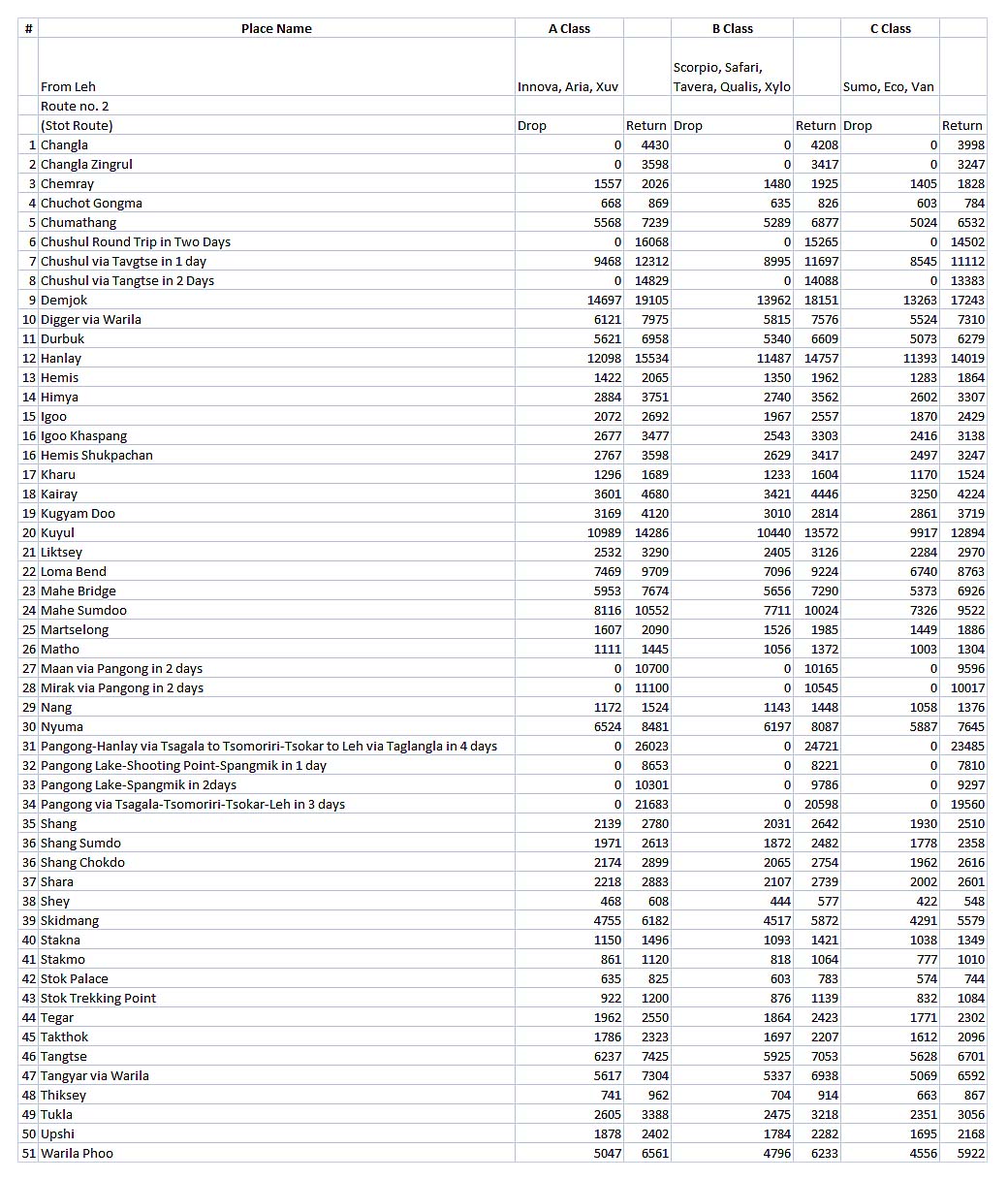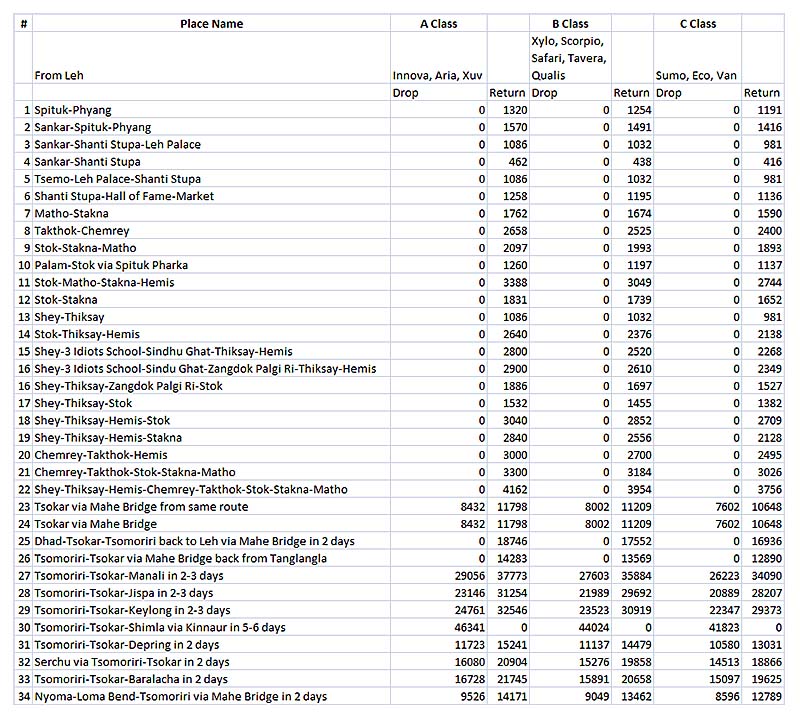 Taxi Rates for Visiting Places Around Leh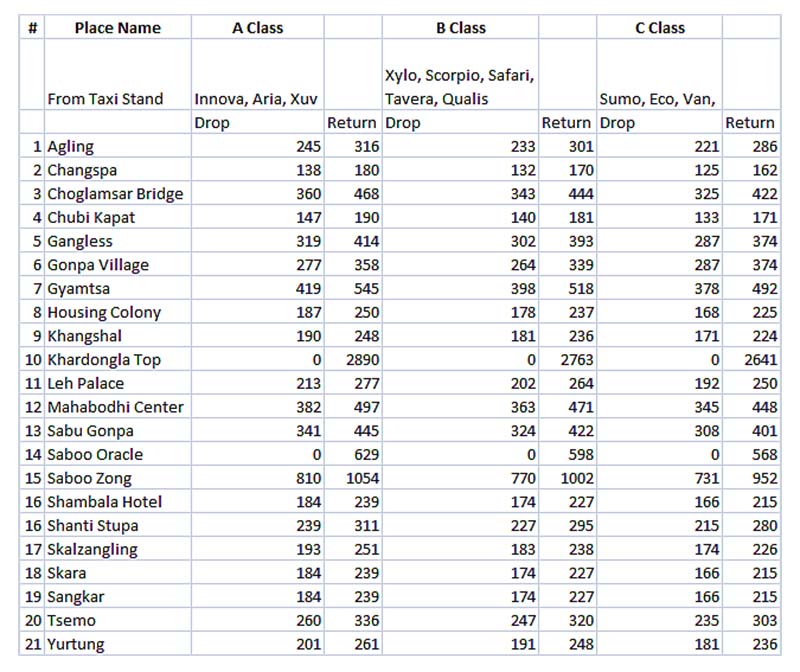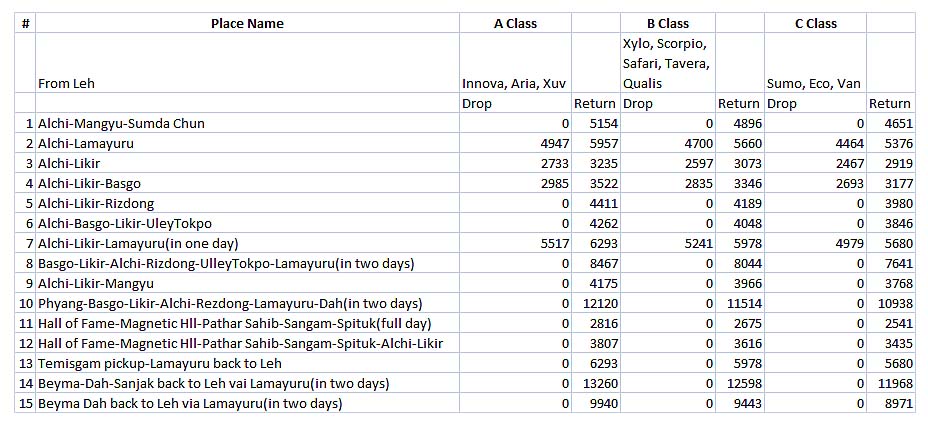 Nubra Valley Taxi Rates
These are the rates while traveling from Leh to Nubra Valley.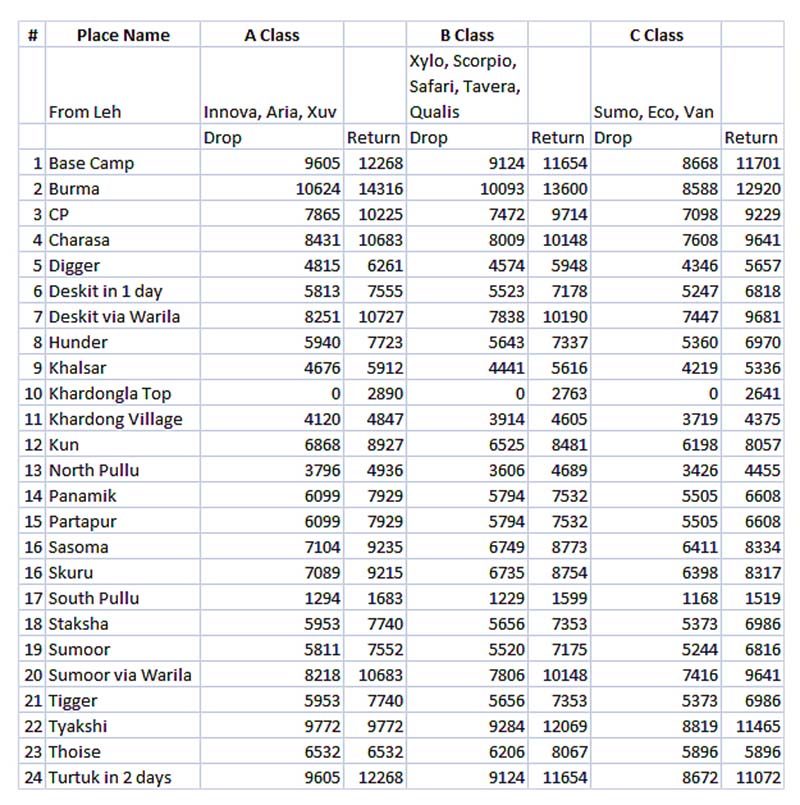 Rates in the pic below are for sightseeing within Nubra Valley. If you are having difficulty reading the image in the post, please right click on it and save to your hard disk.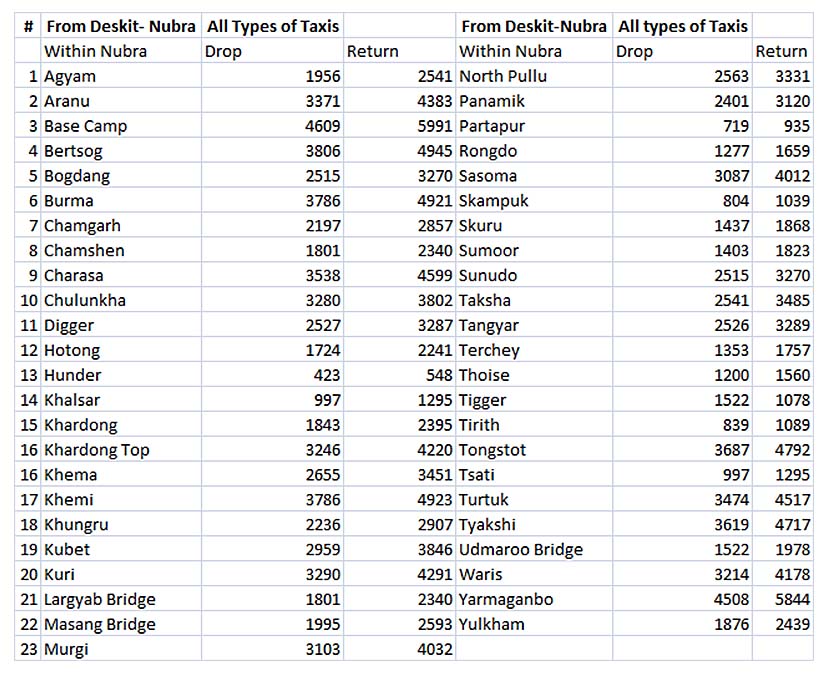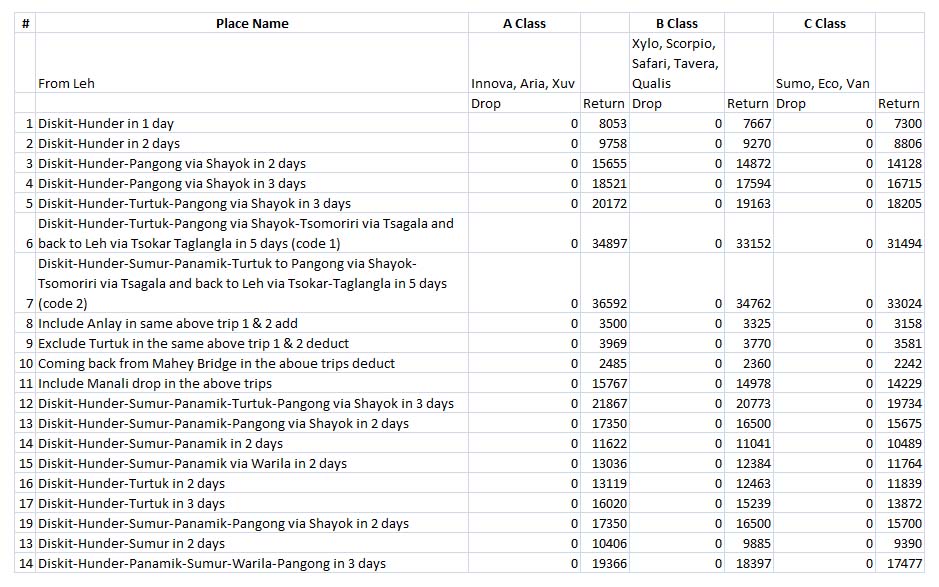 Leh Srinagar Route Taxi Fare

Leh Manali Route Taxi Fare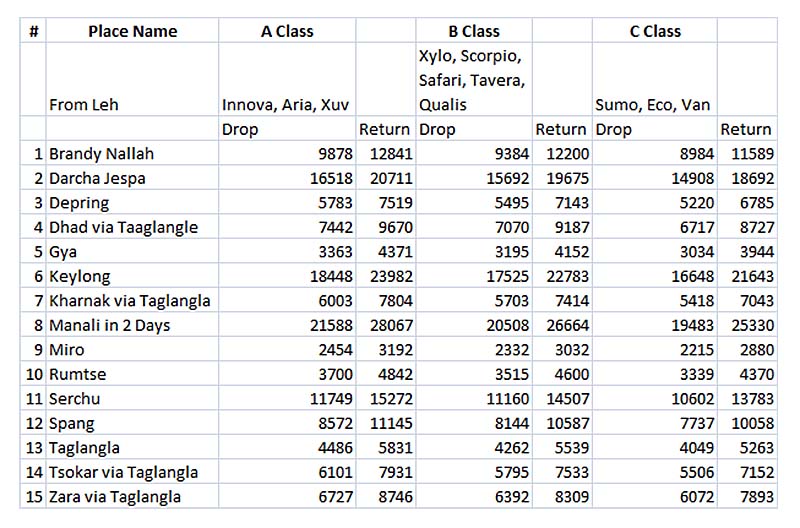 Special Note!
If the taxi is used for more than specified days to the destination will be charged for the category as detailed below.
Innova, Aria, Xuv: Rs. 2816 for full day and Rs. 1408 for half day
Scorpio, Qualis, Grand, Safari, Xylo: Rs. 2675 for full day and Rs. 1337 for half day
Sumo, Eco, Van: Rs. 2541 for full Day and Rs. 1270 for Half Day
Full day mean 8 hours and half day mean 4 hours.
Waiting charge fir the first hour will be free and remaining hours @ Rs. 250 per hour for all type of vehicles.
Extra entry into routes from the planned routes is chargeable upto 8 [email protected] Rs. 286.
The rates has been prepared for the year 2018-19 which applicable from 1st April 2018.
50% of the billed amount should be deposited in advance in long routes Like- Manali, Srinagar others routes of Leh district.
Night haltage charges @ Rs. 350/- for all types of vehicles.
AC on demands @ Rs 7/- per Km and will be collected by the driver directly.
Conclusion:
I hope the information above was of help. If you have any further questions, please feel free to ask in the comments section below; or at our Community Forum; and I will be glad to help.